Chhad Aul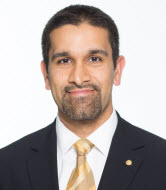 Vice-President, Portfolio Management and Portfolio Manager
Sun Life Global Investments
As Vice-President, Portfolio Management and Portfolio Manager, Chhad Aul oversees Sun Life Global Investment's asset allocation strategies with a specific focus on Sun Life Granite Managed Solutions and Sun Life Milestone Funds.
When Chhad joined the company in 2014 he brought with him deep expertise in quantitative strategies, asset allocation and investing with derivatives. He uses these strengths to build and manage sophisticated solutions for Canadian investors seeking broadly-diversified portfolios.
To increase investor knowledge, Chhad also travels extensively across Canada to discuss the market and his team's investment process with advisors and consultants.
Prior to joining Sun Life Global Investments, Chhad was Vice President and Senior Portfolio Manager at State Street Global Advisors where he managed a broad number of equity strategies – from traditional long-only funds to alternative strategies and hedge funds. Earlier he was Associate Portfolio Manager at Hillsdale Investment Management and a Quantitative Analyst at TD Securities.
Chhad holds a BASc in Engineering Science and a Master of Mathematical Finance, both from the University of Toronto. He is also a CFA Charterholder.