Sponsorships
We believe in empowering people to live their brightest and best lives. Sun Life Global Investments has teamed up with international partners to help make the arts more accessible and educate the next generation of Canadians on financial literacy.
Illuminating the arts
For years, Sun Life Global Investments has brought clients best-in-class investment managers. Now, we're partnering up with the best in the performing arts.
We are proud to be the Presenting Partner of Cirque du Soleil® in Canada, illuminating the stage for this year's spectacular shows, CRYSTAL™, CORTEO ™, ALEGRIA™, LUZIA™ and AMALUNA™.
Finance and the arts - why?
An investment company and the arts? Why? For SLGI and Cirque du Soleil, we identified shared values that we could further elevate through our partnership.
2018 Nation of Illumination contest winner
Congratulations to Jessica on winning our Nation of Illumination photo booth contest at Cirque du Soleil Corteo™ presented by Sun Life Global Investments. Enjoy the trip to see Cirque du Soleil anywhere in Canada in 2019!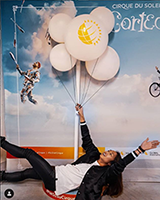 ---
Illuminating financial literacy
We believe in empowering our youth with financial literacy. That is why we have partnered with FuturFund, an organization committed to the financial literacy of the next generation.
What is FuturFund?
FuturFund was founded in 2014 by two high school students in their senior year. Three years later, it has grown to be the largest student-run non-profit organization in the financial literacy space. We are happy to sponsor FuturFund and continue to promote the message of financial literacy to highschool students in Canada.
We sat down recently with owners Sara and Katherine to learn how FuturFund was developed and to bring visibility to their purpose and passion.
You can learn more about their amazing initiatives at http://www.futurfund.org/.