On the road: reflections from 11 cities in 35 days
By Rick Headrick, President, Sun Life Global Investments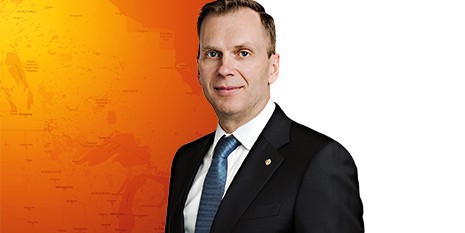 11 cities, 35 days, 1,100 advisors – by the numbers, it was a fast-paced tour across the country.
I've travelled across Canada eight times for a coast-to-coast event series to meet financial advisors since I became President of Sun Life Global
Investments in 2010. As I reflect on the end of this year's Illuminate 2018 road show, a few themes come to light.
My absolute favourite part every time is connecting with financial advisors who have become friends. It's so important for us to hear what's on the minds of advisors and their clients. It is critical for Sun Life Global Investments to learn how we can improve to meet the needs of advisors, their clients and their business. This year, investors are concerned about the markets and the global economy. They are unsure of where to put their money – do they invest it? Keep it in savings? Pay down debt? Of all the national road shows we have done, this is probably the most nervousness I've seen among Canadians – and with good reason, since nearly every market is down year-to-date and volatility has been increasing.
It is worth highlighting that this is where advisors shine. Many advisors do some of their best work in times of market turmoil, by helping their clients focus on the longer term and not reacting to tweets by a certain global leader.
The other thing we heard a lot of was the need for lower-cost solutions that still have the benefit of active management. We launched our Sun Life Tactical ETF Portfolios midway through the road show and heard a lot of initial interest and feedback. Because of the market volatility, we also heard a renewed interest in segregated funds - which we're well-positioned to address with our Sun Life Guaranteed Investment Funds (GIFs). And with more than 1,000 Canadians turning 65 every day, there's heightened concern among retirees of the need for investments to last a lifetime. The last feedback we received was around emerging markets. We acquired Excel Funds earlier this year and while it turned out to be a tough year for emerging markets, many advisors view it as a buying opportunity for the longer term.
All in all, it was a privilege to connect with so many advisors to hear about how Sun Life Global Investments can continue to grow and improve to help clients meet their goals. Thanks to so many of you who took time out of your busy schedules to come meet with us and shape our journey forward!
1 Data tables, 2016 Census of Population, Statistics Canada. For this Census, 421,370 Canadians were age 64, meaning an average of 1,155 would turn age 65 every day in 2017.
Commissions, trailing commissions, management fees and expenses may all be associated with investments in mutual funds and segregated funds. Mutual funds are not guaranteed, their values change frequently and past performance may not be repeated. The Sun Life Milestone Funds are structured to pay a Guaranteeed Value per unit on maturity. Redemptions prior to maturity will be processed at the current net asset value per security, less any applicable redemption fees and the funds will not benefit from the Guarantee value. Please read the fund's prospectus or information folder for more information.