Sun Life Granite Income Funds
For Institutional Investors only.
Sun Life Granite Income Funds1 are designed to provide your members with income-oriented solutions. These portfolios seek to offer:
A choice of two portfolios based on your member's long-term income needs and risk tolerance
Broad diversification to generate a consistent and sustainable level of income for the funds.
Choice

Strategic asset mixes for the funds are as of December 31, 2018 and are subject to change at any time without notice.
Sun Life Granite Income Fund1
Intended for members who are more conservative, this fund consists primarily of holdings in higher-quality fixed-income funds, as well as income-generating equity mutual funds and exchange-traded funds.
Sun Life Granite Enhanced Income Fund1
Designed for income-oriented investors with a higher tolerance for risk, this fund is more heavily weighted in income-generating equity mutual funds and exchange-traded funds, as well as higher-yielding fixed-income categories like emerging markets debt and high-income bonds.
Broad diversification
Sun Life Granite Income Funds1 offer a blend of asset classes intended to generate a consistent level of income for the funds, while managing risk. This is achieved through a carefully selected mix of underlying securities. Each portfolio invests in mutual funds and exchange-traded funds that provide exposure to a variety of asset classes. Along with more traditional fixed-income products are higher-yielding asset classes like high yield bonds, emerging markets debt, real estate income trusts (REITs), and dividend-paying Canadian and global equities. Investing in some of these asset classes on their own could be considered somewhat risky, but when combined with additional, low-correlation asset classes, an investor's overall portfolio volatility risk is potentially reduced.
Disciplined investment process
The portfolio management team follows a rigorous investment process for the Granite income funds: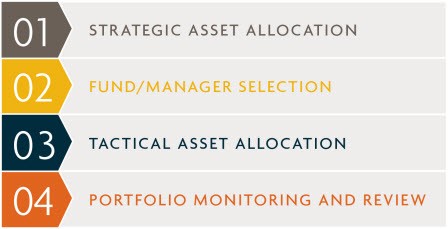 Risk Management
Portfolios are diversified by level of risk. To minimize individual management risk, the portfolios use multiple investment managers with expertise in each of the various asset classes. In addition the funds have varying investment and manager styles.
Strategic Asset Allocation


Each portfolio's strategic asset mix is constructed by determining the percentage to be invested in each asset class depending on the given risk tolerance and income objectives.

Fund/Manager Selection


The team takes advantage of its global relationships to conduct a rigorous selection process. This results in access to some of the best asset managers and funds from around the world, which helps reduce manager specific risks.

Tactical Asset Allocation


Market conditions are assessed to tactically adjust the funds and take advantage of potentially attractive opportunities from a risk adjusted and capital preservation perspective. Tactical shifts are gradual and made within pre-determined guidelines.

Portfolio Monitoring and Review


The underlying funds and their portfolio managers are continually assessed and monitored to ensure each fund's objectives are met.
Sun Life Granite Income Funds1 are segregated funds of Sun Life Assurance Company of Canada, managed on a sub-advisory basis by Sun Life Global Investments (Canada) Inc.
1 Effective January 1st, 2019, the Sun Life Financial Managed Income Portfolios were renamed the Sun Life Granite Income Segregated Fund and Sun Life Granite Enhanced Income Segregated Fund respectively to better align with the current naming conventions on the GRS platform.