Sun Life Granite Multi-Risk Target Date Funds
For Institutional Investors only.
Sun Life Granite Multi-Risk Target Date Funds are designed to provide your members with:
One-stop solution
Sun Life Granite Multi-Risk Target Date Funds provide your members with a flexible one-stop investment solution. Members simply need to ask themselves two questions – When do I plan to use the money? and what is my risk tolerance? and choose the fund that is the closest to this date and risk tolerance.
Each fund's ratio of equity to fixed income investments changes over time based on pre-determined guidelines. This evolution is known as a glidepath. As the funds near maturity the fixed income exposure increases, providing greater protection of capital against a major equity market downturn. The more aggressive funds have a higher equity allocation for longer, while the conservative funds move into fixed income earlier. In short, Sun Life Granite Multi-Risk Target Date Funds offer members a high degree of customization based on time horizon and risk profile.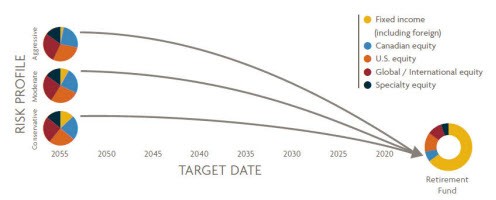 The strategic asset mixes for the funds are as of September 30, 2015 and are subject to change at any time without notice.
The funds are also available in 5 and 10-year increments and on a stand-alone basis.
A member who invests in Sun Life Granite 2050 Aggressive Fund, for example, would have a longer investment time horizon and a higher risk tolerance than a member who selects Sun Life Granite 2035 Moderate Fund.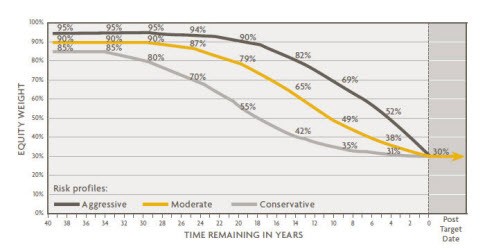 The strategic asset mixes are as of September 30, 2015 and are subject to change at any time without notice.
When each fund reaches maturity (June 30 of targeted year), the assets will be transferred to the Sun Life Granite Retirement Fund.
Broad diversification
Sun Life Granite Multi-Risk Target Date Funds are unique in that they deliver broad diversification by asset class, geographic region, industry, manager and style. The funds incorporate non-traditional asset classes such as high yield bonds, emerging market debt and equities, real estate and infrastructure. The funds are managed with the belief that, from an overall portfolio perspective, a mix of tactical active and passive investments is complementary.
Sun Life Global Investments has a rigorous manager selection process that closely examines track record, risk management, organizational structure, strength and strategy, investment philosophy and experience, to name just a few of the qualities that are looked for. Only after this thorough review process is a manager chosen to represent an asset class within Sun Life Granite Multi-Risk Target Date Funds.
Disciplined investment process
The Sun Life Global Investments Portfolio Management Team follows a disciplined, four-step investment process to build and manage each portfolio.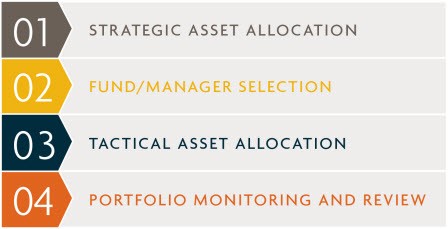 Risk Management
Risk is controlled by constructing a series of diversified funds that employ multiple asset classes as well as multiple investment managers with expertise in each of the various asset classes. The portfolio manager will shift holdings in the portfolios to meet their investment objectives while taking on an appropriate level of overall risk.
Strategic Asset Allocation


Each portfolio's strategic asset mix, or glidepath, is constructed to provide the most efficient return potential while minimizing negative investment outcomes and managing overall risk. The glidepath for each risk profi le series automatically and gradually shifts from a focus on capital growth to fi xed income as the fund approaches maturity. In addition, the Retirement Fund is structured for capital preservation while allowing a reasonable withdrawal rate for retirement income.

Fund/Manager Selection


The team takes advantage of its global relationships to conduct a rigorous selection process. This results in access to some of the best asset managers and funds from around the world.

Tactical Asset Allocation


Market conditions are assessed on an ongoing basis to tactically adjust the asset mix and take advantage of potentially attractive opportunities from a risk adjusted and capital protection perspective. Tactical shifts are gradual and are made within pre-determined guidelines, in a risk controlled fashion.

Portfolio Monitoring and Review


The underlying funds and their portfolio managers are continually assessed and monitored to ensure each fund's objectives are met.
Sun Life Granite Multi-Risk Target Date Funds are segregated funds of Sun Life Assurance Company of Canada, managed on a sub-advisory basis by Sun Life Global Investments (Canada) Inc.
1Effective January 1st, 2019, the word "Financial" was removed from several funds to better align with the current naming conventions on the GRS platform.
FOR CONSULTANTS
Need more information on the Granite investment process? Contact us!