Q3 2017 | Market update
Sadiq S. Adatia
Chief Investment Officer
Opinions as of October 2, 2017

---
HIGHLIGHTS

Bank of Canada raises interest rates twice
U.S. Federal Reserve pauses on interest rate increases
Crude prices finally start to rise
Equity markets grind higher
Canadian bond yields jump, U.S. Treasury yields remain flat
Foreign equity markets higher, Canada lower
Canadian dollar surges to US $0.81
---
INTEREST RATES RISE IN CANADA – PAUSE IN THE U.S.
A year ago who would have thought that the Bank of Canada would be raising interest rates at all, let alone multiple times? Yet here we are, three quarters of the way through 2017 and the BoC has done exactly that.
It is clear that the U.S. and Canada seem to have two different views on how to deal with economic growth and potential inflation. While the U.S. Federal Reserve has taken a patient approach by slowly raising interest rates and letting the effect filter into the system, the BoC has moved quickly. – in our view, delivering a blow to sustainable growth.
We definitely prefer the Fed's approach, which raised rates in 2015 and waited almost a year before raising them again. Since then, investors have been relatively optimistic with the U.S. economy continuing to grow with tame inflation.
But the BoC's decision to bring its key lending rate to 1% following two 25 basis point increases, left us worrying about what the impact will be on consumer debt and the real estate market – both of which have been instrumental to Canada's economic growth. Time will tell which approach was better.
In Europe, the German elections came off without any major surprises while the broader European economy continued to improve. With most of the political uncertainty in the eurozone behind us, the focus will now be on job growth, the overall economy and consumer spending. So far, progress has been good in those areas.
Though equity markets moved higher this quarter, it was more of a grind than a solid upwards move. Perhaps this is an indication that the market's upside could be limited for the rest of the year.
CANADIAN ECONOMY: WILL GROWTH CONTINUE?
The BoC raised rates after the economy showed significant strength. But that increase could potentially have a negative effect on areas of the economy that have contributed to growth over the past few years. This includes consumer spending and real estate, both of which were already areas of concern.
Canada did receive one piece of good news when the price of oil bounced back, ending the quarter above US$50 a barrel. Unfortunately, it was hurricanes in the Caribbean and Gulf of Mexico that disrupted oil markets and helped push prices higher. At the same time, OPEC production cuts finally started to take hold.
It is important to understand that these supply constraints are just temporary, and oil inventories could once again build up. However, we have also seen a slowdown in the number of U.S. oil rigs in operation, which may help curb crude supplies over the longer term.
Regardless of the reason, we think oil is now more appropriately valued. Furthermore, we have finally seen energy stocks appreciate commensurate with oil prices (Chart 1). As a result, the S&P/TSX Composite Index staged a small rally to finish higher at quarter end. Unfortunately, the index still lags foreign equity markets by a fair margin.
Looking ahead, we are closely watching to see if the BoC raises interest rates yet again this year. If it does, we expect the S&P/TSX Composite Index to head lower in response.
ENERGY FINALLY REBOUNDS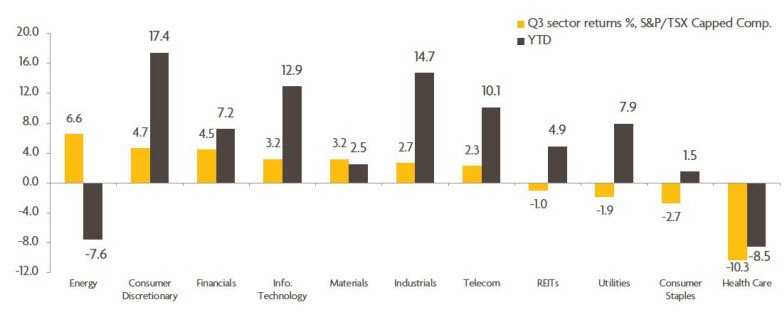 Source: Bloomberg
CANADIAN BOND YIELDS START TO RISE
Canadian bond yields moved significantly higher in Q3. The yield on Canadian 10-year bonds started the quarter at 1.83% and ended at 2.10%. But the yield on U.S. 10-year Treasuries was not much higher, ending the quarter at 2.33%. The increase in Canada was tied directly to the BoC's interest rate hikes, while in the U.S., the Fed's rate pause kept yields relatively stable for now. Though with the markets expecting both the Fed and BoC to raise interest rates in Q4, we should see yields in both countries head higher by year-end, putting pressure on Canadian bonds and U.S. Treasuries.
WHAT CAN DRIVE THE U.S. MARKET HIGHER?
So far this year, U.S. equity markets have been rising solely on fundamentals. The question remains: Without U.S. President Donald Trump's promised economic stimulus (tax breaks and infrastructure spending) can the markets move even higher? We think they can, if U.S. job growth and personal income continues to grow and consumer confidence remains strong.
INTERNATIONAL MARKETS: HAVE THE CLOUDS FINALLY PARTED?
It is nice not to talk about the European political situation for a change and just focus on economic fundamentals. Although international markets have had strong returns, European equity valuations still do not seem stretched, especially relative to other developed markets. We are also seeing encouraging signs of economic growth and prosperity in the region, including lower unemployment and rising consumer confidence.
EMERGING MARKETS: STRONGER OVER THE LONG TERM
Emerging markets continue to be the top performers in the quarter, and still look attractive (Chart 2). But we cannot ignore their exceptionally strong returns and the potential for a pullback. And if tensions continue to build between the U.S. and North Korea, emerging markets could produce negative returns as investors grow more risk averse.
EMERGING MARKETS CONTINUE TO RALLY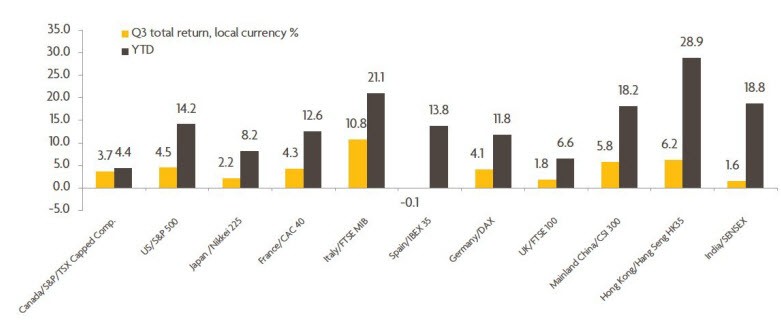 Source: Bloomberg
OUTLOOK: MARKETS ARE FAIRLY VALUED BUT MAY GO HIGHER
In terms of the U.S., we continue to like the economic fundamentals and do not see anything that could derail them at this time. Furthermore, if it materializes, Trump's tax package could help boost the economy.
In Europe, now that political risk has abated, we are more optimistic that growth will improve.
In Canada, we continue to worry about the BoC's rapid pace of interest rate increases, which could add to the cost of consumer debt and ultimately impede consumer spending. On top of all that, we think home prices have hit their peak and are heading lower, and that the ongoing NAFTA negotiations between Canada, the U.S. and Mexico could have a negative impact on the economy. Not surprisingly, we remain less optimistic about Canada.
Emerging markets have been the best performing market year-to-date, and we are still comfortable with valuations.
The Canadian dollar has gone past our upper range of US$0.78 and now sits at US$0.81 (high for the quarter was over US$0.82). While the two interest rate hikes helped drive the value of dollar higher, the increase also had to do with the Fed holding the line on interest rates. That said, if the Fed begins to raise rates again, we don't expect to see much more strength in the Canadian dollar.
Canadian and U.S. bond yields should move higher by year-end, which should put downward pressure on bond prices. We saw negative returns in bonds in Q3, and would not be surprised to see a continuation of that in Q4.
Overall in Q3, not much has changed in our view. We remain slightly bullish on equities with a bias to foreign markets. And we are less positive on bonds than we were previously.
---
This commentary contains information in summary form, for your convenience, published by Sun Life Global Investments (Canada) Inc. Although this commentary has been prepared from sources believed to be reliable, Sun Life Global Investments (Canada) Inc. cannot guarantee its accuracy or completeness and is intended to provide you with general information and should not be construed as providing specific individual financial, investment, tax, or legal advice. The views expressed are those of the author and not necessarily the opinions of Sun Life Global Investments (Canada) Inc. and/or its affiliates. Please note, any future or forward looking statements contained in this commentary are speculative in nature and cannot be relied upon. There is no guarantee that these events will occur or in the manner speculated. Please speak with your professional advisors before acting on any information contained in this commentary.
© Sun Life Global Investments (Canada) Inc., 2017. Sun Life Global Investments (Canada) Inc. is a member of the Sun Life Financial group of companies.