Executive Summary
More than half the world's population is expected to join the global middle class, driven by urbanization in emerging markets (EMs) by 2022
Since global GDP growth is increasingly tied to per-person consumption growth (rather than population growth), the middle class expansion in EMs points to a greater share of global GDP growth coming from them – and this is indeed happening
As EMs grow their economic presence, they are becoming more resilient
Middle class expansion and "leapfrogging" are transforming the economic focus of emerging economies, with greater concentration in technology
This is the first in a series of whitepapers we are writing to explore emerging markets. The goal is to provide information about the way EMs are changing, and the potential impact on portfolio allocations.
Many of us have grown up in a polarized world: one consisting of the rich, developed markets and the substantially less rich, emerging markets. In 2001, however, the balance started to shift, starting with China joining the World Trade Organization. Now, nearly two decades into the 21st century, China has become the world's second-largest economy and eight EM countries are in the top 20. So, it is time to check in on our characterizations of our polarized world. Are emerging markets investments really a niche asset class? Are their economies inherently less stable than those of developed countries? Just how much is the world flattening? In this paper, we review the current economic power of EM countries and the trends driving their growth. We also analyze the way two decades of growth have affected the nature of EM investing.
Our conclusion: The shift from developed to emerging is well underway, but we're just getting started.
Current list of emerging market countries (MSCI)
Americas
Europe, Middle East & Africa
Asia
Brazil*
Czech Republic
Russia*
China*
Pakistan
Chile
Egypt
South Africa
India*
Philippines
Colombia
Greece
Turkey*
Indonesia*
Taiwan
Mexico*
Hungary
United Arab Emirates
South Korea*
Thailand
Peru

Poland
 
Malaysia
 
 
Qatar
 
 
 
Source: MSCI Inc. * indicates ranked in the top 20 countries in nominal GDP.
The ascendant EM middle class
Right now, EM countries are driving a rapid expansion of the global middle class and this, in turn, is transforming the world economy. The World Bank defines the global middle class very broadly: those who are no longer poor or vulnerable to falling into poverty (households spending between $11 and $110 per day on a purchase price parity [PPP] basis1). In 1985, the global middle class reached its first billion mark; in 2006, the second billion; and in 2015, the third billion. Currently at 3.2 billion strong, it is estimated that the fourth and fifth billion will join in 2022 and 2028 respectively2. In other words, more than half of the global population would be considered middle class within a decade. This unprecedented development is largely due to the rise of emerging markets3.
Before we discuss the drivers of this expansion, it's important to note why it matters: middle class consumers contribute disproportionately to global economic growth. Currently, the global middle class accounts for over one-third of the global economy: US$35 trillion, or US$12,000 of consumption per person4. Because of the segment's expansion, however, this share is expected to grow. Until the onset of the 20th century, population growth accounted for most of the consumption growth (more people = growth). However, as the global birth rate decreases and emerging markets become more prosperous, individual spending becomes ever more important. And this spending increases when more people become middle class. Currently, individual spending accounts for 75% of consumption growth5.
Today, emerging markets account for half of all global consumption, and are forecasted to account for two-thirds by 2030. By this time, EM spending is forecasted to increase from $35 trillion to $64 trillion. This means that emerging markets consumption is expected to grow at 6% to 10% a year, compared to 0.5% to 1% in developed markets. By 2030, of the $29 trillion additional consumption, $28 trillion will be from emerging markets. For comparison, Canada's current total GDP is $1.7 trillion6.
Urbanization and economic activity
Urbanization has been the key to this extraordinary middle class growth. In 2015, less than half of EM residents lived in cities. By 2025, urban dwellers are expected to outnumber rural residents7. How does this impact economic growth? Every 5% increase in urban population generates a 10% increase in economic activit8.
As people move to urban areas, they tend to find occupations with higher wages, which then affords a higher quality of life and access to greater socio-economic opportunities. This, in turn, leads to greater infrastructure growth and further consumption– pillars of economic growth. Currently, there are 31 megacities (more than 10 million inhabitants) across the globe. Twenty-four of them are located in emerging markets, with six in China and five in India9. While megacities have represented a key driver of EM growth, in the future, the fastest growth is projected to take place among the 400 mid-sized cities spread across emerging markets.
Leapfrogging: Roads, mobile towers and Alibaba
Consumption in emerging markets is taking a different shape than developed markets (DM). When DM was in its developing years, bricks-and-mortar businesses were dominant, building off the advent of the car age as highway and road infrastructure took shape. As a result, in the U.S. and Canada, gross leasable area or store space available per person is 21.5 and 16.4 square feet10. In EM, retail square footage per person is only a fraction of those numbers: Brazil: 6.8; China: 4.2; and India: 0.511. This difference can be explained by a divergent development pattern called leapfrogging.
In emerging markets, as highways and roads are built, digital infrastructure such as cellular towers are built alongside. This leapfrogging in infrastructure development has enabled EM countries to take consumption online. In China and India, 19.3% and 10.6% of incomes are spent online; this compares with only 7.6% and 4.4% in the U.S. and Canada12. How does this affect corporations? One example is Alibaba, an e-commerce company in China. In 2018, Alibaba was able to generate $30.8 billion in sales over one day (Singles Day) compared to $7.9 billion on Cyber Monday and $6.2 billion on Black Friday for the U.S.13 In Canada, total e-commerce sales in 2018 were $40 billion – a number that could be surpassed in the future by Alibaba on just Singles Day alone.
Percentage of population living in urban areas (current and projected)
Region or Country
2015
2025
2050
Developed Countries
78.1
80.2
86.6
Canada
81.3
82.1
87.3
Emerging Countries
49.0
54.3
65.6
China
55.5
66.5
80.0
India
32.8
37.4
52.8
Source: UN Department of Economic and Social Affairs (DESA), World Urbanization Prospects.
It's not just urbanization: The rise of EM STEM grads
The impact of a growing middle class has a profound impact on demographics and, in turn, education. And this gives us a hint about the future prospects of emerging markets. Higher income (part of urbanization) has a positive correlation to a reduced fertility rate and increased spending on education. Fewer kids, with parents who want them to succeed in an increasingly competitive environment. We are already seeing this in China, where an estimated 12.5% of all consumption growth is on education for those under 30. This is higher than any other country in the world except Sweden14. In 2016 alone, China and India led the world with 4.7 and 2.6 million science, technology, engineering and mathematics ("STEM") graduates. So, the world's two most populous EM countries now account for 58% of the world's total STEM graduates15. By comparison, the U.S. had 568,000 STEM grads. If economic competitiveness hinges on innovation in the STEM areas, it is easy to imagine a future in which emerging countries require a new label: emerged and innovating.
GDP and contribution to global growth
In the mid-2000s, emerging markets accounted for 50.6% of global growth16. This number is significantly higher if we consider GDP growth in Purchasing Power Parity (PPP) terms, where EM makes up approximately 70% of global growth. In PPP terms, China and India together accounted for over 40% of global growth in 2018. This change in the drivers of global growth has made emerging markets an asset class too big to ignore.
Percentage contribution to global GDP growth (PPP terms)

Source: IMF WEO database Oct 2018
China: Important now, dominant in a decade
All discussions of emerging markets start with China. Consider the following:
China is now the world's largest economy in PPP terms and the second-largest in nominal GDP terms17.
China has surpassed Canada as the U.S.'s largest trading partner.
A total of 120 Chinese companies made the Fortune Global 500 list in 2018.
The International Energy Agency (IEA) reports that China has one-third of the world's wind power, a quarter of its solar capacity, six of the top ten solar-panel manufacturers and four of the top ten wind-turbine makers18.
Taken together, these statistics hardly say "niche market." Forecasts of share of global real GDP growth point to a dominant role by emerging markets generally and China, in particular.
Contribution to global real GDP growth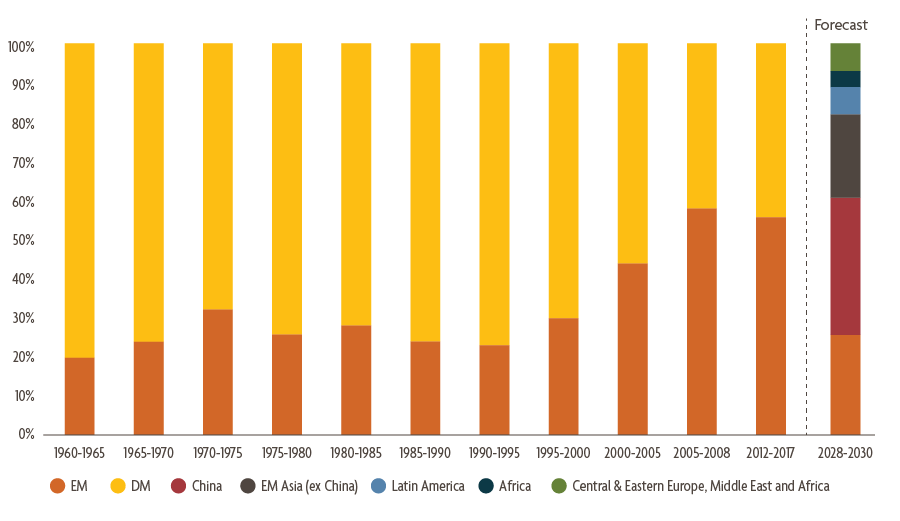 Foreign exchange reserves: Once vulnerable, now more resilient
A country's foreign reserves are the amount of capital deposits with a country's central bank that may be used to pay outstanding liabilities. These liabilities may include any debt denominated in foreign currencies, or the country's trade account deficit. Foreign reserves may also be used from time to time to stabilize the country's currency fluctuations.
Over the past 20 years, most EM countries have been consistently increasing their foreign reserves. In mid 1990s, China owned only 4.8% of total foreign currency reserves, but that number has increased to 27% in 2017, according to World Bank's database.
Economic growth has meant that EM economies have now become lenders instead of borrowers. This is especially the case with China. In recent years, EM countries have been using their large foreign exchange reserves to buy long-term bonds of debt-laden economies in Europe and the U.S. In fact, China has become the largest foreign creditor to the U.S.
EM cash buffer can reduce currency fluctuations
Moreover, this cash buffer has made investing in EM assets safer than even 10 years ago. Emerging market governments have a greater ability to pay off any debts they have, especially debts issued in foreign currencies like the U.S. dollar (hard currency bonds). In addition, EM central banks have been able to use these FX reserves to manage any large currency fluctuations. This increased stability benefits foreign investors with domestic assets in EM countries. From time to time, EM central banks have also used these reserves to defend their currency from sharp depreciation. For example, in 2018, when the U.S. Federal Reserve started tightening monetary policy with four rate hikes during the year, there was downward pressure on EM currencies. In response, EM countries like India spent some of their FX reserves to manage the currency depreciation against the U.S. dollar.
Important stability indicators improving
One measure of a company's financial health is its level of debt relative to equity or cash flows. Similarly, an indicator of a country's financial health is its debt-to-GDP and its GDP growth rate.
EM economies are growing faster than those in developed markets. At the same time, they have lower government debt to GDP. This has put them in an increasingly stable position, reducing the risk of a country defaulting on its debt obligations. In fact, EM countries are in a much more stable position than developed markets like the U.S., Canada and Japan.
Not only are the EM countries less indebted, but their residents also tend to be better savers. In China and India, they usually save about 24% and 18% respectively, while in Canada and the U.S., the average savings rate as a percentage for Gross National Income is 2.05% and 2.39%19. This has a profound impact on the economy. When a country saves more, it has capital left over to be put back into the system. Savers may choose to invest in the capital markets, providing a boost to equity and bond flows, or they may choose to deposit in banks, which further enhances money available for lending. Overall, this is an important catalyst in boosting growth.
Implications for investors
Nearly two decades into the 21st century, the world continues to shift. It is no longer the case that the U.S. makes up one-third of the global economy, as it did in 200120: it is now under one-quarter21. This is not about the U.S. economy declining; it is about the growth of EM economies. There are a number of factors driving EM economic growth, which are in turn affecting their capital markets: urbanization drives a growing middle class, which drives greater consumption and greater expenditure on education. This speeds the pace of economic transformation, from agriculture to manufacturing to high tech. The result has been more diverse, resilient economies and more diverse, developed stock markets. For North American investors, who tend to be more comfortable investing at home, this backdrop is key in understanding the role of EM diversification. We will delve further into the changing nature of EM investing in a future whitepaper.
1 Brookings Institution, taking inflation into account and in 2011 PPP terms
2 https://www.brookings.edu/wp-content/uploads/2017/02/global_20170228_global-middle-class.pdf
3 Middle class expansion is broadly based across Asia - https://www.brookings.edu/research/the-unprecedented-expansion-of-the-global-middle-class-2/
4 Ibid
5 Ibid
6 The World Bank
7 Credit Suisse, Emerging Market Research Institute
8 Ibid
9 http://www.un.org/en/development/desa/population/publications/pdf/urbanization/the_worlds_cities_in_2016_data_booklet.pdf
10 https://www.theatlantic.com/business/archive/2017/04/retail-meltdown-of-2017/522384/
11 https://www.statista.com/chart/9454/retail-space-per-1000-people/
12 https://www.ecommercewiki.org/reports/300/global-b2c-ecommerce-report-2016
13 "Alibaba singles day tops $30 billion," by Arjun Kharpal, CNBC.com, Nov. 11, 2018
14 https://www.mckinsey.com/featured-insights/urbanization/urban-world-the-global-consumers-to-watch
15 http://reports.weforum.org/human-capital-report-2016/infographics-and-shareables/
16 IMF WEO database, Oct. 2018
17 "Get Used to It, America: We're No Longer No. 1,"by Noah Smith, Bloomberg News, Dec. 18, 2018.
18 "China is rapidly developing its clean-energy technology," The Economist, March 15, 2018.
19 The World Bank
20 World Development Indicators, cited in "U.S. role in global economy declines 50%" by Mike Patton, Forbes, Feb. 29, 2016.
21 "Here's how global GDP is divvied up," by Robbie Gramer, Foreign Policy, Feb. 24, 2017.
Information contained in this whitepaper is provided for information purposes only and is not intended to provide specific financial, tax, insurance, investment, legal or accounting advice and should not be relied upon in that regard and does not constitute a specific offer to buy and/or sell securities. Views expressed regarding a particular company, security, industry or market sector should not be considered an indication of trading intent of any investment funds managed by Sun Life Global Investments (Canada) Inc.   These views are not to be considered as investment advice nor should they be considered a recommendation to buy or sell.
Information contained in this whitepaper has been compiled from sources believed to be reliable, but no representation or warranty, express or implied, is made with respect to its timeliness or accuracy. This whitepaper may contain forward-looking statements about the economy, and markets; their future performance, strategies or prospects. Forward-looking statements are not guarantees of future performance and are speculative in nature and cannot be relied upon. Forward-looking statements involve inherent risks and uncertainties about general economic factors, so it is possible that predictions, forecasts, projections and other forward-looking statements will not be achieved. You are cautioned to not place undue reliance on these statements as a number of important factors could cause actual events or results to differ materially from those expressed or implied in any forward-looking statement. Before making any investment decisions, you are encouraged consider these and other factors carefully.