Balancing rivalry and engagement
Positive economic news out of Europe is hard to come by these days. It's easy to get caught up in U.S.-EU tariff threats, weak Eurozone economic data and a worried European Central Bank, not to mention the ongoing uncertainty surrounding Brexit. Amid all this noise, the EU and China built on centuries of relationships with a recently completed summit.
In preparation, the EU published a set of ten actions last month, spanning across a wide range of topics from peace and security, sustainable economic development and good governance, to reciprocity and open procurement.
It advocated a pragmatic and whole-of-EU approach, describing China as a "cooperation and negotiating partner," as well as an economic competitor and systematic rival. With this lens, it outlined opportunities while asserting clear rules of engagement, including references to a "level playing field" and the importance of translating publicly stated ambitions into "policies and actions".
For some time, Europeans have not been convinced of China's dedication to fairness and alignment of interests, for example shown through growing skepticism of the 16+1 group of China and Central and Eastern European (CEE) nations.
Even Germany's pro-trade mittelstand have begun grumbling about high levels of allegedly state-backed Chinese FDI, and perceived unfair technology transfers to Chinese firms reducing German competitiveness. With nationalism on the rise in Europe, any trade relationship will have to pass the populism test, especially in light of the structural EU-China balance of trade deficit.
European Union total trade by region
(EUR: millions as of Mar.15 2019)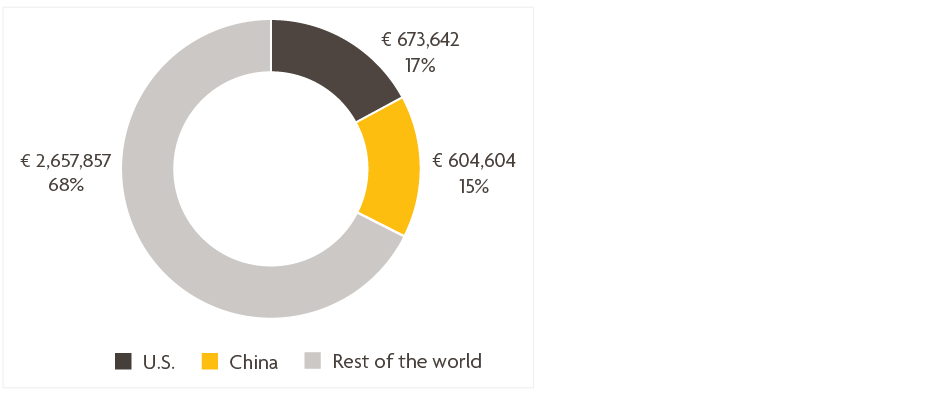 Source: Eurostat
Within China there are certain red lines which are unlikely to be crossed. China has demonstrated limited willingness to engage meaningfully on areas they deem as central to their national interest, including human rights and the military buildup in the South China Sea. China has also shown a preference for bilateral agreements, as demonstrated with Italy signing up to the Belt and Road Initiative, much to the chagrin of Brussels.
There is room for optimism. The EU has resisted calls from its Western partners to ban controversial technology firm Huawei from competing in 5G infrastructure, showing a willingness to pursue pragmatic economic policy decisions in the face of geopolitical concerns.
China continues to open domestic industries to foreign competition, with the China Securities Regulatory Commission expressing a willingness to continue the process. UBS, a European financial services company, is one of the first foreign firms to take advantage of China's newfound openness, acquiring 51% of a local joint venture.
Importantly, both sides agreed to concrete actions to move their relationship forward, including a commitment to conclude an EU-China Comprehensive Investment Agreement in 2020, cooperation on Europe-Asia connectivity and WTO reform.
Their expressed firm support for the rules-based, multilateral trading system with the WTO at its core, stands in stark contrast to the bi-lateral framework more recently pursued by the U.S. Further integration between two of the world's largest markets and first and second largest export partners may provide a welcome boost to economic activity and sentiment.
Centuries ago, Marco Polo's travels to China inspired generations of European-Chinese relationships, trade, and investments. He was imprisoned in a Genoese jail upon returning from China. It will be important to watch how this current engagement will evolve and help shape broader multi-lateral arrangements.
This commentary contains information in summary form for your convenience, published by Sun Life Global Investments (Canada) Inc. Although this commentary has been prepared from sources believed to be reliable, Sun Life Global Investments (Canada) Inc. cannot guarantee its accuracy or completeness and is intended to provide you with general information and should not be construed as providing specific individual financial, investment, tax, or legal advice. The views expressed are those of the author and not necessarily the opinions of Sun Life Global Investments (Canada) Inc. Please note, any future or forward looking statements contained in this commentary are speculative in nature and cannot be relied upon. There is no guarantee that these events will occur or in the manner speculated. Please speak with your professional advisors before acting on any information contained in this commentary.
© Sun Life Global Investments (Canada) Inc., 2019. Sun Life Global Investments (Canada) Inc. is a member of the Sun Life Financial group of companies.