In brief
Diminishing macro fears have driven a market recovery despite a profit slowdown.
Margins are at risk due to a cost structure that is rising faster than revenues because sales growth remains below average and pricing power is fading due to technology.
The magnitude of the recent re-rating in equities and spread-tightening in credit markets has been surprising, particularly when considering the prospects for markedly lower profits this earnings season. This is largely due to diminishing fears of negative macro catalysts, namely the trade war and tighter monetary policy. But what impulse will financial markets require to drive future returns?
In a word, earnings.
This business cycle has been above average in length but below average in strength as spending on tangible goods — such as computer hardware or automobiles — has moved from what were once large upfront capex line items to lower and recurring operating expenses, such as cloud computing or ride sharing.
This has led, over the past decade, to a different type of economic and profit cycle than I think most investors have been trained for. Here is how that has played out:
In the years immediately following the global financial crisis (GFC), companies shed costs and restored profitability.
As the cycle matured, the adoption of new technologies resulted in lower-than-normal capital investment, which in turn restrained economic and sales growth.
As the benefits of cost-cutting have waned and with revenue growth remaining weak, companies have resorted to increasing financial leverage through additional borrowing. Balance sheet quality has been sacrificed for the benefit of higher dividends, mergers and acquisitions, and buybacks. As a result, corporations, not investors, have been the largest purchasers of equities over the past five years.
So where does this leave us going forward?
Companies will need to show profit durability if the market is to sustain today's elevated levels. In order to do so, however, they will ultimately need faster revenue growth because they cannot cut costs forever. That may prove tough, with labour costs rising and financial maneuverability limited owing to today's leverage levels exceeding their pre-GFC heights. After all, revenue growth can come only from one of two places: selling more units or selling the same number of units at higher prices.
This begs the questions: Would a shift back to freer trade increase demand for healthier or more authentic consumer products at the expense of less healthy, less authentic options? And would easier financing conditions provide a sales lift for brick and mortar retailers that offer goods consumers can find cheaper online?
The portfolio manager believes the answer to both questions is no, and consequently that an acceleration of sales growth is unlikely.
Will companies be able to raise prices?
I believe that gross margins are a good, if imperfect, proxy for pricing power. The illustrations below show the number of companies with increasing year-over-year gross margins in the developed markets. While the charts ebb and flow, there has been a general decline in gross margins during this business cycle. This is not a function of below-average economic growth but rather of an increasing number of companies seeing their value propositions duplicated, most often by Internet platforms.
Exhibit 1: Number of companies with increasing gross margins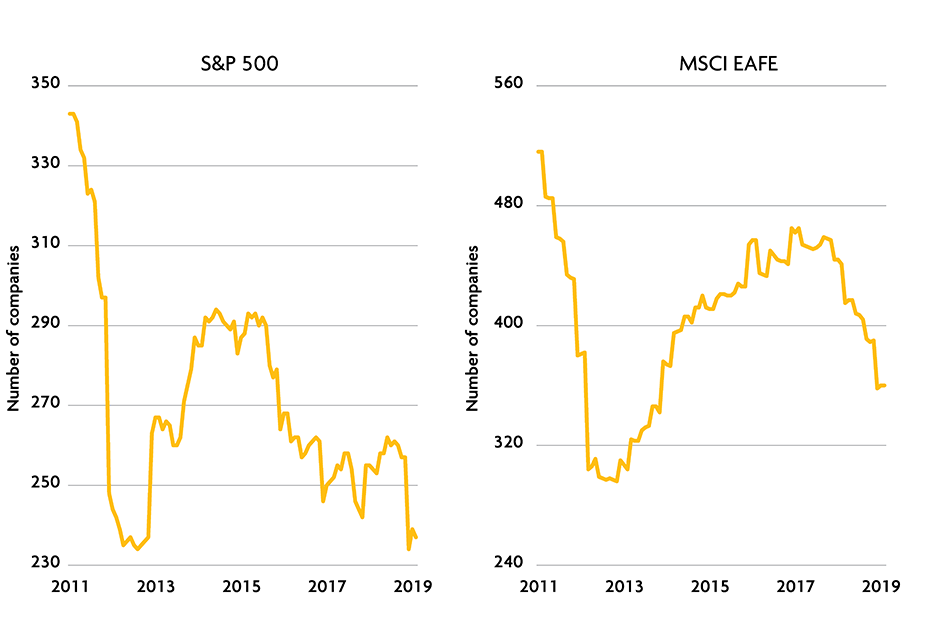 Source: Factset. Monthly data from 1 January 2011 to 28 February 2019. The MSCI EAFE (Europe, Australasia, Far East) Index measures the non-US stock market. The S&P 500 Index measures the broad US stock market.
Disappointment without a further catalyst?
The market, at these valuations, seems to have priced in both positive macro and profit outcomes. I believe that margins are generally at risk due to a cost structure that is rising faster than revenues because sales growth remains below average and pricing power is fading due to technology.
Because of this, without the impulse of an unexpected improvement in profits or a further reduction in macro headwinds, I fear investors risk disappointment.
Important Information
© Sun Life Global Investments (Canada) Inc., 2019. Sun Life Global Investments (Canada) Inc., MFS Institutional Advisors Inc. and MFS Investment Management Canada Limited are all members of the Sun Life group of companies. The MFS® logo is a trademark of The Massachusetts Financial Services Company and is used with permission.
This article was first published in the United States by MFS Institutional Advisors Inc. on DATE and is distributed in Canada by Sun Life Global Investments (Canada) Inc., with permission.
Commissions, trailing commissions, management fees and expenses all may be associated with mutual fund investments. Please read the fund's prospectus. Mutual funds are not guaranteed, their values change frequently and past performance may not be repeated.
This document is provided for information purposes only and is not intended to provide specific financial, tax, insurance, investment, legal or accounting advice and should not be relied upon in that regard and does not constitute a specific offer to buy and/or sell securities. Views expressed regarding a particular company, security, industry or market sector should not be considered an indication of trading intent of any mutual funds managed by Sun Life Global Investments (Canada) Inc. or sub-advised by MFS Institutional Advisors Inc. These views are not to be considered as investment advice nor should they be considered a recommendation to buy or sell. Information presented has been compiled from sources believed to be reliable, but no representation or warranty, express or implied, is made with respect to its timeliness or accuracy. This document may contain forward-looking statements about the economy and/or markets; their future performance, strategies or prospects. Forward-looking statements are not guarantees of future performance, are speculative in nature and cannot be relied upon. They involve inherent risks and uncertainties so it is possible that predictions, forecasts, and projections will not be achieved. A number of important factors could cause actual events or results to differ materially from those expressed or implied this document.
The views expressed in this commentary are those of the authors and are subject to change at any time. These views should not be relied upon as investment advice, as securities recommendations, or as an indication of trading intent on behalf of any other MFS investment product.
The S&P 500 Index measures the broad US stock market.
"Standard & Poor's®" and "S&P®" are registered trademarks of Standard & Poor's Financial Services LLC ("S&P") and Dow Jones is a registered trademark of Dow Jones Trademark Holdings LLC ("Dow Jones") and have been licensed for use by S&P Dow Jones Indices LLC and sublicensed for certain purposes by Massachusetts Financial Services Company ("MFS"). The S&P 500® is a product of S&P Dow Jones Indices LLC, and has been licensed for use by MFS. MFS's product(s) is not sponsored, endorsed, sold or promoted by S&P Dow Jones Indices LLC, Dow Jones, S&P, or their respective affiliates, and neither S&P Dow Jones Indices LLC, Dow Jones, S&P, their respective affiliates make any representation regarding the advisability of investing in such product(s).
Unless otherwise indicated, logos and product and service names are trademarks of MFS® and its affiliates and may be registered in certain countries.
Distributed by: U.S. - MFS Institutional Advisors, Inc. ("MFSI"), MFS Investment Management and MFS Fund Distributors, Inc.; Latin America - MFS International Ltd.; Canada - MFS Investment Management Canada Limited. No securities commission or similar regulatory authority in Canada has reviewed this communication; U.K. - MFS International (U.K.) Limited ("MIL UK"), a private limited company registered in England and Wales with the company number 03062718, and authorized and regulated in the conduct of investment business by the U.K. Financial Conduct Authority. MIL UK, an indirect subsidiary of MFS, has its registered office at One Carter Lane, London, EC4V 5ER UK and provides products and investment services to institutional investors globally. This material shall not be circulated or distributed to any person other than to professional investors (as permitted by local regulations) and should not be relied upon or distributed to persons where such reliance or distribution would be contrary to local regulation; Singapore - MFS International Singapore Pte. Ltd. (CRN 201228809M); Australia/New Zealand - MFSI and MIL UK are exempt from the requirement to hold an Australian financial services licence under the Corporations Act 2001 in respect of the financial services they provide to Australian wholesale investors. MFS International Australia Pty Ltd (" MFS Australia") holds an Australian financial services licence number 485343. In Australia and New Zealand: MFSI is regulated by the US Securities & Exchange Commission under US laws and MIL UK is regulated by the UK Financial Conduct Authority under UK laws, which differ from Australian and New Zealand laws. MFS Australia is regulated by the Australian Securities and Investments Commission.; Hong Kong - MFS International (Hong Kong) Limited ("MIL HK"), a private limited company licensed and regulated by the Hong Kong Securities and Futures Commission (the "SFC"). MIL HK is approved to engage in dealing in securities and asset management regulated activities and may provide certain investment services to "professional investors" as defined in the Securities and Futures Ordinance ("SFO").