In brief
History is replete with manias and bubbles. But it is also full of examples of disruption and innovation. Which bucket will cannabis fall into?
Intellectual property and pricing power drive free cash flow. And free cash flow is ultimately what is material to asset prices long term — not investment stories.
The investment industry has always suffered from storytelling and chart chasing. Examples include the tulip mania of the 1600s, the South Sea Company bubble in the 1700s and more recently the hype surrounding cryptocurrencies. History has shown that if the story does not pan out and deliver promised outcomes (i.e., cash flows), there will be pain. 
However, not all stories disappoint. For instance, smartphones, cloud-computing and eCommerce are innovations that have benefited society enormously, unleashing prodigious cash flows and ultimately returns for investors. A new story the market has become increasingly focused on of late is cannabis. I am asked about it frequently, so I am making it the focus of this month's letter.
Although only two countries have legalized the recreational use of cannabis — Uruguay became the first in 2013, followed by Canada in 2018 — over two dozen countries now permit medical consumption of the plant. In the United States, the situation is more complicated, but the trajectory is similar. While illegal at the federal level, beginning in the mid-1990s many states began legalizing, in some form, the medical use of marijuana. As shown below, 10 U.S. states permit both medical and recreational use.
Exhibit 1: Marijuana legalization status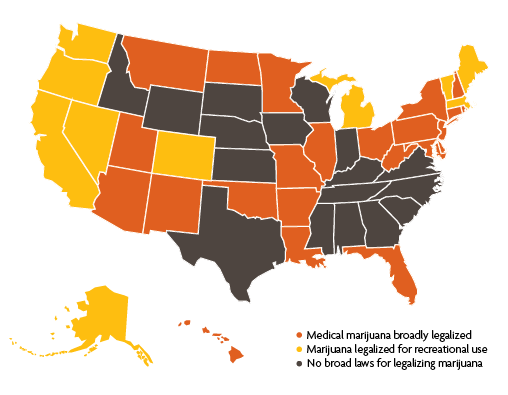 Source: Governing.com. As of 7 November 2018. Used with permission.
We will set aside the question of whether or not society should allow cannabis use, keeping our focus on investing. As potential investors, we would want to know the answers to certain key questions. How big could the profit pool from cannabis be? Could it eclipse beer, wine or spirits? Is there intellectual property that could provide a business with a competitive advantage and superior returns, as with alcohol and coffee? Will there be, for example, a Johnnie Walker or a Starbucks of cannabis?  The answers to these questions are not yet clear, although the equity market's obvious euphoria in this space suggests otherwise. 
Today two-thirds of the population of the United States has access to medical marijuana and one-fifth has access to recreational marijuana1. So while the cannabis profit pool could be large if adoption rates grow, will there be free cash flow? That is hard to envision in a category where we see little product differentiation and no pricing power. For example, in early adopter states like Washington, cannabis prices have steadily declined. Why wouldn't they do the same in Massachusetts or the next region or country that legalizes the plant?
Here is another way we are thinking about this: Households have budgets. People generally budget how much they can spend on vacations, holiday shopping and even lunch during the work week. If cannabis scales up, what might it take share from? As smartphones and tablets penetrated in the late 2000s, they cannibalized sales of personal computers. What existing product categories may be put at risk with the growth of the cannabis market? In our view, beer, wine or spirits could be candidates for cannibalization. We are looking at this issue closely and modeling a potential range of outcomes. 
To sum up, fundamentals such as intellectual property and pricing power drive free cash flow.  And free cash flow is ultimately what is material to asset prices long term — not stories. 
Endnotes
1 Bernstein, "Weekend Consumer Blast: Scoping the Size of the US Cannabis Market – Could It Be As Big As Wine?" November 2, 2018
Commissions, trailing commissions, management fees and expenses all may be associated with mutual fund investments. Please read the fund's prospectus. Mutual funds are not guaranteed, their values change frequently and past performance may be repeated.
This article was first published in the United States by MFS Institutional Advisors, Inc. on February 2018 and is distributed in Canada by Sun Life Global Investments (Canada) Inc., with permission. This commentary contains information in summary form for your convenience. Although this commentary has been prepared from sources believed to be reliable, Sun Life Global Investments (Canada) Inc. cannot guarantee its accuracy or completeness and is intended to provide you with general information and should not be construed as providing specific individual financial, investment, tax, legal or accounting advice and should not be relied upon in that regard and does not constitute a specific offer to buy and/or sell securities.
Views expressed regarding a particular company, security, industry or market sector should not be considered an indication of trading intent of any mutual funds managed by Sun Life Global Investments (Canada) Inc. or sub-advised by MFS Institutional Advisors, Inc and MFS Investment Management. These views are not to be considered as investment advice nor should they be considered a recommendation to buy or sell. Information presented has been compiled from sources believed to be reliable, but no representation or warranty, express or implied, is made with respect to its timeliness or accuracy. This document may contain forward-looking statements about the economy and/or markets; their future performance, strategies or prospects. Forward-looking statements are not guarantees of future performance, are speculative in nature and cannot be relied upon. They involve inherent risks and uncertainties so it is possible that predictions, forecast, and projections will not be achieved. A number of important factors could cause actual events or results to differ materially from those expressed or implied in this document. Please speak with your professional advisor before acting on any information contained in this document.
© Sun Life Global Investments (Canada) Inc., 2019.
Sun Life Global Investments (Canada) Inc., MFS Institutional Advisors Inc. and MFS Investment Management Canada Limited are all members of the Sun Life Financial group of companies.
Disclaimer by MFS Investment Management:
The companies referenced are used for informational purposes only, and do not necessarily represent holdings in any MFS portfolio.
The views expressed are those of the author(s) and are subject to change at any time. These views are for informational purposes only and should not be relied upon as a recommendation to purchase any security or as a solicitation or investment advice from the Advisor.
Unless otherwise indicated, logos and product and service names are trademarks of MFS® and its affiliates and may be registered in certain countries.
Distributed by:
U.S. MFS Investment Management; Latin America - MFS International Ltd.; Canada - MFS Investment Management Canada Limited. No securities commission or similar regulatory authority in Canada has reviewed this communication.
Please note that in Europe and Asia Pacific, this document is intended for distribution to investment professionals and institutional clients only.
U.K. - MFS International (U.K.) Limited ("MIL UK"), a private limited company registered in England and Wales with the company number 03062718, and authorized and regulated in the conduct of investment business by the U.K. Financial Conduct Authority. MIL UK, One Carter Lane, London, EC4V 5ER UK provides products and investment services to institutional investors. This material shall not be circulated or distributed to any person other than to professional investors (as permitted by local regulations) and should not be relied upon or distributed to persons where such reliance or distribution would be contrary to local regulation; Singapore - MFS International Singapore Pte. Ltd. (CRN 201228809M); Australia/New Zealand - MFS International Australia Pty Ltd (" MFS Australia") holds an Australian financial services licence number 485343. MFS Australia is regulated by the Australian Securities and Investments Commission.; Hong Kong - MFS International (Hong Kong) Limited ("MIL HK"), a private limited company licensed and regulated by the Hong Kong Securities and Futures Commission (the "SFC"). MIL HK is approved to engage in dealing in securities and asset management regulated activities and may provide certain investment services to "professional investors" as defined in the Securities and Futures Ordinance ("SFO"). Japan - MFS Investment Management K.K., is registered as a Financial Instruments Business Operator, Kanto Local Finance Bureau (FIBO) No.312, a member of the Investment Trust Association, Japan and the Japan Investment Advisers Association. As fees to be borne by investors vary depending upon circumstances such as products, services, investment period and market conditions, the total amount nor the calculation methods cannot be disclosed in advance. All investments involve risks, including market fluctuation and investors may lose the principal amount invested. Investors should obtain and read the prospectus and/or document set forth in Article 37-3 of Financial Instruments and Exchange Act carefully before making the investments.