Reducing the provincial deficit
The accompanying charts show how much money the Ontario government expects to take in for fiscal year 2019-20 ($154.2 billion), and how much it expects to spend ($163.4 billion). The difference, $9.2 billion, is the expected provincial deficit. The government has committed to eliminating the deficit by 2023-24.
When considering the problem, it's interesting to look at where the government spends its money, to see where it reasonably can cut. For example, interest on the accumulated debt, at $13.3 billion, is a non-discretionary expense: the government has to pay it. That's 8.2% of all expenditures. The health sector, at almost 40% of provincial expenditures, could use reforms, but with an aging population, it will be difficult to take significant money out of this sector, especially with items like drug benefit programs increasing those expenditures. Remember, too, that this sector is responsible for long-term care, and that the government has committed to expanding the number of long-term care beds in Ontario.
So far, we've identified 47.1% of government spending that will be difficult or impossible to reduce, almost half of all provincial spending.
Rather than cut wholesale, the government appears to be making incremental cuts to programs across the board, and introducing reforms that improve efficiencies. The hope appears to be that these measures, individually small, will add up to cuts large enough to bring the budget into balance without causing significant pain. Also interesting, is that the budget is projected to come into balance only after the government's first term has expired.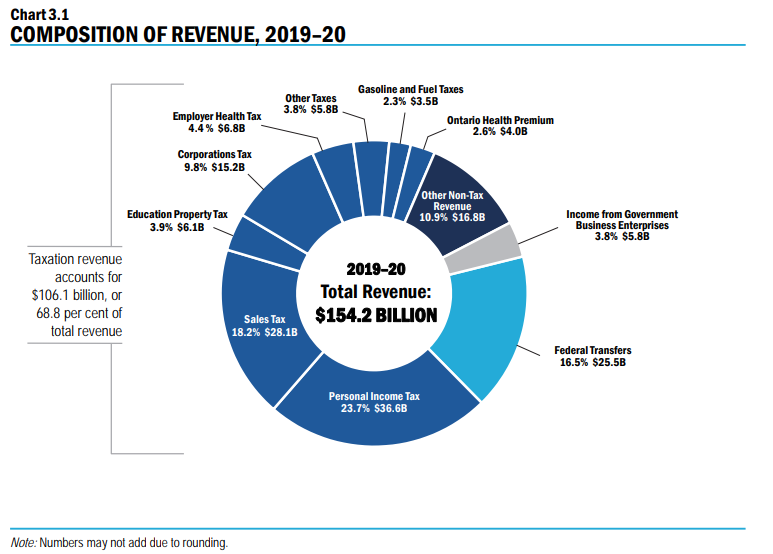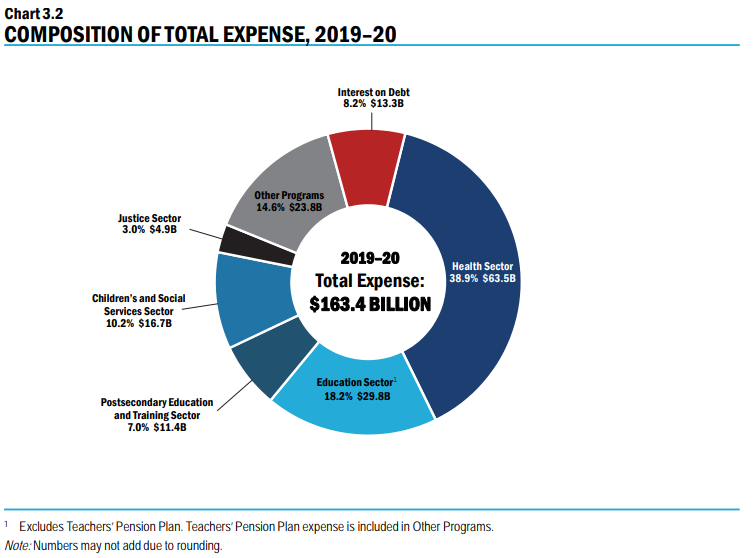 Reviewing Ontario's publicly funded drug benefit programs
When the Conservative government took office, they said that they wanted to reform Ontario's publicly funded drug benefit program so that it provided benefits only to those who needed them. The Budget describes how the government has done so, and how it intends to continue on this path.
To that end, the government modified OHIP+. As of April 1, 2019 the program will continue to provide free drug benefits to children and youth under age 25 only if they are not covered by a private insurance plan.
Other proposed reforms are aimed at making the system for delivering prescription medicine more efficient:
Providing timely access to new clinically proven medicines while continuing efforts to lower drug costs;
Modernizing and strengthening oversight of payments to pharmacies; and
Reducing the administrative burden for clinicians and red tape for the industry wherever possible.
The theme that emerges from these health care reforms is that those who can afford to pay for their own health care, or are members of a group health insurance plan, or can afford to buy private insurance, should do so. Government will help those who can't.
The Childcare Access and Relief from Expenses (CARE) credit
The Budget announced the Government's intention to create a new Ontario Childcare Access and Relief from Expenses (CARE) tax credit. Operating in addition to the existing Child Care Expense Deduction (CCED) and working in conjunction with the Low-Income Individuals and Families Tax (LIFT) credit announced in the 2018 Fall Economic Statement, the CARE credit would be accessible to families with CCED-eligible expenses and CCED-determined incomes of up to $150,000. Briefly:
Beginning with the 2019 tax year, families would be able to claim the CARE tax credit;
Subject to annual per child caps, and reductions as family income increases, the CARE tax credit would annually provide up to $6,000 per child under the age of seven, up to $3,750 per child between the ages of seven and 16, and up to $8,250 per child with a severe disability.
No additional information would be required beyond tax receipts already retained for incurred child care expenses.
For the 2021 tax year onward, the CARE credit would also be available for families either as a single payment when filing their tax returns after the year ends, or as regular advance payments throughout the year.
The government expects that this program will cover up to 75% of eligible child care expenses, and cost the government over $390 million per year.
Seniors dental care program
The Budget notes that at least "two‐thirds of low‐income seniors do not have access to dental insurance," and goes on to describe the resulting health consequences and costs to the health insurance system ($31 million in 2015 for 61,000 emergency room visits to treat dental problems). The government's figures do not say how many of those visits were made by low income seniors, or whether the visits were made to treat problems that did not need hospital emergency room treatment.
Still, it's difficult to argue against the government's view that without regular dental check ups, problems that could be treated easily and with little expense today can become painful and costly to treat later, and that those without dental insurance are vulnerable.
Accordingly, the government proposes to introduce a new dental insurance program for seniors by summer 2019. Low income seniors, age 65 or older, with incomes of $19,300 or less, (combined income of $32,300 or less for couples), and without existing dental benefits, will be able to receive "dental services in public health units, community health centres and Aboriginal Health Access Centres located throughout the province."
By winter 2019, the government expects to expand the service by providing service in underserviced areas, including through mobile dental buses and increased dental units in public health facilities.
Sun Life Financial's private and group health insurance plans provide dental coverage. For those who will not be covered under the government's plan, this initiative should be a reminder to consider coverage under their group plan or through private insurance.
Proposed Pension-Related Changes
In the Budget, the Government committed to implementing a permanent framework for target benefit plans in Ontario. Combining some features from defined benefit and defined contribution pension plans, Target benefit pension plans serve as an alternative pension plan model, and provide a monthly income stream in retirement with predictable employer contributions. If passed, the proposed legislative changes would expand eligibility criteria so that the target benefit framework would include both non‐unionized multi‐employer pension plans, as well as collectively bargained multi‐employer pension plans.
The Budget also proposed future legislative changes to the Pension Benefits Act that would permit plans, as a default and with appropriate safeguards, to use electronic communications to provide pension plan information to their members. Because different people have different preferences regarding methods of communication, members would retain the option to continue to receive paper documents for communication of pension plan information.
Amendments to the Insurance Act to allow electronic beneficiary designations
The Ontario Budget proposes to allow insurers to accept electronic beneficiary designations consistent with those that will be allowed for pension plans under the Pension Benefits Act. The law allowing such changes for the Pension Benefits Act came into force on December 6, 2018, but a pension plan administrator won't be able to accept an electronic beneficiary designation until regulations are provided setting out the requirements for such designations.
Those regulations have yet to be released by the Financial Services Regulatory Authority of Ontario (FSRAO), and a release date is not known at this time.
Protection for financial advisor and planner designations
Budget 2019 noted that the government is moving forward with legislation to regulate and legitimize titles and credentials used by financial planners and financial advisors in Ontario.  Currently, anyone in Ontario may call themselves a financial advisor or financial planner, regardless of their qualifications.
By moving forward with such legislation the government hopes that Ontarians will gain confidence that their respective financial planners and advisors have the appropriate training, expertise and professionalism to assist them in attaining their financial goals.  The government expects that the new title protection legislative framework will enhance consumer protection without introducing unnecessary regulatory burden, and will be mindful of the current regulatory oversight of financial planners and advisory services licensees and registrants.
Corporate tax rate reform
In discussing multilateral trade, the Budget notes that, "Ontario exports about $160 billion worth of goods to the United States every year, and Ontario is the top export destination for 19 U.S. states and the second largest for nine others." It also notes, in discussing business taxes, that the U.S. federal tax reforms that went into effect in 2018 reduced Ontario's tax advantage over U.S. firms.
The change in U.S. corporate tax rates has been dramatic – from 35% to 21%, and allowing immediate write-offs for the full cost of certain depreciable assets. Combined, these changes show up in changes in the U.S. "marginal effective tax rate" (METR) from an average METR in 2017 of 29.8% to 18.7% in 2019. A similar calculation shows Ontario's METR in 2018 dropping from 16% to a proposed 12.6%. The Budget also notes that the write-offs it discusses parallel those provided for in the Federal government's 2018 Fall Economic Statement.
Though lower than before, the new METR doesn't entirely restore Ontario's competitive tax advantage. Before the U.S. tax changes, Ontario's METR was 46% lower than the U.S. METR. After the proposed changes come into effect, it will be 36% lower. But if there had been no change at all, Ontario's METR would have been only 14% lower than the U.S. rate.
Reduction in the Estate Administration Tax (EAT)
Ontario's Estate Administration Tax (EAT) is one of the highest in the country, and the province has decided to reduce it.
When a deceased's will is probated, the provincial government charges a tax, called the EAT. Currently, the EAT rate in Ontario is $5 per $1,000 of estate assets, or part thereof, on the first $50,000 of estate assets, and $15 per $1,000 of estate assets, or part thereof, on the rest.
The government will be eliminating EAT on the first $50,000 of estate assets, while leaving the rest of the tax regime intact. Under the proposed changes EAT will not apply to estates that are worth less than $50,000.
The Budget includes illustrations to show the impact of this change, using estates of $35,000 and $50,000. The implication is that this measure is meant to benefit the estates of estates worth less than $50,000. But larger estates can also benefit from this change. To the extent that financial wealth can be put beyond the reach of the EAT (by placing assets in trust, or moving financial assets into life insurance products like segregated funds, to name only two strategies), it can be possible to reduce an individual's wealth to below the $50,000 threshold.
For more information
For more information on the 2019 Ontario budget, please visit http://budget.ontario.ca/2019/index.html.
© Sun Life Global Investments (Canada) Inc., 2019. Sun Life Global Investments (Canada) Inc. is a member of the Sun Life Financial group of companies.
This document was written by the Sun Life Wealth and Insurance Solutions Tax team at Sun Life Financial and is being repurposed by Sun Life Global Investments with permission. This document contains information in summary form. This document is provided for information purposes only and is not intended to provide specific individual financial, investment, tax or legal advice. Views expressed regarding a particular company, security, industry or market sector should not be considered an indication of trading intent of any mutual funds managed by Sun Life Global Investments (Canada) Inc. These views are not to be considered as investment advice nor should they be considered a recommendation to buy or sell.
Information contained in this document has been compiled from sources believed to be reliable, but no representation or warranty, express or implied, is made with respect to its timeliness or accuracy. This document may contain forward-looking statements about the economy, and markets; their future performance, strategies or prospects. Forward-looking statements are not guarantees of future performance and are speculative in nature and cannot be relied upon.
Please speak with your professional advisors, such as your financial advisor or tax specialist, and refer to the Budget as published by the Government of Canada for details before acting on any of the information.
© Sun Life Global Investments (Canada) Inc., 2019.
Sun Life Global Investments (Canada) Inc. is a member of the Sun Life Financial group of companies.