Almost since the day he announced his candidacy, U.S. President Donald Trump has been under investigation. There was his firing of FBI Director James Comey and Robert Mueller's investigation into possible links between his campaign team and Russia. Now he faces impeachment for allegedly withholding $400 million in military aid to the Ukraine until its government agreed to investigate his presidential rival Joe Biden. 
Then there is the other Trump – the one who ignited a stock market rally on the night of his election, in part by promising massive personal and corporate tax cuts. He delivered, and in the months following his election, the so-called Trump effect helped carry the S&P 500 to a series of record highs.
This split between a White House under siege and a stock market that has all but ignored the endless chaos around the President, raises this question: What will happen if Trump is formally impeached, or becomes the first U.S. President in history to be removed from office?
To help answer that question, let's look at how the equity and bond markets reacted to the impeachment process around three other U.S. presidents – Andrew Johnson, Richard Nixon and Bill Clinton.
Andrew Johnson: 17th U.S. President, 1865 to 1869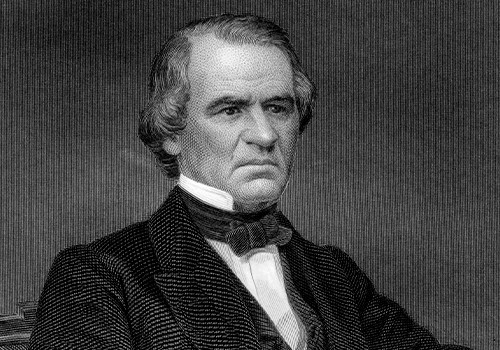 Republican, took office following Abraham Lincoln's assassination on April 14, 1865, and later campaigned to reintegrate breakaway Confederate states. To advance his agenda, he removed the congressionally appointed secretary of war and was impeached.
At the time, the U.S. was rapidly industrializing, with the economy growing by 600% between 1865 and 1900. It produced one of longest bull markets in history. And perhaps that's why the stock market had been climbing before the House of Representatives impeached Johnson. The market was then flat, but when the Senate vote failed to remove Johnson from office equities, it rallied again.
The bond market also rallied during Johnson's impeachment. Of course today's financial markets are far different, making it difficult to draw a direct comparison. But the equity market's reaction to Johnson's impeachment still bears a direct comparison to the Clinton and Trump eras.
---
Richard Nixon: 37th U.S. President, 1969 to 1974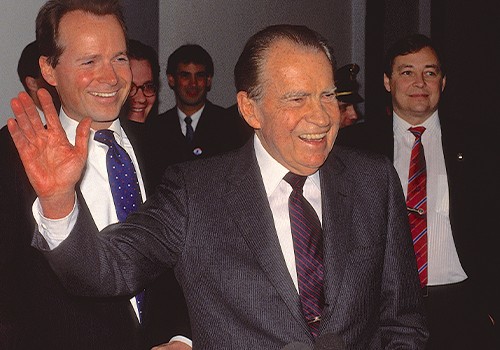 The end of Richard Nixon's presidency began on June 17, 1972 when five men with direct links to the White House, were caught burglarizing the Democratic National Committee offices in Washington's Watergate complex. The House of Representatives eventually passed three articles of impeachment against Nixon, including obstruction of justice. But Nixon resigned before being formally impeached (the only president ever to do so).
Despite the high drama, Nixon's presidency was shaped as much by his economic policies as it was by Watergate. Some of these policies, (the so-called Nixon shocks) may have even deepened the U.S. recession, which ran from November 1973 to March 1975.
For one, in 1971 Nixon unilaterally terminated the Bretton Woods Agreement – the foundation of the world economic order in the post World War II era. In response, world markets went into a tailspin and the U.S. dollar fell sharply.
To fight inflation running at 12%, Nixon also brought in wage and price controls – a dramatic intervention into the private sector that ultimately failed. As well, the OPEC oil embargo in 1973 drove oil prices up by nearly 400%. All this played out against the backdrop of the Vietnam War and widespread civil unrest.
While keeping those policies and events in context, as the chart below shows, the S&P 500 fell steadily from around January 1, 1973 to the day Nixon resigned in August 1974. In all, the S&P 500 lost about 50% of its value over this period.
In the year following Nixon's departure, the S&P 500 gained 37%. But making a direct link between Nixon's departure and the market rebound isn't straightforward and the bounce back has to be weighed against the fact that the S&P 500 had fallen almost 50% in the bear market.
The U.S. Federal Reserve was clearly in a bind during the Nixon era. On one side, unemployment was rising, but it also had to fight runaway inflation – so called stagflation. This struggle was reflected in the Fed rate, which stood at 5.6% when Nixon was elected on November 5, 1968, and climbed to almost 12% by the time he resigned. During this same period, the yield on U.S. ten year Treasuries spiked as high as 8.22% as the Fed intermittently raised and lowered interest rates.
In the final analysis, was it the economy or Watergate that had a greater impact on equity and bond markets? What we can say is that the S&P 500 peaked a few months after the Watergate break-in and that runaway inflation and rising interest rates hurt equities. But given the market's strong rebound, it suggests investors were looking forward to the emergence of a stronger economy, rather than backwards to Nixon's departure.
Hurt by recession, stocks tumbled during Nixon's impeachment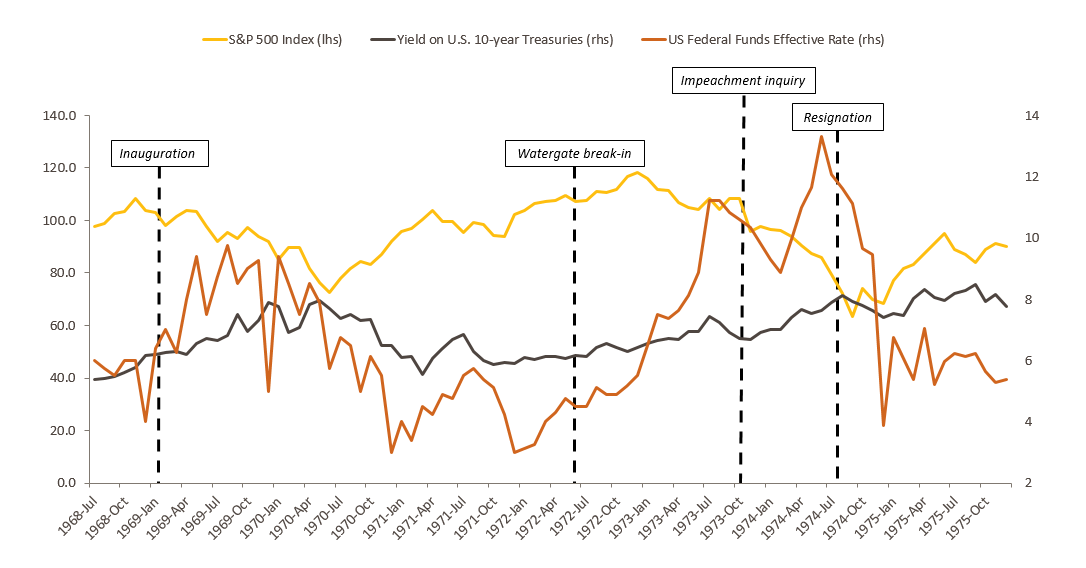 ---
Bill Clinton: 42nd U.S. President, 1993 to 2001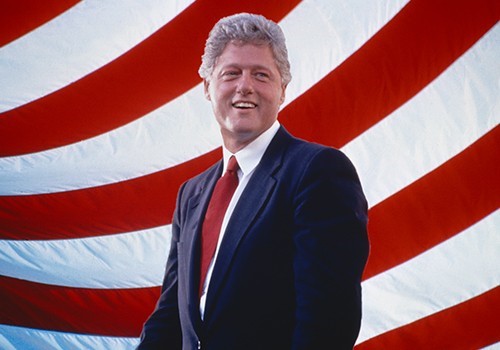 Impeachment proceedings against President Bill Clinton began on October 8, 1998, and included charges of obstruction of justice, in part involving White House intern Monica Lewinsky.
Unlike the turbulent economic backdrop to Nixon's presidency, Clinton's era (impeachment aside) was comparatively calm. That said, markets were roiled at times, including by the Asian currency crisis. But Clinton did not have a recession, a collapsing stock market or a major war to deal with.
In fact, just as Clinton's presidency started, the U.S. economy entered a decade-long expansion, with U.S. GDP growth averaging 3.8% annually during his term. Inflation had also subsided to it lowest level in 30 years, running at around 2.6% annually. On the economic side, his most telling accomplishment may have been the return of fiscal discipline, with the government running surpluses, including a record US$237 billion in fiscal year 2000.
This economic strength was reflected in the stock market, which saw a six-year-long market rally led by tech stocks – the so-called dot-com boom. Investors clearly didn't want it to end, and in the six weeks leading up to the decision to impeach Clinton, the S&P 500 fell about 10%.
However, by the time of Clinton's acquittal by the Senate in February 1999, investors seemed to view his impeachment as little more than a distraction. Indeed, the S&P 500 returned 27% in 1998 and the economy grew by 4.5%.
Under Clinton, the Fed rate was relatively stable, but moved higher from 3.02% on his inauguration on January 5, 1993 to 4.8 % on February 12, 1999, the day of his acquittal. At the same time, the yield on 10-year U.S. Treasuries remained almost flat, moving from 6.3% to 5.3 %.
As it was with Nixon, it's difficult to separate out economic fundamentals from Clinton's impeachment to determine which had the greater impact. What we can say is that the emergence of the dot-com revolution and a strong economy helped push equities higher. Perhaps the correct question to ask is whether the S&P 500 could have done even better if Clinton had not been impeached.
Stocks climbed with a strong economy under Clinton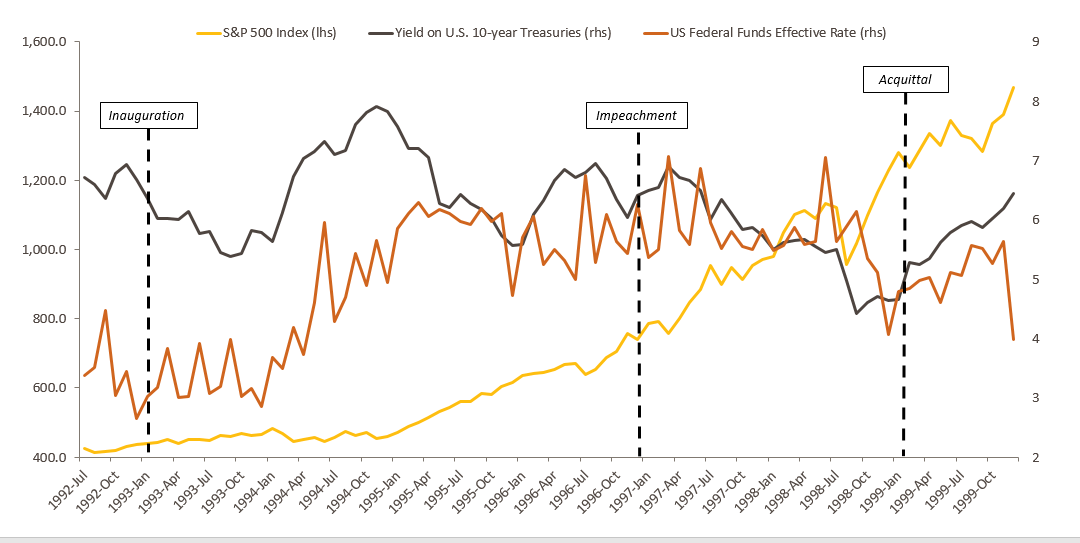 ---
Donald Trump: 45th U.S. President, 2017 – to current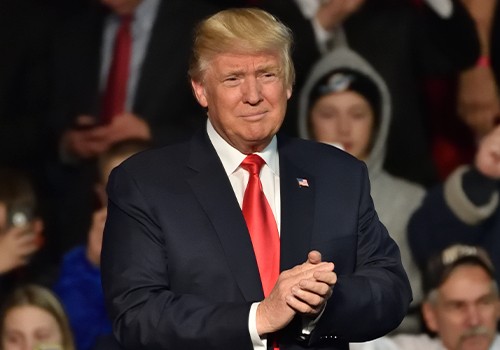 When asked by a reporter, what would happen if he was impeached, Trump bluntly answered: "The stock market will crash." So far, investors seem to disagree, with the market shrugging off Trump's impeachment inquiry.
Trump's impeachment is occurring at a time when the U.S. economy and stock market are on record-breaking runs. The U.S. economic expansion is in its twelfth year, making it the longest stretch going back to 1854. And the S&P 500 is on a bull run that began in March, 2009 – again, the longest in recent history.
Unlike Nixon, but like Clinton, Trump can point to a string of economic indicators to underline his apparent success, including record-low unemployment. But Clinton and Trump had very different economic policies. While Clinton raised taxes on the wealthy, Trump went in the other direction, instituting massive corporate and personal tax cuts.
Proponents argue that Trump's tax breaks helped boost growth and sustained the S&P 500's record run. This so-called Trump effect may have dissipated somewhat and we don't yet know how the market will react if Trump, whom the market likes, is removed from office.
But it is informative to look at how the market has responded to Trump's unpredictable nature in the recent past. There are many examples, including his demands that Fed Chair Jerome Powell introduce negative interest rates – not to mention the current attempt to impeach him.
What was the market reaction? While there were a few dents, there really wasn't one that mattered. In fact, on the third day of the televised Trump impeachment inquiry, the S&P 500 and Dow hit new highs after the White House publicized apparent progress in trade negotiations with China.
As we've shown with Johnson and Clinton, the markets looked beyond the impeachment proceedings to economic fundamentals. The fall of the S&P 500 under Nixon, however, stands apart, with an economy undermined by recession.
However, Trump does share a policy trait with Nixon that may yet directly affect the market – perhaps more so than his eventual impeachment. For example, Nixon's unilateral abandonment of Bretton Woods shook up the world financial system. For his part, Trump has abandoned key international treaties and, using the threat of tariffs, has forced the rewriting of a number of trade agreements.
Trump is now in a protracted standoff with China, the outcome of which arguably overshadows almost everything else on his policy agenda. And judging by the market reaction so far, if it ends with deepening tariffs and further slowdown in the global economy, it's hard not to see the S&P 500 selling off.
And that's why the eventual outcome of the U.S./ China trade war sets Trump apart. The way it ends, may challenge the market more than his impeachment.
Despite controversy stocks continued to rally under Trump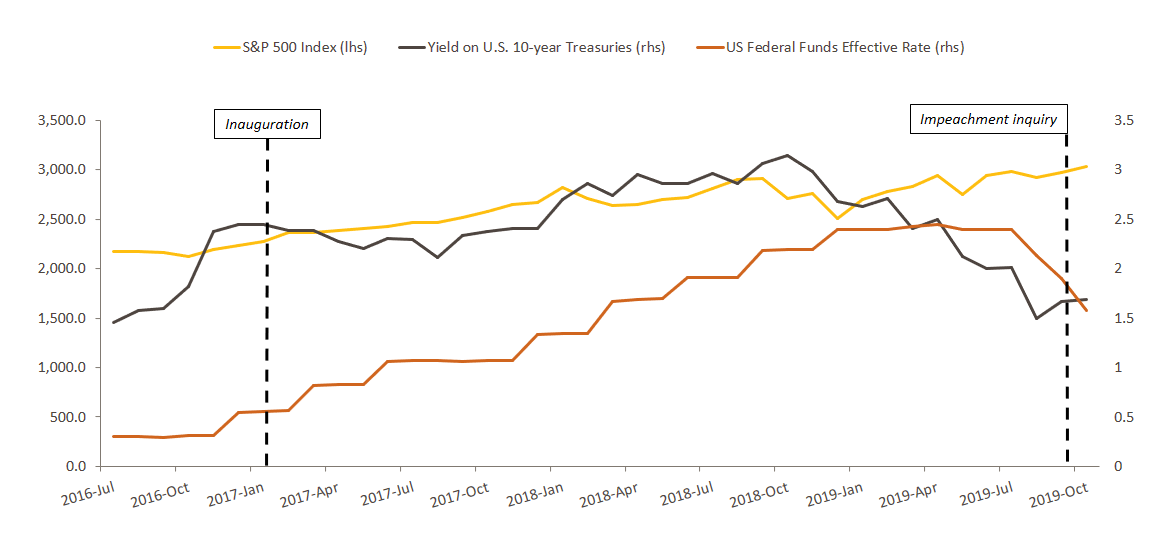 Could Trump be removed from office? It's unlikely
Barring the emergence of a crime that Republicans cannot accept, it's difficult to see Trump being removed from office. Indeed, among registered Republicans Trump has deep support running at close to 90%. Given this, it's unlikely that 20 Republican Senators (the number required to oust Trump) would risk crossing the floor to vote with Democrats.
If Trump is forced to leave office, Vice President Mike Pence would become president. Trump's base, (perhaps up to 20% of voters) might see this a little more than a coup d'état by the establishment. If these disillusioned loyalists largely refused to vote in the next election, it could help Democrats in the key rust-belt states that carried Trump to victory in the last election.
In the end, rather than Trump's departure, the market could be rattled more by which Democratic candidate appears closest to winning the nomination. For example, Elizabeth Warren, a frontrunner, has been criticized by Wall Street pundits over what they see as her interventionist proposals. These include breaking up a number of leading technology companies and curbing the growth of the energy sector. In contrast to Warren, markets may prefer former vice president Joe Biden, who has polled well in many swing states with a more centrist of set of policy goals.
Still, in the end, it's unlikely that Trump will be impeached. And the market's focus will then shift back to the November 2020 election and the economy.
---
This commentary contains information in summary form for your convenience, published by Sun Life Global Investments (Canada) Inc. Although this commentary has been prepared from sources believed to be reliable, Sun Life Global Investments (Canada) Inc. cannot guarantee its accuracy or completeness and is intended to provide you with general information and should not be construed as providing specific individual financial, investment, tax, or legal advice. The views expressed are those of the author and not necessarily the opinions of Sun Life Global Investments (Canada) Inc. Please note, any future or forward looking statements contained in this commentary are speculative in nature and cannot be relied upon. There is no guarantee that these events will occur or in the manner speculated. Please speak with your professional advisors before acting on any information contained in this commentary.
© Sun Life Global Investments (Canada) Inc., 2019. Sun Life Global Investments (Canada) Inc. is a member of the Sun Life Financial group of companies