Highlights 
Joe Biden inaugurated as U.S. president
Rollout of COVID-19 vaccines ramps up
A third wave of COVID-19 spreads globally
U.S. passes $2-trillion stimulus package
U.S. treasuries spike from 0.93% to 1.74%
Major indexes, including the S&P 500, hit new highs
Oil prices increase to US$59 a barrel from US$48
Canadian dollar climbs from US$0.78 to US$0.80
A year ago, COVID-19 swept across the world. Economies shut down; millions of people picked up their laptops and went home to work. The S&P 500 fell 35% in six weeks, before growth stocks in the stay-at-home trade led the market back to record highs. In Q1, with markets pricing in the reopening of the economy, growth retreated, with value stocks and cyclicals lifting the market still higher – buoyed by the nearly $5 trillion in stimulus spending washing through the rebounding U.S. economy. But late in Q1 bond bears emerged. Believing robust growth will trigger inflation and rising interest rates, they dumped longer-dated maturities, driving the yield on 10-year U.S. Treasuries to 1.74% with startling speed. The rout also spread to equity markets, where high-flying growth stocks with inflated earnings multiples (the most vulnerable to higher rates) fell sharply.
Despite the tech sell-off, by the end of Q1 the market had returned its focus to the reopening economy, with major indexes hitting new highs. And while yields drifted lower, the bond market and the U.S. Federal Reserve remained in a standoff over whether a surge in growth and inflation will cause the Fed to raise interest rates sooner than expected. But even as yields climbed, Fed Chairman Jerome Powell reiterated his intention to keep interest rates at crisis lows for as long as three years. His argument: inflation is running well below the Fed's target range, and even if we get a short-term run up, it will subside and yields will come back in. So for now, he sees prolonged unemployment as the greater threat to the U.S. economy, and is willing to trade off modestly higher inflation to get more Americans working—even if the yield curve steepens.
From our perspective, the fact that yields jumped should not have been a surprise to anyone. This normally happens when the economy starts to pick up. It was the sudden pace of the rise, from 0.93% on January 1 to 1.74% on March 19 (with much of the run-up occurring in just 10 days) that rattled the market. Certainly, many people were expecting the yield on U.S. ten-year Treasuries to be much higher near year-end – not in March. We still expect yields to move slowly up from here, with the real test for equity markets coming when they reach 2.25% to 2.50%. 
At that point, bonds could start to look attractive. That could further hurt growth stocks, particularly, as noted, those in the tech sector with higher valuations and less certain earnings. The reason: as rates rise, the present value of future earnings is discounted at a higher rate, which in turn results in a lower price as we saw in the tech sell-off. And because of the dominant weighting tech has in the S&P 500 and the NASDAQ, another sharp run-up in yields could cause negative returns more broadly.
Vaccines, COVID-19 and the markets
While the market focused on rising yields and the reopening trade, COVID-19 remained a clear threat. Many countries are now racing to vaccinate as many people as they can against the virus and its new more lethal variants. This sprint to vaccinate came into focus when the head of the U.S. Centers for Disease Control and Prevention said she had a feeling of "impending doom" as the third wave of COVID-19 accelerated, with cases climbing again in many U.S. states, Canada and the world (Chart 1).
Still, the vaccine rollout, although complicated by supply issues and controversy over medical side effects, is steadily ramping up. But the pace of vaccinations varies widely – suggesting an uneven economic recovery. For example, in early April 35.5% of the adult U.S. population had received at least one dose of a vaccine, and England nearly 47.4%. By comparison, Canada was at 16.6%, France 14.3%, Germany 13%, and India 5.8%.
However, vaccine supply issues should improve as the year progresses, with the arrival of Johnson & Johnson's one-shot vaccine adding another weapon in the fight against COVID-19. That said, if the vaccines prove to be less effective than hoped for against COVID-19, which continues to mutate, there could be further economic lockdowns, sending markets down sharply.
Chart 1: Vaccines roll out, COVID-19 spreads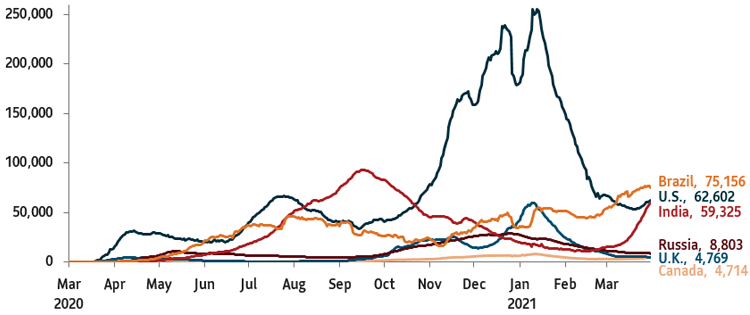 Source: World Health Organization, Johns Hopkins University, SLGI Asset Management Inc. Data as of March 31, 2021.
Bullish on 2021: continuing to overweight equities
We are bullish overall as we enter the second quarter of the year with a 4% overweight to equities. Interest rates remain low, corporate earnings are solid and fiscal and monetary stimulus continues to support the economy, with more likely to come. Moreover, consumers have built up their savings as they have largely stayed home. It's substantial, with Bloomberg estimating it at US$2.9 trillion worldwide. If this pent-up demand is unleashed as expected, it could provide a significant boost to the global economy.
On top of that, many companies have trimmed expenses and re-invented themselves. This should make them more efficient and support future earnings growth. With those tailwinds, we expect markets to continue to move higher.
As markets rallied, the re-opening trade saw growth stocks retreat while value and cyclical stocks advanced. We anticipated this trend in the fall of 2020, and took profits as we steadily reduced our weighting in U.S. growth to neutral in Q1.  However, we do not think this the end of growth or the stay at home stocks – it's just time to take some profits.  There are still strong merits to keeping them in a portfolio.
We continue to use a barbell strategy, favouring active management, with large cap, high-quality growth on one side. On the other, we are taking an opportunistic tilt with an overweight position in U.S. value names. As well, we increased our overall weighting in value, cyclicals and small- and mid-cap stocks. While at a bit of steam came out of value stocks near quarter end, we expect the sector to continue to advance as the year progresses and the vaccine rollout continues (Chart 2).
We also added exposure to energy on increasing demand, financials on rising interest rates and industrial and airline stocks, which should benefit as the economy opens up.
Option strategies were also used throughout the quarter to hedge some of our equity exposure, and to generate additional premiums when volatility was high.
Chart 2: Value continues to rise, growth retreats




Source: Bloomberg, SLGI Asset Management Inc. Data as of March 31, 2021.
While we are still overweight to the U.S., we reduced our position slightly in the quarter. Bullish estimates call for 10% surge in U.S. growth this year, with the Fed predicting a 6% uptick. There are reasons to be optimistic. Corporate profits look strong. And the U.S. is vaccinating 3 million people a day, with half the population expected to receive at least one dose by the end of June. As well, consumer spending is back above pre-pandemic levels and unemployment has fallen steadily, with nearly one million jobs created over the quarter.
There will also likely be even more stimulus coming. As noted, the U.S. government has already pushed through $5 trillion in fiscal support since March 2020. President Biden now plans to introduce a $2 trillion infrastructure package, which will further support the economy. Biden's plan also includes corporate and personal tax increases on wealthier Americans. It's interesting to note that the market rallied on Biden's announcement, suggesting that for now investors appear to care more about repairing the U.S. economy than they do about tax increases.
In terms of emerging markets, there is nearly US$20 trillion in monetary and fiscal stimulus sloshing through the global economy. As growth improves with the reopening trade accelerating, we believe select emerging market countries could outperform their developed counterparts. Indeed, the IMF predicts India and China will grow by 11.5% and 8.1% respectively in 2021, more than double its estimate for the global economy.  
However, with the surge in yields, we slightly reduced our overweight exposure, given the negative impact on the emerging market technology sector. As well, if interest rates trend higher, the U.S. dollar could appreciate, dampening growth in resource-importing countries. And while equity valuations still seem attractive, there have been strong capital inflows into emerging markets and the trade now looks crowded.
We are growing more positive on Canada – moving from underweight late last year, to neutral. The economy, despite the lockdowns, and the slow rollout of vaccines, has held up relatively well with the unemployment picture improving. The Canadian economy is also being helped by a rally in commodity prices, including oil, which has moved back to near its pre-pandemic levels. If the global economic recovery picks up, we believe that the S&P/TSX Composite Index, with its heavy weighting in financials, energy and materials could continue to benefit.
In Europe, concerns over possible side effects from the AstraZeneca vaccine further complicated the already slow rollout of vaccines. The controversy comes at a time when the third wave of COVID-19 continues to hamper the European economy and could delay its reopening. In fact, the IMF predicts China, the U.S. and Japanese economies could return to pre-pandemic levels by the end of the year, while the Eurozone won't catch up until 2022 at the earliest.
Even so, European markets are tilted more toward value. Some  have outperformed the S&P 500 so far this year and we may add to our position at some point later in the year. However, for now, international equities comprise the smallest component of our equity weighting and we moved from overweight to neutral in the quarter. 

Preferring the risk profile of equities over bonds
With the surge in interest rates, the yield on ten-year U.S. treasuries ended the quarter at 1.74%, up from 0.93% on January 1. During the same period, the yield on ten-year Canadian bonds moved from 0.81%.to 1.55%.
Overall, in this bearish yield environment, we prefer the risk profile of equities over bonds. Indeed, with the rally in yields, bond returns were negative for the year on March 31. The Sun Life Granite Managed Portfolios benefitted from being underweight investment grade bonds.
In terms of high yield corporate bonds, spreads have narrowed and they look expensive considering the risk.
Chart 3: Interest rate worries trigger a run-up in yields




Source: Bloomberg, SLGI Asset Management Inc. Data as of March 31, 2021.
Major indexes continued to move higher
Despite concerns over inflation and rising interest rates, markets continued to rally off their March lows in Q1. The S&P 500, despite the sell-off in technology names, traded up 6.2% to a record high in Q1 (Chart 4).
The MSCI World Index also hit a new record high up 4.5%. The MSCI EAFE Index was up 3.8% and MSCI Emerging Markets Index was up 2.3% on strong capital inflows. At home, the S&P/TSX Composite Index also performed well, climbing 8.1% – just short of a record high. It was led higher by health care and energy. (Chart 5).
Chart 4: Equities rising on signs of economic strength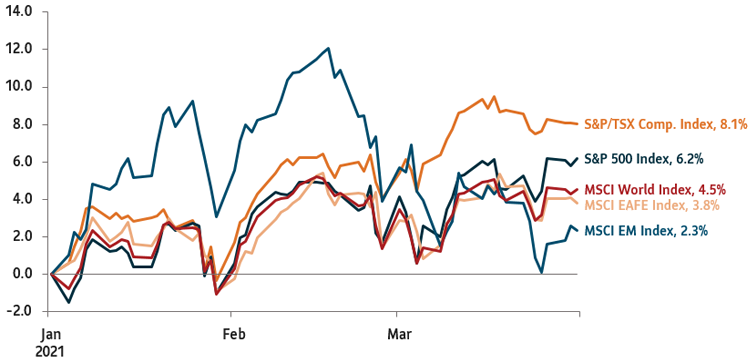 Source: Bloomberg, SLGI Asset Management Inc. Data as of March 31, 2021. 
Canada:  despite lockdowns economy improved
Despite the slow rollout of vaccines and further lockdowns, the Canadian economy has held up better than expected. One source of strength has been a surge in commodity prices, which has been strong enough to suggest that a major rally in the price of some key resources may be underway. In fact, excluding energy, the Bank of Canada Commodity Price Index was up 15.7% at quarter end. The price of benchmark oil also held near US$60 a barrel with OPEC and Russia agreeing to only modest production increases.
Canadian consumer confidence is also at its highest level since 2019. Stimulus continues to be supportive. In fact, Canadian households have saved $200 billion more in 2020 than in 2019, suggesting that the economy, which is expected to grow by 6% this year, could also benefit from a surge in consumer spending. As well, housing prices jumped 25% in the 12-month period ending on February 28. Housing has supported the economy, and while there are risks of prices softening, with interest rates remaining low we don't believe it would be meaningful.
Chart 5: Health care and energy lead S&P/TSX higher 

Source: Bloomberg, SLGI Asset Management Inc. Data as of March 31, 2021.
The U.S.: massive stimulus and more to come
Nearly every part of the U.S. economy – from business investment to household consumption – is doing better than expected. In fact, in Q1 U.S. manufacturing activity hit a three-year high; services industry activity reached an all-time high and home prices climbed at a rate not seen in 15 years. 
These positive indicators come before the full brunt of consumer demand arrives later this year. Disposable income jumped 11.4% in January alone, following the out-going government's $900-billion stimulus package. Even before Biden's $2 trillion rescue package fully rolls out, Americans have built up nearly $1.7 trillion in excess savings, roughly about 8% of GDP. With this pent-up consumer demand and tidal of wave stimulus, the U.S. economy may perform strongly as the year progresses. With that, we expect rising demand and an improving economy, to continue to support the value and cyclical trade in the months ahead.

Emerging markets: slightly reducing our exposure
The run-up we saw in the MSCI Emerging Market Index slowed in Q1. Like developed markets, optimism over the rollout of vaccines and more U.S. stimulus spending was hurt when yields rallied on concerns over higher inflation and interest rates. As noted, we reduced our exposure when the surge in yields caused a sell-off in emerging market tech names, including previously high-flying Chinese internet and technology stocks. These stocks also came under pressure from Beijing, which is cracking down on the sector.
As well, COVID-19 is still not under control in most emerging markets. Mass vaccinations in many of these countries may not occur until the second half of this year or the first half of 2022. Others, including Russia, have seen inflation strengthen and have raised interest rates.
China, with the largest weighting in our benchmark, is further along in its recovery. It is now delivering less stimulus spending, with its economy performing well. GDP growth in Q1 could possibly reach 15 to 20%.  Indeed, China's industrial production climbed nearly 35.1% year-on-year at the end of February, while retail sales jumped by 20.5%. We expect this strength to continue as Western economies open up. 
Europe: lagging the U.S. economic recovery
Europe is lagging the U.S., both in the number of people being vaccinated and in the efficiency of delivering stimulus. As of March 29, 11% of EU citizens had received at a least one dose of a vaccine, while the number was closer to 30% in the U.S. The U.S. is also rapidly rolling out Biden's $1.9 trillion American rescue plan. But stimulus has proved harder for the EU to deliver across many countries, with divisions remaining over which projects will be funded under the 750 billion-euro joint recovery fund.
Still, once the continent emerges from lockdowns, there could be rebound later in the year, also driven by pent-up consumer demand. However, the strength and timing of the European recovery remains clouded. For now, we are neutral but may increase our exposure once we have greater clarity.

Outlook: overweight equities, underweight bonds
Overall, we were overweight equities in Q1. Within our equity mix, we were overweight U.S. and emerging market equities and neutral on Canada and international stocks.
Slightly reduced our overweight position in U.S. equities.
With the shift to value and cyclicals moved to neutral on Canada.
Moved from overweight to neutral on MSCI EAFE equities.
With rally in yields slightly reduced our overweight to emerging market equites.
Hedged the U.S. dollar on weakness, expecting further strength in the Canadian dollar.
Moved to a preference for quality over credit in bonds
Overall, we will continue to manage risk in the short term while looking for longer-term opportunities. However, for now, we are comfortable with how the Sun Life Granite Managed Portfolios are positioned.
This article contains information in summary form for your convenience, published SLGI Asset Management Inc. Although this article has been prepared from sources believed to be reliable, SLGI Asset Management Inc. cannot guarantee its accuracy or completeness and is intended to provide you with general information and should not be construed as providing specific individual financial, investment, tax, or legal advice. The views expressed are those of the author and not necessarily the opinions of SLGI Asset Management Inc. Please note, any future or forward looking statements contained in this article are speculative in nature and cannot be relied upon. There is no guarantee that these events will occur or in the manner speculated. Please speak with your professional advisors before acting on any information contained in this article.
© SLGI Asset Management Inc. and its licensors, 2021. SLGI Asset Management Inc. is a member of the Sun Life group of companies. All rights reserved.