Highlights
U.S. and China restart trade negotiations
S&P 500 reaches record high
U.S. Federal Reserve signals dovish stance on interest rates
Canadian and U.S. bond yields retreat
Canadian dollar rose to US$0.76
Oil prices fall, trade in the US$60 a barrel range
A dovish Fed sends the market higher
With slowing growth and ongoing skirmishes in the U.S./China trade war, equity markets scaled a wall of worry in Q2, with the S&P 500 reaching a record high. Most global markets were also higher. The source of their optimism: the possibility that the U.S. Federal Reserve would cut interest rates in a bid to extend the decade-long economic expansion – one of the longest in history.
For now, the U.S. economy continues to perform well, with solid job creation and strong consumer spending. Still, against a backdrop of slowing global growth and tariff disputes, risks are skewed to the downside. So although we still hold slight overweight positions in U.S. and Canadian stocks, we ended the quarter with a 3% underweight exposure to equities.
In terms of emerging markets, because of the negative impact the tariff war is having, we moved from a small overweight to an underweight position. Our market concerns also extend to Europe, where we are now underweight with the Eurozone economy slowing amid continuing political uncertainty.
World markets up, but gains slow
Hopes for lower interest rates buoyed world markets. The S&P 500 was up 4.3% in Q2, and the MSCI World Index climbed 3.0%. The MSCI EAFE Index was up 2.2% -- its performance hindered by a slowing European economy and the Brexit stalemate, which continues to undermine investment in the Eurozone.
The economic fallout from the trade war also dampened growth in China, with a knock-on effect across many emerging market countries, with MSCI Emerging Markets Index was down 0.44% in Q2.
At home, job-growth numbers continued to surprise to the upside with the S&P/TSX Composite Index climbing 2.6% in Q2. It was one of the strongest performers, led higher by strength in technology stocks. (Chart1).
Chart 1: Equity markets rise across the world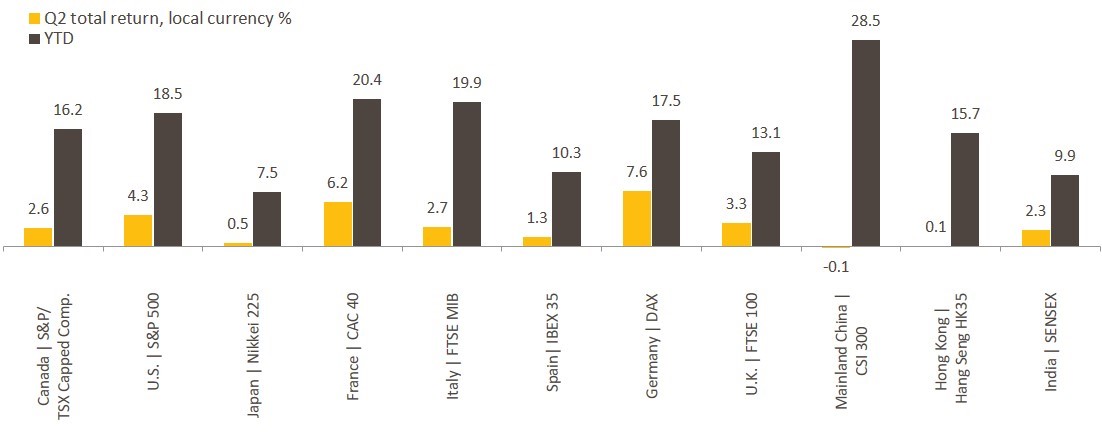 North American bond yields move lower
Bond yields dropped significantly in Q2, a retreat largely tied to the Fed's dovish sentiments. The yield on Canadian 10-year bonds started the quarter at 1.66% and ended at 1.46. The yields on U.S. 10-year Treasuries also moved lower on the Fed's outlook, ending the quarter at 2%, down 50 bps. The spread between Canadian and U.S. bond yields narrowed, in part because the Bank of Canada has not been as dovish in its statements as the Fed.
Markets: banking on a Fed rate cut
The future direction of the market may rest with Fed Chairman Jerome Powell who ignited a market rally in early June when he suggested that the central bank could cut interest rates if trade conflicts slow U.S. economic growth. The market immediately priced in up to three, 25 bps rate cuts. But when (and if) that happens is open to question.
In fact, at its meeting on June 19, the Fed left its key overnight rate unchanged, and the market (which later rebounded) sold off when Powell appeared less certain on the number of future rate cuts. The interest rate outlook became even more clouded when the employment report for June showed that the U.S. economy had added 224,000 jobs – countering concerns that the U.S. economy was beginning to slow.
Questions surrounding the independence of the Fed also surfaced in the interest-rate debate, with U.S. President Donald Trump repeatedly criticizing Powell. At one point, he accused the Fed of acting like a "spoiled child" for not cutting interest rates earlier. Trump's attacks on the Fed, raised questions about its credibility, suggesting that Powell's ultimate decision on rates may be swayed by the White House – something he strongly denied.
Unlike Powell, Bank of Canada Governor Stephen Poloz has not yet signaled a dovish turn. The BoC kept its benchmark interest rate steady at 1.75% at its May meeting. Poloz's stance on interest rates, combined with strong job creation and an improving Canadian economy, helped the Canadian dollar rally from US$0.75 to US$0.76 in Q2.
Ultimately, Poloz would have to balance the risk to the economy from a rate increase, against a number of issues, including an even stronger Canadian dollar and future moves by the Fed. Indeed, part of the Canadian dollar's recent strength was due to the Fed's more accommodative tone. And if the Fed actually cuts twice, the loonie may move higher, which could hurt Canadian exports, making it difficult for the BoC not to follow suit.
Canada: Showing signs of recovery
After almost stalling in the first quarter, the Canadian economy improved in Q2 with GDP rising by 0.3% in April. Job creation was also strong with unemployment falling to almost 5.4% -- the lowest rate since 1976.
With the exception of cities like Vancouver and Calgary, housing prices appeared to be stabilizing. Moreover, while consumers are still tapped out, a dip in borrowing costs has given them some relief.
The mining, oil and gas sector posted one of its strongest monthly increases in April, with oil output climbing on higher production limits in Alberta. Still, oil prices could have wild swings either way, depending on OPEC, and how the supply/demand balance and geopolitical risks, including the Iran oil embargo, play out.
While we still have concerns about the Canadian economy, including the near-record level of debt Canadians carry, we believe that in a trade-related market selloff, the S&P/TSX Composite Index may hold up better than some other markets. And in Q2 we increased our exposure to a slight overweight position.
Chart 2: Tech leads S&P/TSX Composite Index higher

U.S. Economy: still the world's strongest
The U.S. economy is still performing well: the unemployment rate is at 3.6% (a 50-year low) and household spending remained solid. However, there are risks. We are late in a historically long economic cycle, future monetary policy is uncertain and the U.S./China tariff war appears to be slowing the global economy.
The U.S. tech sector, including giants like Google, Amazon and Facebook have also come under increased scrutiny by the U.S. Justice Department and Congress. Increasingly, a growing number of politicians and regulators are questioning "Big Tech" over privacy issues, and what they see as anti-competitive behaviour. The debate over breaking up these companies has also surfaced in the Democratic presidential leadership race. And we expect the political noise to pick up as we move closer to the 2020 election campaign.
As noted, the bigger risks to the U.S. market in the near term may surround the Fed's ability to deliver an interest rate cut, and the ultimate outcome of the U.S./China trade war, which could yet markedly slow the global economy and erode corporate profits.
However, the market rallied at the end of the quarter when the U.S. and China agreed to restart trade negotiations. This was a positive for American businesses and delayed the possibility that the U.S. would slap tariffs on another $300 billion in Chinese imports. But even if the Trump administration comes to terms with China, trade tensions may not disappear. In fact, the U.S. is also considering imposing tariffs on $4 billion worth of imports from the European Union, including its critical auto sector.
Even with these uncertainties, we believe the U.S. economy is still the world's strongest, and may benefit from looser monetary policy. As a result, we are slightly overweight U.S. equities.
Europe: Brexit paralysis takes its toll
Brexit paralysis, which led to the resignation of British Prime Minister Theresa May, continues to cause uncertainty, undermining the European economy. Politicians vying to replace her, led by hard-Brexit proponent, Boris Johnson, offer no clear way around the Brexit stalemate – suggesting its drag on growth will continue.
The Purchasing Manager's Index shows manufacturing slowing across Europe, including in Germany, the EU's largest economy. China is Germany's biggest trading partner, and the slowdown in the Asian country's economy caused by the U.S./China tariff dispute has led to a sharp falloff in manufacturing exports to China. In fact, the Bundesbank is now predicting growth of just 0.6% for this year, compared with a forecast of 1.6% last December.
In response to Europe's broader economic problems, the European Central Bank recently announced that it would keep key interest rates at record lows into 2020. Until we see signs of improvement on both the economic and political front, we continue to be underweight EAFE equities.
Emerging Markets: weighed down by the trade war
The Chinese economy, struggling under the weight of its tariff battle with the U.S. has slowed. While the government hopes to see GDP growth stabilize in the 6 to 6.5% range this year, the uncertainty triggered by the trade dispute remains.
China has taken steps to stimulate its economy, but the negative fallout has washed over other emerging market countries. The problem: emerging markets are highly sensitive to external risk factors such as global growth and changes in monetary policy in the U.S.
It hasn't been all bad news. Indian equity markets reached record highs following May's federal election, which saw Prime Minister Narendra Modi and his pro-growth Bharatiya Janata Party elected with a majority.
We remain positive on the long-term growth prospects of many emerging market countries like India, given their stronger demographics and fiscal position. However, until the fog around trade and the direction of interest rates lifts, we have moved from a small overweight to underweight position in emerging market equities.
Outlook: Largely underweight equities and credit
With the exception of the U.S. and Canada, we are underweight equities. In terms of fixed income, we are overweight Canadian bonds but underweight high yield bonds and emerging market debt.
With the U.S. still posting solid economic growth, we have a slight overweight position in U.S. equities.
With the S&P/TSX Composite Index potentially holding up better in a selloff we have a small overweight to Canada.
With Brexit undermining the European economy and German exports to China slowing, we ended the quarter with almost a 2% underweight position in EAFE equities.
We moved to a slightly underweight position in emerging markets, which have been hurt by the trade war and economic slowdown in China.
If the Fed does not follow through with its interest rate cuts, the Canadian dollar may weaken a bit after the strong run up it's had.
Our preference is for cash over bonds, given the small difference in yield.
Overall, we are looking for ways to reduce risk and take advantage of investment opportunities. However, for now, we are comfortable with how the Sun Life Granite Managed Portfolios are positioned.
This commentary contains information in summary form for your convenience, published by Sun Life Global Investments (Canada) Inc. Although this commentary has been prepared from sources believed to be reliable, Sun Life Global Investments (Canada) Inc. cannot guarantee its accuracy or completeness and is intended to provide you with general information and should not be construed as providing specific individual financial, investment, tax, or legal advice. The views expressed are those of the author and not necessarily the opinions of Sun Life Global Investments (Canada) Inc. Please note, any future or forward looking statements contained in this commentary are speculative in nature and cannot be relied upon. There is no guarantee that these events will occur or in the manner speculated. Please speak with your professional advisors before acting on any information contained in this commentary.
© Sun Life Global Investments (Canada) Inc., 2019. Sun Life Global Investments (Canada) Inc. is a member of the Sun Life Financial group of companies.