Highlights
U.S., China Restart trade negotiations
Bank of Canada holds the line on interest rates
U.S. Federal reserve cuts rate twice
Canadian and U.S. bond yields retreat
After surging. oil falls back to US$53.40 a barrel
Canadian dollar largely unchanged at US$0.75
Despite threats, world markets move higher
Take the U.S./China trade war, a slowing global economy and throw in a drone attack on the world's largest oil installation, and you'd expect markets to rollover. But even the possible impeachment of U.S. President Donald Trump failed to make much of a dint. Instead, falling interest rates worldwide, including two rate cuts by the U.S. Federal Reserve, buoyed markets, with the S&P 500 ending Q3 near its record high.
Even as they held up, the big question overhanging the markets in Q3 grew larger: can the U.S. economy and corporate earnings hold up as tariffs take their toll? The short answer – the economy performed relatively well in the quarter with wages rising and employment at a 50-year low. But as Q3 data came in, cracks appeared in the U.S. economy, including a slump in manufacturing and slowing job creation. For now, we remain slightly overweight, but with the growing uncertainty, we expect to reduce our U.S. exposure.
We are roughly neutral on Canada, with the domestic economy also holding up in in the first half of the year. But the falloff in global growth may be starting to bite here as well, with the economy stalling in July with 0% growth.
In terms of emerging markets, with a trade-related slump in China and across key emerging market countries, we continue to be slightly underweight. In Europe, with the Brexit quagmire deepening and a slowing Eurozone economy, we held to our underweight position.
Overall, we ended the quarter with a 2.2% underweight to equities, up from 3% in the previous quarter.
Markets rise – supported by lower interest rates
According to the Organization for Economic Cooperation and Development, in Q3 the global economy grew at its slowest rate since the 2008 financial crisis. However, with monetary policy easing worldwide, most markets still finished higher. The S&P 500 climbed 1.7%, and the MSCI World Index (USD) rose 0.66%. The MSCI EAFE Index (USD) climbed 1.0% – its performance hindered by ongoing Brexit turmoil and slumping economy (Chart 1).
With the trade war slowing growth in China and in many other emerging market countries, the MSCI Emerging Markets Index (USD) ended down -4.16%. At home, the S&P/TSX Composite Index climbed 2.5%, led higher by strength in utility stocks (Chart 2).
North American bond yields move lower
Bond yields touched new lows in the quarter as investors worried about recession, lack of progress in U.S./China trade talks and Brexit flooded into bonds, driving prices higher. The yield on Canadian 10-year bonds started the quarter at 1.47% and ended at 1.36%. The yields on U.S. 10-year Treasuries also moved lower, ending the quarter at 1.67%, down 35 bps.
Chart 1: S&P 500 finishes near its record high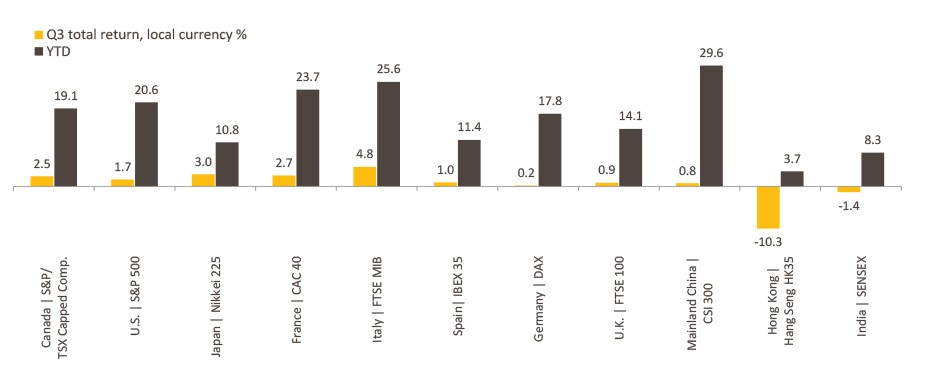 Markets: Looking to central banks for support

Amid fears of a global recession, nearly 30 central banks have cut interest rates so far this year. Among those, the European Central Bank reduced its key lending rate from -0.4% to -0.5% in September. As well, the Fed cut rates twice by 25 bps in the quarter, with its overnight rate now in the 1.75% to 2% range. The Bank of Canada remained an outlier, leaving its key interest rate unchanged at 1.75%.
The Fed's move lower didn't satisfy U.S. President Donald Trump, who has repeatedly demanded that the Fed cut rates at a much faster and deeper pace. In one tweet, he called the Fed governors "boneheads," and demanded that they introduce negative interest rates, ostensibly, he said, to refinance the government's $22 trillion debt.
Fed Chair Jerome Powell pushed back, saying the U.S. economy is performing well and doesn't need a boost from a sudden and sharp drop in interest rates. That said, while the market has priced in at least one more cut this year, the Fed appears divided on the future direction of interest rates.
In fact, in the dot-plot forecast following the September meeting, five Fed governors wanted to hold interest rates in the 2% to 2.25% range. Five others supported the latest cut to the 1.75% to 2% range and wanted to keep it there for the rest of year. However, seven wanted at least one more cut in 2019. These divisions make it difficult to say where the Fed will go next. But if we do get a deep market correction, it could backstop the market by cutting interest rates again.
In Canada, the market appears to have priced in one 25 bps interest rate cut later this year or early in 2020. And the chances of the BoC cutting may have increased when the economy failed to grow in July.
Moreover, in a statement following its September meeting, the BoC made it clear that it believes the U.S./China tariff battle poses a significant risk. "Things could certainly get worse internationally," it noted, "which would deliver a complex shock to our economy affecting both supply and demand."
As well, given Canada's trade reliance on the U.S., the BoC also has to consider keeping its key lending rate relatively in sync with the Fed. If not, the bank risks propping up a higher Canadian dollar, which hinders Canadian exports.
Is the trade war starting to bite into Canada?
The Canadian economy surprised to the upside earlier in the year, with employment and wages rising. However, the quality of the jobs being created appears to be skewed toward part-time, lower-paying ones. And there are a number of risks to the economy. For one, while home prices have firmed, they still appear to be overvalued. At the same time, consumers are carrying near record levels of debt, which erodes consumer spending.
Moreover, as noted, following four months of growth, the economy stalled in July when the oil-and-gas sector contracted. July's flat-lined performance came in below the BoC's forecast, suggesting growth may slow further in the second half of the year. (On an annual basis, the economy grew by 1.3% cent in July.) However, there is likely no immediate threat to the economy given the softening interest rate outlook.
Slowing growth could erode energy prices. But the Canadian economy could still be helped by higher oil prices if we see more conflict in the Middle East. Indeed, the drone attack on the world's largest oil installation in Saudi Arabia triggered a 15% spike in oil prices, with benchmark West Texas International (WTI) jumping almost US$5 a barrel to US$60 a barrel. WTI finished the quarter at US$53.40 a barrel
If we do get a market correction, the S&P/TSX Composite Index may hold up better than some of its pricier counterparts, and the S&P 500. For now, we remain roughly neutral on the Canadian market.
Chart 2: Utility stocks lead S&P/TSX Composite higher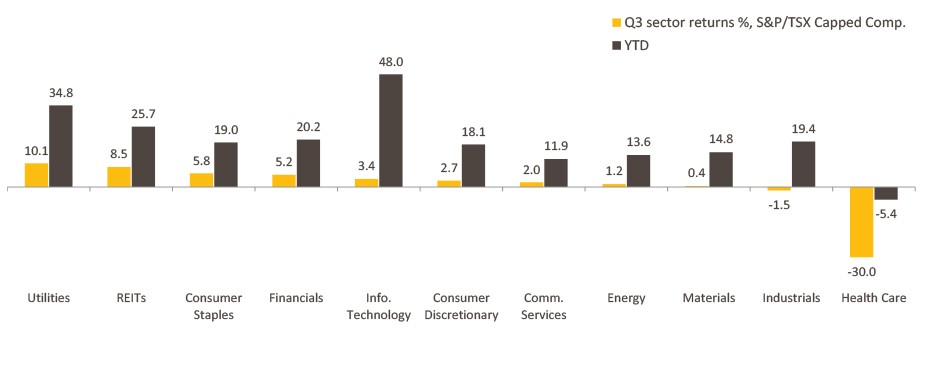 U.S.: Cracks begin to show in the economy

So far in the trade war, the U.S. has slapped tariffs on US$550 billion worth of Chinese products entering the U.S.; China, in turn, has set tariffs on US$185 billion of American imports. Neither side shows any sign of backing down.
Despite the tariffs, the U.S. economy has proved resilient, supported by exceptionally low unemployment, rising wages and strong consumer spending. But the trade dispute may be starting to hit home, with slowing job creation and a number of key economic indicators turning negative in the quarter, including:
The bellwether Purchasing Managers Index fell to a decade low in August.
The U.S. manufacturing sector contracted for the second straight month in September, hitting a 10-year low.
Consumer spending increased just 0.1% in August over July, the smallest gain in six months.
Growth in the service sector, which makes up nearly 80% of U.S. GDP, slowed to its lowest level in three years.
While it's too early to know how deep a potential slowdown in the U.S. might be, the consensus view among economists suggests GDP growth will drop to 2.2 % this year and to 1.8% next year.
Against this clouded economic backdrop, the push by Democratic members of the House of Representatives to impeach President Trump could trigger bouts of volatility, particularly if it looks like the president (who has been favourable to the market) could be removed from office. That said, the market was unfazed by Trump's impeachment announcement and finished higher on the day.
If history is any indication, the health of the U.S. economy could outweigh the impact of impeachment. For example, the economy was in recession when Richard Nixon was threatened with impeachment and the S&P 500 dropped by 33%. Conversely, when Bill Clinton was impeached the economy was doing well, with the S&P 500 rising by 39%.
If we do get a sharp downturn in the market triggered by political uncertainty, the Fed could step in to cut interest rates.
Europe: The Brexit quagmire deepens
Britain's quixotic journey to leave the EU led to the resignation of British Prime Minister Theresa May in July. Boris Johnson, her now beleaguered replacement, has vowed to lead the U.K. out of the European Union on Oct. 31 – with or without a trade deal. He also wants an election to help settle the issue, something parliament has refused to grant. This suggests the Brexit stalemate will extend beyond Oct. 31 and could continue to drag on European growth.
The Eurozone economy is in fact contracting, with Italy and Germany, its lynchpin economy, nearing recession. The ECB cut its EU growth forecast by 10 basis points to 1.1% this year and by 20 bps to 1.2% for 2020. It blamed "protracted weakness" caused by the global trade slowdown, which has eroded EU manufacturing exports (most critically to China).
Incoming ECB President Christine Lagarde – who chaired the IMF for 11 years – may bring along some new ideas to help the EU economy. For now, Lagarde believes ending the trade war, which she estimates will shave 0.8% off global growth in 2020, is the key to restoring growth. But until we see a catalyst emerge that could turn the EU's fortunes around, we remain underweight Europe.
Emerging Markets: China, India inject stimulus
Emerging markets continue to struggle in the wake of the U.S./China trade dispute. In response, both China and India took steps to stimulate domestic growth in the quarter. For its part, China's central bank cut cash-reserve requirements for banks in September, which injected US$126 billion into the economy. It was the third time China has allowed banks to lower reserve requirements this year. India followed suit with a US$20 billion stimulus package, including corporate tax cuts that will rival some of the lowest in Asia.
Whether these moves to stimulate the Chinese and Indian economies will have a positive effect on their own, and on other key EM countries, remains to be seen. Until we have greater clarity, we remain slightly underweight.
Outlook: Largely underweight equities and credit
With the exception of the U.S. and Canada, we are underweight equities. In terms of fixed income, we are overweight and continue to hold higher-quality bonds for downside protection. We also favour emerging market government debt to high yield bonds.
We have a slight overweight position in U.S. equities, but are looking for opportunities to reduce our position.
We are roughly neutral on Canada, with the S&P/TSX Composite Index potentially holding up better in a trade-related selloff.
With Brexit undermining the European economy, and Germany and Italy close to recession, we ended the quarter with almost a 2.5% underweight position in EAFE equities.
We held to a slightly underweight position in emerging markets, which have been hurt by the trade war and the economic slowdown in China.
The U.S. dollar may strengthen against other currencies, but perhaps decline sharply versus the Canadian dollar if the Fed continues to cut rates and the BoC remains on the sidelines.
Overall, we are looking for ways to reduce risk and take advantage of investment opportunities. However, for now, we are comfortable with how the Sun Life Granite Managed Portfolios are positioned.
This commentary contains information in summary form for your convenience, published by Sun Life Global Investments (Canada) Inc. Although this commentary has been prepared from sources believed to be reliable, Sun Life Global Investments (Canada) Inc. cannot guarantee its accuracy or completeness and is intended to provide you with general information and should not be construed as providing specific individual financial, investment, tax, or legal advice. The views expressed are those of the author and not necessarily the opinions of Sun Life Global Investments (Canada) Inc. Please note, any future or forward looking statements contained in this commentary are speculative in nature and cannot be relied upon. There is no guarantee that these events will occur or in the manner speculated. Please speak with your professional advisors before acting on any information contained in this commentary.
© Sun Life Global Investments (Canada) Inc., 2019. Sun Life Global Investments (Canada) Inc. is a member of the Sun Life Financial group of companies.