Highlights 
A second wave of  COVID-19 surged globally
Just after quarter end, U.S. President Donald Trump was hospitalized with the virus
Major indexes continued to recover from the Q1 selloff, S&P 500 hits record high
Canada announced another round of income support programs
EU introduced US$888-billion recovery program
After hitting US$64 a barrel early in the year, oil continued to trade in the US$40 range
Canadian dollar climbed from US$0.74 to US$0.75
In March, with COVID-19 forcing a shutdown of the global economy, the S&P 500 collapsed – losing 34% of its value in 19 days. Governments around the world responded, pumping out more than US$15 trillion in stimulus spending while central banks flat-lined key interest rates. Sentiment turned – optimism replaced despair and on August 18, the S&P 500 hit a record high, erasing the shortest bear market in history. Investors then paused in the final days of the quarter to consider the still troubled market backdrop: the pandemic was accelerating, the U.S. Congress failed to deliver additional stimulus and with the threat of a prolonged downturn, the outlook for corporate profits clouded. And with that, the tech-heavy Nasdaq fell 10% in just three days.
With so much economic and political uncertainty, was the Nasdaq's tumble just a short-lived pullback? Or was it the start of a bigger downturn? That remains to be seen. But since the start of the COVID-19-driven selloff, we've consistently downplayed the idea of a quick V-shaped recovery. Instead, given the depth of the economic carnage, we've predicted another down leg in what may be a W-shaped recovery. Perhaps that is the start of what we saw as Q3 came to a close.
Where the markets go from here though, clearly depends on the answer to a number of key questions. As the second wave of COVID-19 grows, can it be contained without shutting down the economy again? (Chart 1) Will the U.S. deliver another round of stimulus? When could we see an effective vaccine? And, if we don't get a rapid recovery, can corporate profits keep pace with expanding equity valuations.
Chart 1: Virus surges in the U.S. and worldwide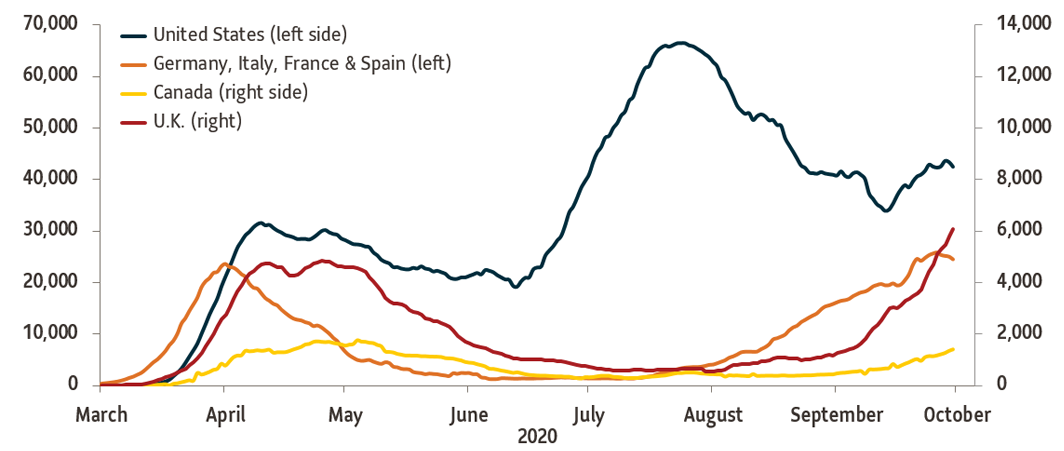 Sources: World Health Organization, Johns Hopkins University, SLGI Asset Management Inc. Data as of September 30, 2020.
If all that wasn't enough, the volatile U.S. election took another turn on Oct. 2, when U.S. President Donald Trump was hospitalized with COVID-19. Worries over Trump's health came on top of growing concerns that a disputed outcome to the Nov. 3 vote could set back the market – at least temporarily.
In fact, in 2000, a conflict over the ballot count in a single state – Florida – reached the U.S. Supreme Court, delaying the outcome of the election for five weeks. During that time, the S&P 500 fell 12%. This time, if pundits are correct, the results of this election could be disputed in a number of states, again potentially leading to protracted court fights and more market volatility.
Even a decisive win, with Joe Biden and his party taking control of the White House and Congress might not be embraced by Wall Street This, in part because Biden has promised on "day one" of his presidency to rollback President Trump's corporate tax cut, possibly raising it back to 28% from 21%. If so, it could have a negative impact on corporate profits and carry through to equity valuations. Nor would the market react well to an increase in capital-gains taxes, an idea also floated by the Biden camp (Chart 2).
In the end, the markets might prefer a gridlocked situation, with neither party in control of both the White House and Congress. This outcome could delay or prevent the implementation of policies that the markets do not want.
Chart 2: Possible outcomes to the U.S. election

Source: PredictIt. Data as of September 30, 2020.
A calculated approach to a volatile market
Given the deep economic hole carved by COVID-19, we started Q3 being slightly underweight equities. However, with the initial-wave of COVID-19 partially contained, and with monetary and fiscal stimulus kicking in, we saw positive signs emerge: major economies began to reopen, vaccine trials were advancing and corporate profits were holding up.
In light of these developments, we started to add some risk back into the portfolios, and by quarter end our equity weighting was roughly neutral.
Within our equity mix, we continued to overweight U.S. and emerging market equities. In addition, we moved from neutral to an overweight position in EAFE equities. But, as we have from the start of the year, we maintained our underweight position in Canadian equities.
At quarter-end, we continued to feel optimistic about U.S. stocks. In particular, we were positive on growth stocks, including large tech companies that led the rally. We took profits on the run-up, but growth stocks have become expensive, especially relative to their value counterparts. Still, even though we did get a pullback in growth stocks at quarter-end, we anticipate longer-term upside in the group, especially with the work-from-home trend continuing.  
If the U.S. Congress approves more stimulus spending, it could provide a boost to the broader market, with a rotation into value. To that end, we continue to use a barbell strategy. On one side, we have a bias toward quality, remaining overweight large U.S. companies. On the other side, we are taking a more opportunistic tilt, adding U.S. value names and asset classes that lagged growth in the run-up (Chart 3).
Chart 3: Can value close the gap on growth?

Source: Bloomberg. Data as of September 30, 2020.
To generate additional income, we also sold options across various markets in Q3. For one, given the selloff in technology names, we sold deep, out-of-the-money put options on the Nasdaq. We also used short call and short put options in July and August on gold and technology stocks. The short put strategy worked particularly well in August when the Nasdaq kept moving up and we collected the premium. As long as premiums remain attractive, we'll continue to deploy option strategies.
While we've been positive on the U.S., Canada continued to be our largest underweight. The Trudeau government is doing everything it can to help individuals and to keep the economy going. However, household spending, which accounts for 59% of Canada's GDP, has been slowed by high consumer debt levels. We also believe home prices, which so far have held up relatively well – partially due to mortgage payment deferrals and stimulus spending – could retreat in a prolonged slowdown.
We remained overweight emerging markets in Q3. Nevertheless, we are concerned that some major emerging market countries may have difficulty reopening their economies. These include Brazil and India, which are among the hardest hit by COVID-19. However, China (with the largest weighting in our benchmark) is well past the virus with its economy gathering momentum, although not as fast as we had expected. That said, China's manufacturing sector has rebounded and exports have picked up as major economies slowly open up.
In terms of European equities, we were slightly overweight at quarter-end. Fiscal and monetary support, including the European Union's US$888-billion recovery fund, should continue to help European equities and economy. However, we have concerns, both on the political and pandemic front. Negotiations surrounding the U.K.'s exit from the EU have all but broken off, adding even more market uncertainty. And a second wave of COVID-19 has broken out in a number major European countries, with Spain as the continent's new virus epicentre.  
Bonds: low interest rates, the search for yield
With interest rates at record lows, the thirst for yield continued in Q3. And with the U.S. Federal Reserve backstopping corporate high yield bonds, we added to the category as it continued to outperform government bonds. (Chart 4).
The yield on U.S. Treasuries started the quarter at 0.69% and ended flat 0.69%. By comparison, Canadian 10-year bond yields rose slightly, climbing from 0.54% to 0.57%. And we were close to neutral across our bond allocations at quarter end.
Chart 4: Corporates outperformed government bonds in Q3

Source: Macrobond. Data as of September 30, 2020. 
Markets rally: S&P reaches new record high
In Q3, the S&P 500 continued to rally from March's market bottom, reaching a record high on August 18 (Chart 5). Despite the late-quarter sell off, the S&P 500 was still up 5.6% year-to-date on September 30. For its part, the MSCI Emerging Market Index also rallied, but was still slightly down at -0.9% year-to-date. For the same period, the MSCI World Index was up 0.9%, while the MSCI EAFE Index was down -6.2%. At home, the S&P/TSX Composite Index, down -3.1% year-to-date, rallied in the quarter, led by industrial and utility stocks (Chart 6).
Chart 5: Worldwide, equites continued to bounce back
Total return, indexed to 0 as of January 1, 2020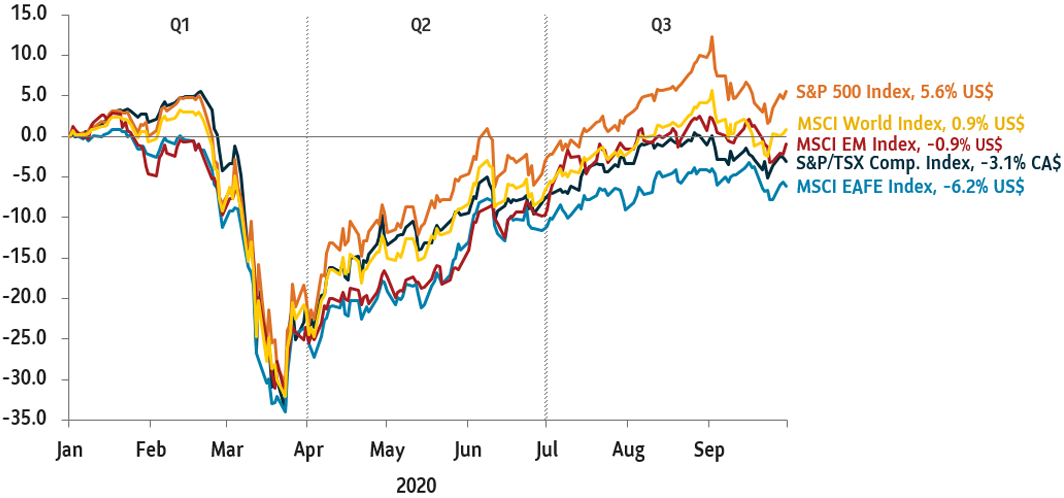 Source: Bloomberg, Data as of September 30, 2020.
The Fed: repeated calls for more stimulus
Since March, the Fed has slashed its key lending rate to nearly zero. It has also pledged to keep rates near zero potentially for three years until the economy fully recovers. It has also launched more than a dozen lending and liquidity programs totalling almost US$2.3 trillion.
Despite all that, Fed Chairman Jerome Powell does not believe that monetary policy alone can rescue the U.S. economy. To that end, he has made repeated calls for more fiscal help from Congress. But the long-promised second stimulus package, which could be well over US$1 trillion, remained bogged down in partisan wrangling at quarter-end.
To help sustain an economic recovery, the Fed loosened its approach to containing inflation in the quarter. In the past, it would begin shifting to a tightening bias when the inflation rate rose above 2%. It will now let inflation rise "moderately above" 2% for some time before raising rates. In terms of equities, by holding interest rates down and letting inflation run higher, it could potentially lead to higher returns by keeping the cost of capital relatively low.  However, on the bond front, it could keep yields low for an extended period.
Prior to the pandemic, with record employment and U.S. growth pushing 3%, inflation remained below 2%. Today, with almost 10 million Americans still unemployed, it's difficult to see what impact the Fed's shift will have over the short term.
U.S.: lack of stimulus threatens recovery
After U.S. GDP declined sharply in the second quarter, we saw a strong bounce back in Q3. Retail sales, new-home sales and durable-goods orders all surprised to the upside, and are now close to or above pre-crisis levels.
As noted, we are moderately bullish on U.S. equities and ended the quarter with a 3% overweight position. However, there are reasons to remain cautious, given the rise in COVID-19 cases and the seeming inability of the White House and Congress to agree on a second round of stimulus. Moreover, we may now have to wait until after the election before we see a stimulus package – if at all.
Indeed, consumer spending, accounting for more than two-thirds of U.S. economic growth, was shored up by emergency income programs. But funding for those is running out, while partisan wrangling over the need for more stimulus continues.
Many economic forecasts have called for a surge in U.S. economic growth in Q4. However, as Powell has repeatedly told Congress, fiscal stimulus is needed now, or the pace of recovery could slow. In fact, many leading economists have started paring back their estimates for U.S. growth in Q4.
Canada: low energy prices complicate recovery
Given a potential rotation into value, we slightly reduced our underweight exposure to Canadian equities in August. But at 3.5%, it is still our largest underweight.
Our broader concerns centre on over-extended Canadian consumers, and low oil prices. Following the 2008 recession, strong consumer spending led Canada's recovery. While we again have rock-bottom interest rates, this time Canadian consumers don't have the room to take on large amounts of new debt. As noted, we are also watching home prices, which have risen to record levels in some markets.
Canada's recovery has also been hurt by low oil prices. Oil and natural gas production account for about 7% of Canada's GDP. Benchmark crude was trading at nearly US$64 a barrel in early January. But in the wake of a price war and reduced demand in the COVID-19 downturn, oil fell to US$40 a barrel at the end of Q3. Even off that low price, it's hard to see a significant rebound, with major producers, including Saudi Arabia and Russia, increasing production.
Still, the federal government is doing all it can to keep the economy from falling further This included introducing another round of income support programs to help individuals and companies over the next 26 weeks. Doing so could help the country avoid an "income cliff" – the economic shock that would come from leaving millions of Canadians unemployed and without income.
What will all that cost? Without the new programs contained in September's throne speech included, at the end of Q3 the government was projected to run a deficit of around $350 billion in 2020. As of August, the IMF calculates that Canada's fiscal stimulus amounted to 15% of GDP. This puts it in line with the U.S. but below the level of fiscal support seen in Japan and across the EU.
Chart: 6: Industrials, utilities lead the S&P/TSX Composite higher

Emerging markets: a mixed recovery
We held to our overweight position in emerging market equities in Q3. As noted, many emerging economies, like India and Brazil, have had trouble reopening. However, others including China, South Korea and Taiwan are doing well.
China is bouncing back thanks in part to successful, targeted stimulus measures – a sign that Beijing's efforts to boost consumption at home are working. In fact, by some measures, Chinese business activity has risen to its highest level in 2.5 years, with the Non-manufacturing Purchasing Managers' Index climbing to 55.2 in August. This marked the sixth consecutive month that the index topped the 50 mark, which separates expansion from contraction.
As well, emerging markets have generally benefitted from a weaker U.S. dollar. Given the Fed's reluctance to raise rates, this tailwind could persist for longer. On the negative side, rising commodity prices have been a drag on some emerging market countries.
Europe: virus rebounds, Brexit resurfaces
European markets and the economy have been supported by the US$888-billion recovery fund launched by the EU in Q3. And although we trimmed our position late in the quarter, we were still overweight EAFE equites.
Europe's economy, which is more export-dependent than the U.S., has also been helped as China recovered. We may have seen evidence of this in August, when Germany's Truck Toll Mileage Index, an indicator of industrial production, climbed back to pre-crisis levels. As well, Europe's Purchasing Managers' Index remained positive in the quarter. Other hard hit countries, including Italy, also showed signs of recovering, with manufacturing and external trade picking up.
However, a second wave of COVID-19 has hit Europe. This has forced a number of countries, including Spain (with the largest number of new infections), to again lock down parts of their economy.
As well, we are watching the impasse over Brexit, which is again creating economic uncertainty. The Dec. 30 deadline, for the EU and the UK to reach an all-encompassing trade and immigration pact, is fast approaching. Both sides still appear far apart, again raising the possibility of a hard Brexit and the negative economic fallout that could bring.
Outlook: cautious on equities, neutral on bonds
Overall, we were neutral on equities in Q3. But within our equity mix, we were overweight U.S., emerging market and EAFE equities. In fixed income, we added high yield corporate bonds but remained neutral across our bond allocations.
Slightly reduced our overweight position in U.S. equities.
Continued to underweight Canada, with COVID-19 and low oil prices hurting the economy.
With the Eurozone economy improving, moved from neutral to small overweight position in EAFE equities.
With China's economy recovering, maintained our overweight position in emerging market equities.
Canadian dollar rallied against the U.S. dollar, and we expect it to trade in the US$0.75 range.
Maintained cash to take advantage of opportunities as they arise.
Overall, we will continue to manage risk in the short term while looking for longer-term opportunities. However, for now, we are comfortable with how the Sun Life Granite Managed Portfolios are positioned.
This article contains information in summary form for your convenience, published SLGI Asset Management Inc. Although this article has been prepared from sources believed to be reliable, SLGI Asset Management Inc. cannot guarantee its accuracy or completeness and is intended to provide you with general information and should not be construed as providing specific individual financial, investment, tax, or legal advice. The views expressed are those of the author and not necessarily the opinions of SLGI Asset Management Inc. Please note, any future or forward looking statements contained in this article are speculative in nature and cannot be relied upon. There is no guarantee that these events will occur or in the manner speculated. Please speak with your professional advisors before acting on any information contained in this article.
© SLGI Asset Management Inc. and its licensors, 2020. SLGI Asset Management Inc. is a member of the Sun Life group of companies. All rights reserved.