On one, the market approached record highs after the White House announced that it was delaying additional tariffs on Chinese imports. On the second, it tumbled when the yield curve inverted, signaling the growing risk of a global recession, and possibly with it, the end of the longest bull market in history. All this played out against a worsening economic and political backdrop, with China's growth slowing, Germany's economy contracting and Brexit paralysis gripping Europe.
With a rising tide of nationalism and protectionism across the world, the market has rallied on any positive news around the U.S./China trade war and sold off on the bad. In fact, the announcement earlier this month that the U.S. was slapping tariffs on another $300 billion in Chinese imports triggered a 3% market drop in one day alone. Clearly, the market fears that the escalating trade war has moved beyond a political tug-of-war between the world's two largest economies, and is cutting into economic growth.
The market may be right. The health of the Chinese economy is a bellwether for much of the rest of the world. Lately there have been obvious signs of weakness. Chinese industrial production is slowing, the jobless rate is climbing and retail sales, a measure of consumer confidence, grew by 7.6% in July, down from 9.8% in June.
The European Union, which has seen exports to China fall, and its economy contract, is particularly vulnerable. Indeed, Germany, Europe's largest exporter of manufactured products to China, saw its GDP shrink by 0.1% in the first five months of the year. Moreover, the stalemate over Brexit continues to undermine the EU economy. Prime Minister Boris Johnson's vow to take Britain out of the EU, with or without a deal, is only adding to the uncertainty and is a drag on investment.
The U.S. economy, in the midst of a 10-year economic expansion, continues to perform relatively well, with solid job growth and strong consumer confidence. Still, U.S. economic growth fell to a 2.1% annual rate in the second quarter — down from a 3.1% pace in the first three months of 2019. A 5.2% drop in exports contributed to the slowdown. As the chart below suggests, the trade war is also eroding the U.S. economy, and possibly with it, the outlook for corporate profits.
The tariff battle is cutting into U.S. growth
Reduction in U.S. GDP from U.S. tariffs on China (imposed and threatened)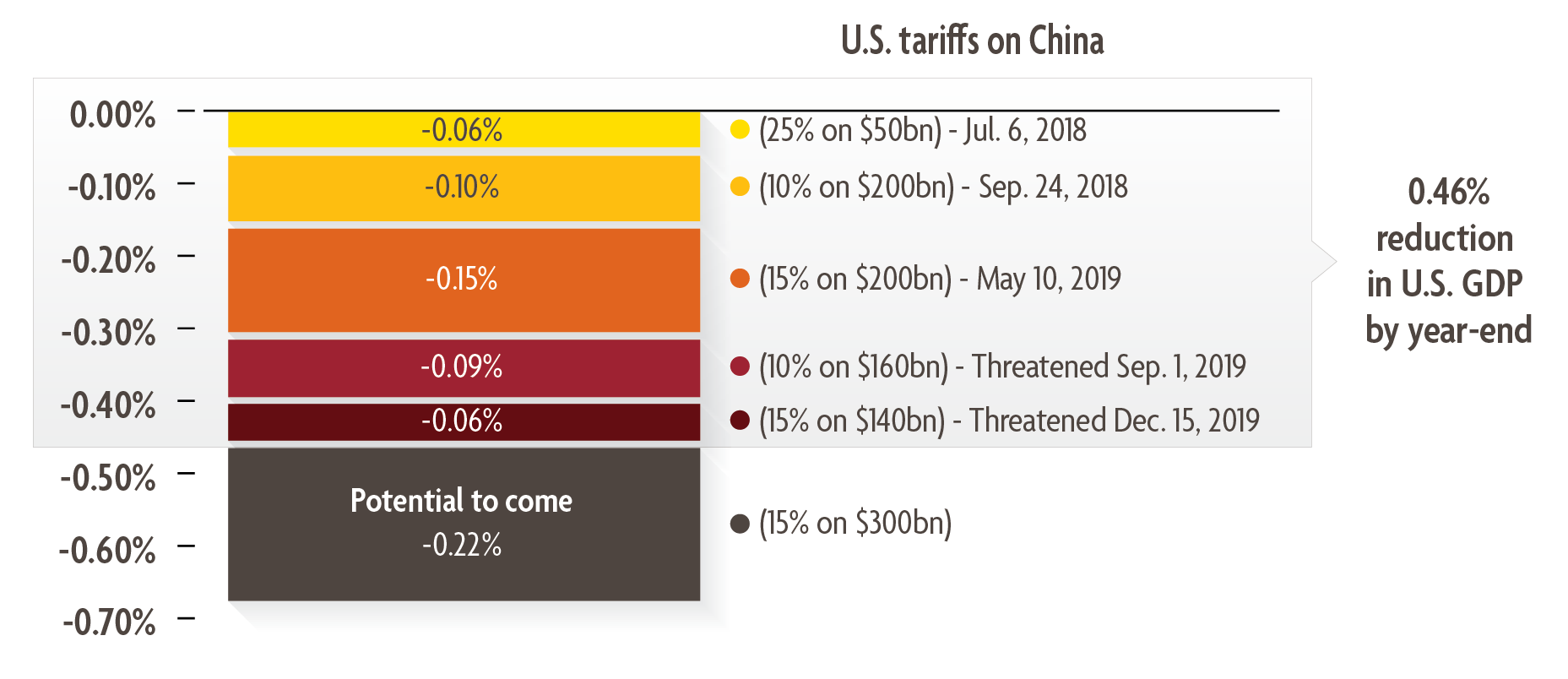 Source : Bloomberg.
Will central banks save the stock market?
We're closely watching central banks, and policy developments more broadly, for measures to counter not only risks around trade, but also the cyclical slowdown that is already underway.
To that end, an increasing number of central banks have cut interest rates. Others are holding to extremely low (even negative) rates. For one, the Bank of Japan has announced that it intends to keep its key interest rate at -0.10%. The European Central Bank has made it clear that it intends to lower its key rate in September from the current 0.40%, and hold it there for a significant amount of time. To date, the Bank of Canada has been an outlier, but it may cut rates at its September meeting.
However, it's the U.S. Federal Reserve that we believe may set the direction of the market in the months ahead. Fed Chair Jerome Powell ignited a market rally in early June when he suggested that the Fed could cut interest rates multiple times if trade conflicts slow U.S. economic growth.
The market immediately priced in up to three 25 bps rate cuts. Powell did come through with a rate cut on July 31, lowering the key federal funds rate by a quarter point. Fed officials pointed to sluggish business investment and lack of inflation, which has been running below the central bank's 2% target, as the reason for the cut.
Still, U.S. President Donald Trump has repeatedly attacked Powell, demanding that that the Fed deliver deeper and faster rate cuts. The Fed Chair has pushed back saying economics, not politics, will guide the Fed's decision. For our part, we believe the Fed may cut rates again later this year, and could deliver another depending on how deep the global economic slowdown is.
However, a major question remains: if the market sells off dramatically, will the Fed and other central banks intervene with steep rate cuts? In other words, will the health of the market lead monetary policy in the months ahead. The markets appear to believe so, and have priced in multiple rate cuts (chart below). This in itself poses a risk, with volatility possibly picking up if the banks fail to deliver.
Are markets being too optimistic on rate cuts?
Market projections on interest rates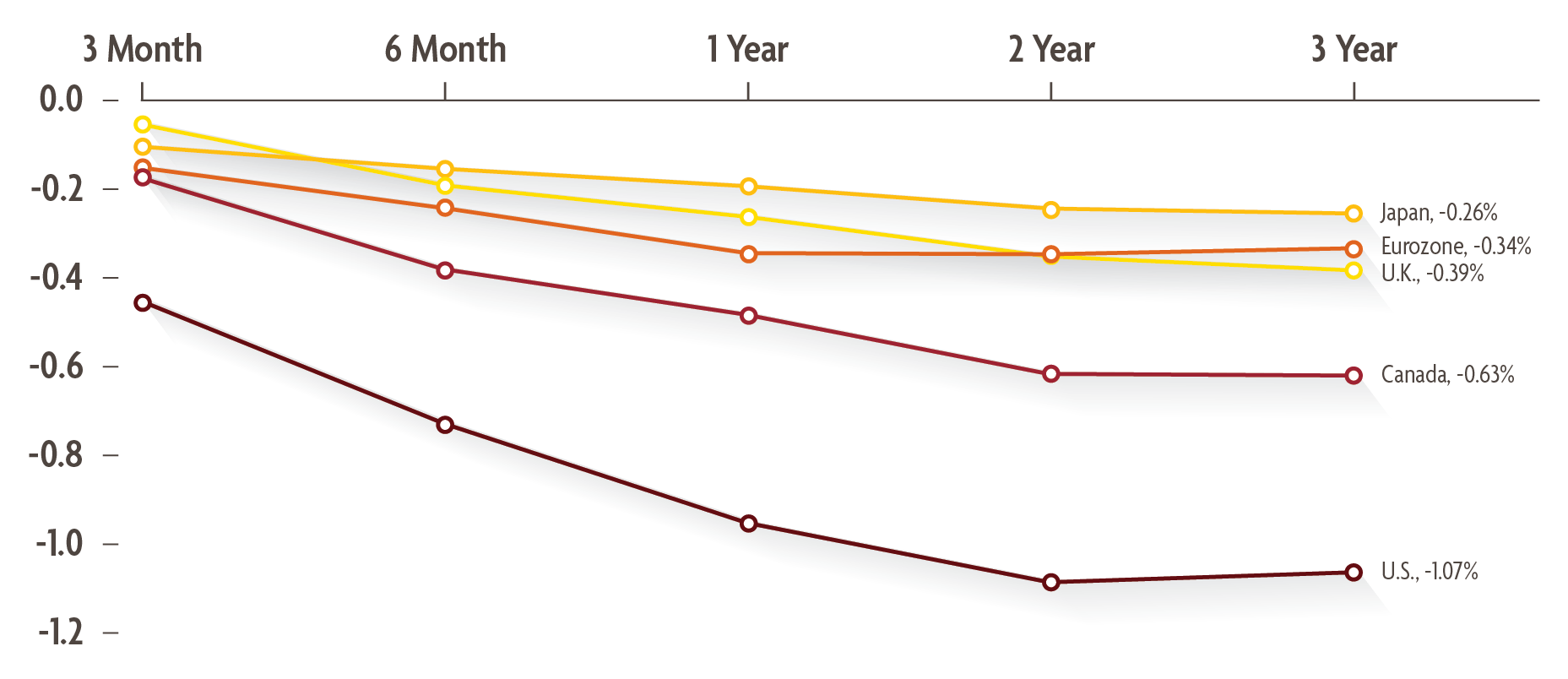 Note: Pricing based on overnight index swap rate 
Source : Bloomberg.
What the inverted yield curve may be telling us
There has been a flight to quality into U.S. Treasuries, as well as the Greenback and other leading currencies. And when data was released on August 14 showing the Chinese and German economies weakening, bonds rallied in part on their safe-haven status and in anticipation of lower interest rates to come.
The yield curve (the difference between short and long dated bonds) has been leveling out for some time, and yields tumbled with 10-year Treasuries trading around one bps below the yield on the benchmark two-year Treasury. The inversion didn't last long, with the two-year Treasury ending the day at 1.592%, down 7.5 bps, and the 10-year Treasury at 1.596%, down 8.2 bps.
Including the 2008/2009 recession, an inversion between two-year, and ten-year Treasuries has occurred before the past seven recessions. Perhaps even more telling, the yield on 30-year Treasuries fell to 2.0139%, the lowest level it has ever reached. This seems to suggest that the market does not see rising interest rates for months to come, and it may also be signaling a possible worldwide recession.
We don't believe a recession is a foregone conclusion – particularly in the U.S. where fundamentals, especially on the consumer side, look reasonably solid compared to other markets. Still, an inverted yield curve has historically been a good predictor of a recession, which often followed within 8 to 24 months. So although the markets have reasons to worry about declining economic data, the likelihood of a recession in 2019 remains very low.
Still, the trade war is continuing with no sign that either side is going to back down. And it's being played out against a backdrop of growing political conflict – the future is anything but certain.
Is an inverted yield curve signaling a recession?
When the spread between the yield on 10-year and 2-year U.S. Treasuries inverts, a recession often follows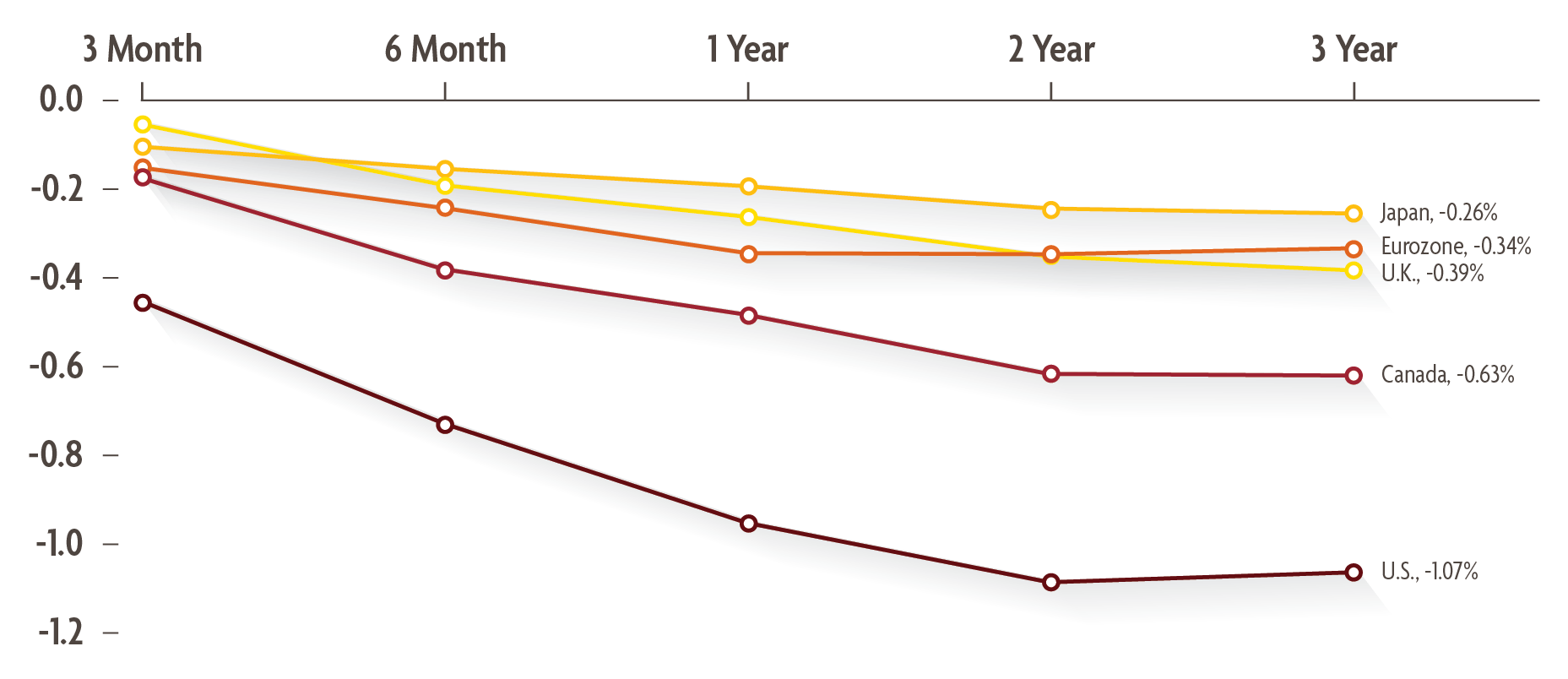 Source : Bloomberg.
Political conflicts, black swans and market uncertainty
TV images of Chinese soldiers training on the border of riot-torn Hong Kong, underscore the deep political divisions and market uncertainty we're witnessing today.
There's the Brexit standoff, with the U.S. enthusiastically supporting the splintering of Europe. Indian Prime Minister Narendra Modi, perhaps ignoring his own country's constitution, to absorb part of Kashmir. And North Korea is again firing off missiles, while Iran reconsiders its nuclear option.
Perhaps most telling, the U.S. – the fulcrum of stability in the post-World-War-Two economic order – is being led by a President who is at odds with many American institutions and international alliances. Indeed, in addition to China (an adversary) the Trump administration has also threatened tariffs against Europe and its critical auto sector.
Could any of these issues trigger an event that could destabilize the market further? Only the future can answer that question.
Positioning Sun Life Granite Portfolios in an uncertain world
The market sell off we saw has not changed our generally cautious outlook for the coming months. We see the recent volatility as a reflection of deteriorating economic fundamentals, rather than a compelling buying opportunity for equities. As a result, we are maintaining our underweight to both equities in general and lower-quality, higher-yielding fixed income.
Within our equity allocation, we have been biased towards U.S. large-cap stocks, which generally reflect better quality and stronger earnings momentum. That said, we have started to trim this overweight given valuations and heavy investor participation in the sector. As well, we have added to our holdings in defensive sectors, including utilities, real estate and consumer staples.
In terms of fixed income, we are considering increasing our exposure to emerging market debt. We believe we could see increased support for this sector, given the lack of yield across large segments of the fixed income market globally.
As well, we're holding some cash and have an overweight position in higher-quality bonds, which will give us the flexibility and liquidity to seize market opportunities.
In volatile times like this, our tactical approach gives the SLGI portfolio management team the ability to quickly adjust the portfolio. This could include the use of hedges or other downside risk mitigation measures. It also gives us the ability to take advantage of opportunities that may present themselves during sell-offs.
Furthermore, the Sun Life Granite Portfolios are designed to be broadly diversified across both equities and bonds, including non-traditional asset classes, as well as across various geographies. This helps smooth shocks in any particular region or asset class.
This commentary contains information in summary form for your convenience, published by Sun Life Global Investments (Canada) Inc. Although this commentary has been prepared from sources believed to be reliable, Sun Life Global Investments (Canada) Inc. cannot guarantee its accuracy or completeness and is intended to provide you with general information and should not be construed as providing specific individual financial, investment, tax, or legal advice. The views expressed are those of the author and not necessarily the opinions of Sun Life Global Investments (Canada) Inc. Please note, any future or forward looking statements contained in this commentary are speculative in nature and cannot be relied upon. There is no guarantee that these events will occur or in the manner speculated. Please speak with your professional advisors before acting on any information contained in this commentary.
© Sun Life Global Investments (Canada) Inc., 2019. Sun Life Global Investments (Canada) Inc. is a member of the Sun Life Financial group of companies.