What a year it's been in the markets. Over 10% return since the beginning of the year is something that we would normally be cheerful about – and no, we're not talking about stocks. This is actually the total return for long-term Canadian bonds. It's quite an accomplishment, especially when you consider that yields were only at 3.18% on Dec. 31, 2018. And it's a similar picture in the U.S. bond market.
Capital appreciation has been the main driver of recent bond returns, pushed up by falling yields across the maturity spectrum. The exception is at the very short end, where policy rates have remained anchored at 1.75% in Canada and 2.25 to 2.50% in the U.S. However, the outlook for policy rates has changed dramatically since the start of the year.
Following four 25 basis point increases in its policy rate over the course of 2018, the U.S. Federal Reserve moved towards a neutral stance in January. On this side of the border, the Bank of Canada reluctantly rolled back its tightening bias as well, now emphasizing data dependence in a context of still "accommodative" policy.
However, further out the curve, yields dropped materially as bond markets became increasingly worried. Taking a closer look at the key drivers of longer-term yields, inflation expectations have not changed materially since the start of the year, despite a bit of a roller coaster ride.
In contrast, real expected growth and the term premium have fallen dramatically. And that has pulled down longer-term bond yields as investors anticipate lower interest rates in the future, and demand a lower risk premium for holding traditionally safe-haven assets.
The issue is not so much where we are, but where we're headed. While current economic conditions appear generally strong, the worry is that past policy tightening, coupled with fading fiscal stimulus and uncertainty from ongoing trade tensions, could put the brakes on the economic expansion in the coming quarters. Forward-looking indicators, such as the Institute for Supply Management's Manufacturing Purchasing Managers Index have trended down, historically leading yields lower with a short lag.1 (Chart below). And the most recent U.S. labour market data, while still essentially indicating full employment, sent cautionary signals with muted wage and job growth – which doesn't bode well for the consumption outlook.  
Bond Yields have followed the PMI lower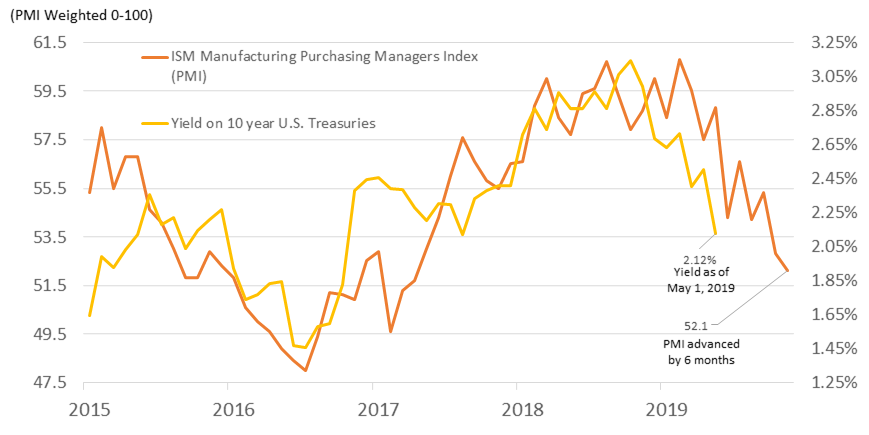 1Based on a survey of purchasing managers, the Institute for Supply Management's Manufacturing Purchasing Managers Index monitors monthly changes in production levels, giving equal weighting to new orders, production, employment, supplier deliveries and inventories.
Where do we go from here? With quite a bit of worry priced in, bonds certainly don't look like a bargain, especially in the context of current yield. The picture becomes more nuanced if we consider bonds as diversifying building blocks alongside equities. Equities have looked more cheerful, rallying as markets aggressively priced in cuts in Fed policy rates, and presumably with that, a turn for the better in future economic growth.
It will be important to watch how the current dichotomy between bond and equity markets unfolds. Fed Chairman Jerome Powell's recent remark that, "Using monetary policy to push sufficiently hard on labour markets to lift inflation could pose risks of destabilizing excesses in financial markets or elsewhere," and its impact on equities and bonds, will be important to reflect on.
---
 This commentary contains information in summary form for your convenience, published by Sun Life Global Investments (Canada) Inc. Although this commentary has been prepared from sources believed to be reliable, Sun Life Global Investments (Canada) Inc. cannot guarantee its accuracy or completeness and is intended to provide you with general information and should not be construed as providing specific individual financial, investment, tax, or legal advice. The views expressed are those of the author and not necessarily the opinions of Sun Life Global Investments (Canada) Inc. Please note, any future or forward looking statements contained in this commentary are speculative in nature and cannot be relied upon. There is no guarantee that these events will occur or in the manner speculated. Please speak with your professional advisors before acting on any information contained in this commentary.
© Sun Life Global Investments (Canada) Inc., 2019. Sun Life Global Investments (Canada) Inc. is a member of the Sun Life Financial group of companies.