As the 2020 U.S. presidential race gains momentum, many voters and investors are familiarizing themselves with the policies and positions of the candidates. While the stakes seem particularly high this election year, it is important to remember that every president must contend with major domestic and international issues. The United States has withstood catastrophic wars, economic collapse and yes, even prior pandemics, yet the economy has proven resilient and the country has forged ahead.
In the coming months, many investment professionals and investors may attempt to predict future market moves based on election outcomes. Markets can react to those outcomes in surprising ways, as they did in 2016, when markets climbed following the election of President Donald Trump belying predictions of market declines in the event of a Trump victory. A review of the country's history reveals that there is a much more complex and nuanced connection between which party wins the presidency and economic or market outcomes. The three-branch system of the U.S. government assures a balance of power among the executive, legislative and judicial branches, but the contours of the political parties controlling each of those institutions are critical. When it comes to policymaking and spending, the two chambers of the legislative branch, the House of Representatives and Senate, can act either as a counterbalance to the executive branch or as a political accelerant.
The economy and markets matter
Fair or unfair (usually unfair) voter views of any president are often shaded by the state of the economy and equity markets. Since 19241, when there has been no recession in the two years prior to the election, the incumbent has been re-elected 100% of the time. On the four occasions when there has been a recession in the two years prior to the election, the incumbent has been voted out of office three times. Entering 2020, the U.S. appeared to be on the path to continued economic expansion until it was thrown into a recession as states locked down. While the recession was deep and abrupt, given its cause and global nature it is unclear if voters will hold President Trump accountable in the same way they have past presidents.
A similar dynamic can be observed when one looks at equity market returns leading up to presidential elections. When the U.S. stock market has been in positive territory three months prior to the election, the incumbent president has often been re-elected. After a steep decline during the first quarter of 2020, U.S. equity markets have been on steady climb, reaching new all-time highs in early September before experiencing increased volatility.
Exhibit 1: S&P 500 performance 3 months prior to presidential election
| Year | S&P 500 Price Return | Incumbent Party | Year | S&P 500 Price Return | Incumbent Party |
| --- | --- | --- | --- | --- | --- |
| 1928 | 14.91% | Won | 1976 | -0.09% | Lost |
| 1932 | -2.56% | Lost | 1980 | 6.66% | Lost |
| 1936 | 7.92% | Won | 1984 | 4.80% | Won |
| 1940 | 8.56% | Won | 1988 | 1.91% | Won |
| 1944 | 2.29% | Won | 1992 | -1.22% | Lost |
| 1948 | 5.36% | Won | 1996 | 8.17% | Won |
| 1952 | -3.26% | Lost | 2000 | -3.21% | Lost |
| 1956 | -2.58% | Won | 2004 | 2.16% | Won |
| 1960 | -0.74% | Lost | 2008 | -19.48% | Lost |
| 1964 | 2.63% | Won | 2012 | 2.45% | Won |
| 1968 | 6.45% | Lost | 2016 | -1.89% | Lost |
| 1972 | 6.91% | Won |   |   |   |
Sources: FactSet. S&P 500 Price Index, Strategas,. Daily data from 1 January 1928 to 27 August 2020.
*Return calculated from 3 months prior to election date and in USD.
It's about more than the presidency
When it comes to policymaking and financial matters, the president requires the cooperation of Congress to move his or her agenda forward. Congress holds the power of the purse, with the House of Representatives holding the exclusive power to originate bills for raising revenue and the approval of the Senate and president required for the bills to become law. But a historical analysis of equity market performance reveals that it is not affected much by who controls Congress. Even when one party controls the House and other the Senate, Congress has shown that it can act quickly and efficiently when needed, as it did at the onset of the pandemic. The Republican-controlled Senate, the Democrat-controlled House and the Republican president acted swiftly and collaboratively to pass the massive stimulus package needed to provide economic support to individuals and companies. It is not clear if that cooperation may continue when Congress addresses future stimulus packages, given that — with election season now upon us — it has already failed to find common ground on the one currently being considered. Certainly, some additional stimulus is needed for the millions of unemployed workers and struggling businesses as they recover from mandated shutdowns.
Exhibit 2: Partisan control, average annual S&P 500 performance (1933-2019)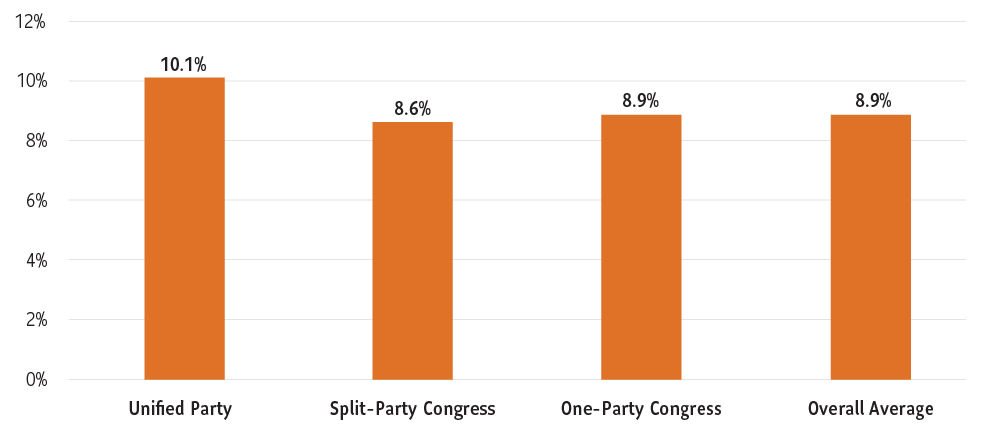 Sources: FactSet, S&P 500 Price Index. Annual data from 31 December 1933 to 31 December 2019. Return data in USD. Unified party = both Congress and president are from the same political party. Split-Party. Congress = House and Senate are not controlled by the same political party. One-Party Congress = Both House and Senate are controlled by the same political party. Average calculated for each respective category. Overage Average calculated from 1933 to 2019
Divergent policy paths
The platforms of the two major parties differ significantly, with the Democrats and the Republicans having moved farther apart on key issues. Critical policy areas such as taxes, trade and health care will be center stage leading up to and following this election.
Taxes: In 2017, one of Trump's first major policy moves was to cut taxes for both individuals and corporations in an effort to stimulate economic growth. The Trump administration is seeking to extend the Tax Cuts and Jobs Act and has floated the idea of cutting the payroll tax.
Former Vice President and current Democratic presidential nominee Joe Biden criticized the president's 2017 tax cuts as too generous to corporations and the wealthy. He has pledged to reverse some of those cuts by raising the marginal tax rate on the highest income earners (to 39.6% from 37%), subjecting wages above $400,000 to the 12.4% Social Security tax and resetting the top corporate income tax rate at 28% (up from 21%).
Trade: Throughout his administration, the president has been focused on trade and bringing back manufacturing jobs that had moved overseas. The trade war with China has been the centerpiece of the Trump's trade policy during his first term, and he has used difficulties the U.S. has had in procuring medical supplies during the pandemic to bolster his argument. He has promised to put America first and penalize those countries with which the U.S. has a high trade deficit with or he believes are unfairly taxing American companies overseas.
Vice President Biden has released a 10-year, $1.3 trillion, made-in-America infrastructure plan. He has pledged to spend $700 billion on American-made products and industrial research, which he says would give at least five million more people a paycheck. The former vice president is critical of Trump's trade war with China and has suggested that it has been bad for U.S. consumers and farmers although democrats largely agree that the U.S. needs to be tougher on China. Biden says he will help the U.S. position in the global economy by investing in innovation and expanding opportunities for the middle class at home before entering into any new trade agreements.
Health care: The president has leveraged his executive power in an effort to roll back portions of the Affordable Care Act (ACA) in favour of promoting greater competition by insurance companies across state lines. In its 2021 budget proposal, the Trump administration has proposed allowing states greater flexibility in managing Medicaid.
Biden has vowed to bolster the ACA but does not go so far as to support a single-payer system such as Medicare for all. Instead, he proposes a Medicare-like public option that would serve as an alternative to private insurance. He is in agreement with a bill approved last year that would allow Medicare to negotiate drug prices, as private insurers do. Trump, meanwhile, has said he would veto the bill because it would force drug makers to spend less on research and development.
It ain't over till it's over
A potential source of greater than normal uncertainty surrounding the 2020 presidential vote is the increasing likelihood that the winner, and perhaps the balance of power in Congress, may not be known on election night. This last occurred during the 2000 election, when it took more than five weeks for George W. Bush to be certified as the winner.
The coronavirus pandemic has caused many states to encourage mail-in balloting in order to limit voters' potential exposure to the virus. But because of this, as this year's primary election season has shown, some states have had difficulty handling even the modest number of ballots cast in their primaries (compared to the number typically cast in general elections). In New York, for instance, thousands of mail-in ballots were disqualified during the Democratic primary, calling into question the integrity of the election. The possibility of similar scenarios playing out across the U.S. is a chilling prospect.
While absentee voting — using ballots that voters request from local election officials — is relatively uncontroversial, universal mail-in voting has raised the suspicions of some, mainly Republicans, who fear ballots sent unsolicited to all registered voters could create increased opportunities for voter fraud.
States have varying rules regarding vote by mail. Critics have voiced concerns that in states with tight races, ballots could be manipulated after the fact to overcome deficits. Compounding this fear is Trump's strong preference for in-person voting over the mail-in variety. One scenario that has been garnering attention in the press is that Trump voters are more likely then Biden voters to turn out at their local polling places on Election Day (or before, in states with early voting), which might show him in the lead when the polls close. Once the mail-in ballots are counted, however, that lead could vanish, giving the president and his campaign fodder to challenge the validity of the results. One can easily see supporters of the former vice president doing the same if the situations were to be reversed.
In the nearly 20 years since the contested 2000 presidential election between Texas Governor George W. Bush and Vice President Al Gore, the U.S. electorate has become dramatically more polarized. Exhibit 4 illustrates this point. In the elections since 2000, on average, the unfavourability ratings of the two major party candidates has been trending higher. Against the backdrop of a global pandemic, civil discord and continued income inequality, an uncertain presidential election outcome could fray already raw nerves, leading to an increase in market volatility.

Exhibit 3: Unfavourability ratings of presidential candidates (1984-2020)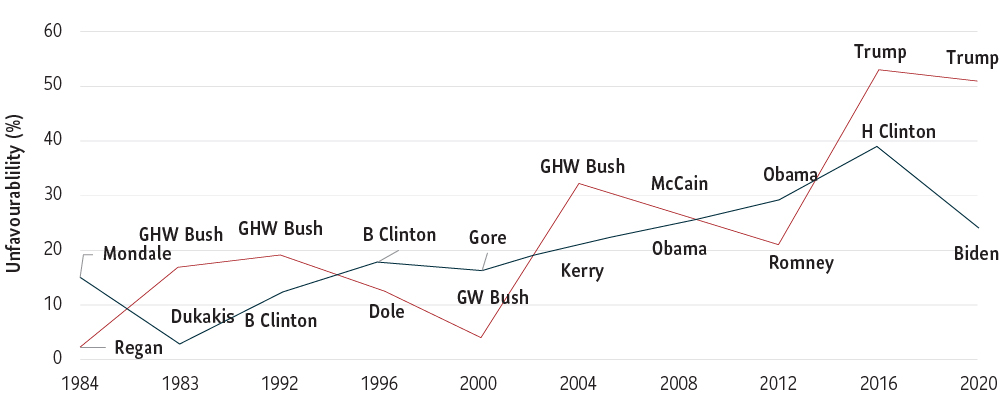 For historical context, during the bitterly contested 2000 election, the S&P 500 Index fell nearly 10% between the close of business on Election Day and its lowest point, on November 30, 2000 On December 12, 2000, the day that the U.S. Supreme Court decided Bush vs Gore, halting a selective manual recount in the state of Florida and leaving Bush with a majority in the Electoral College, the index stood about 5% below its Election Day close. Deeper partisan divides in 2020 suggest that another contested election could have profound societal implications, some of which could spill over into markets.
Pushing the big red button
Another idiosyncrasy of the 2020 campaign is the effort among Democratic lawmakers to do away with the Senate filibuster, which is essentially a "big red button" of last resort used to block or delay legislation. As of early September, the Democrats are favoured to win back the Senate and the White House in addition to retaining control of the House. Prominent Democratic Party leaders, including former President Barack Obama, have called for the elimination of the filibuster for legislation if the Democrats do take control of the Senate. Biden and his running mate, Senator Kamala Harris (D-CA), both of whom have spent time in the Senate, are open to the idea.
The elimination of the filibuster could have major effects. Sweeping legislative changes would become possible with scant attention paid to the objections of the minority. The sweeping away of institutional norms for short-term political advantage could have far-reaching long term effects and could one day backfire on Democrats should they lose the control of the upper chamber. At a minimum, doing away with the filibuster may likely make U.S. politics more volatile, which has the potential to make US markets more volatile too.
U.S. Economic Health Meaningful for Presidential Re-elections
There are many working parts leading into the 2020 U.S. presidential election, but none might be as important as the historical context displayed in Exhibit 1. Since the turn of the 20th century, incumbents have always been successful when the economy has not been in a recession in the two years leading up to the election. The inverse is also largely true — with the exception of Calvin Coolidge in 1924 — that presidents running for reelection have been unable to overcome the corrosive impact of recession over the previous two years to win another term. It is important to note that Coolidge was vice president under Warren Harding and became president in 1923 after Harding's death.
Exhibit 4: The impact of recessions on presidential electio

ns
| Reelection Year | President | Recession two years prior to reelection? | Reelected? |
| --- | --- | --- | --- |
| 2020 | Trump | Yes | ? |
| 2012 | Obama | No | Yes |
| 2004 | Bush, GW | No | Yes |
| 1996 | Clinton | No | Yes |
| 1992 | Bush, GHW | Yes | No |
| 1984 | Reagan | No | Yes |
| 1980 | Carter | Yes | No |
| 1976 | Ford | Yes | No |
| 1972 | Nixon | No | Yes |
| 1964 | Johnson | No | Yes |
| 1956 | Eisenhower | No | Yes |
| 1948 | Truman | No | Yes |
| 1936, 1940, 1944 | FDR | No | Yes |
| 1932 | Hoover | Yes | No |
| 1924 | Coolidge | Yes | Yes |
| 1916 | Wilson | No | Yes |
| 1912 | Taft | Yes | No |
Source: Wall Street Journal, "The Daily Shot: How 'Transitory' is the Recent Dip in Inflation?" 23 May 2019.
Key takeaway

s
The contrast between the candidates appears to be widening, which might also influence other highly contested races that could tip the balance of power in the Senate.
Due to the variability of potential outcomes, we are wary of developments in numerous sectors as we move closer to the 2020 election.
Source
Important Information
MFS or MFS Investment Management refers to MFS Investment Management Canada Limited and MFS Institutional Advisors, Inc.  This article was first published in the United States by MFS. in June 2020 and is distributed in Canada by SLGI Asset Management Inc., with permission. This document is provided for information purposes only and is not intended to provide specific financial, tax, insurance, investment, legal or accounting advice and should not be relied upon in that regard and does not constitute a specific offer to buy and/or sell securities.
Commissions, trailing commissions, management fees and expenses all may be associated with mutual fund investments. Please read the fund's prospectus. Mutual funds are not guaranteed, their values change frequently and past performance may not be repeated.
The views expressed in this commentary are those of the authors and are subject to change at any time. Views expressed regarding a particular company, security, industry or market sector should not be considered an indication of trading intent of any mutual funds managed by SLGI Asset Management Inc. or sub-advised by MFS. These views are not to be considered as investment advice nor should they be considered a recommendation to buy or sell. Information presented has been compiled from sources believed to be reliable, but no representation or warranty, express or implied, is made with respect to its timeliness or accuracy. This document may contain forward-looking statements about the economy and/or markets; their future performance, strategies or prospects. Forward-looking statements are not guarantees of future performance, are speculative in nature and cannot be relied upon. They involve inherent risks and uncertainties so it is possible that predictions, forecasts, and projections will not be achieved. A number of important factors could cause actual events or results to differ materially from those expressed or implied this document.  The views expressed in this commentary are those of the authors and are subject to change at any time.
The MFS® logo is a trademark of The Massachusetts Financial Services Company and is used with permission.
Sun Life Global Investments is a trade name of SLGI Asset Management Inc., Sun Life Assurance Company of Canada and Sun Life Financial Trust Inc.
SLGI Asset Management Inc. is the investment manager of the Sun Life Mutual Funds, Sun Life Granite Managed Solutions and Sun Life Private Investment Pools.
© SLGI Asset Management Inc. and its licensors, 2020. SLGI Asset Management Inc. is a member of the Sun Life group of companies. All rights reserved.