In brief
Rarely have we seen the types of equity market returns posted since the March 2020 low.
In the early phase of a market cycle, cyclical stocks have tended to outperform.
In contrast, secular stocks have tended to outperform in the long run.
The twenty-third of March is the one-year anniversary of the low set in the S&P 500 Index, so we want to put the trailing one-year return of 77% into context as we look ahead.
With the help of Bernstein Research, we calculated trailing 12-month returns for every month end beginning in 1882. We then aggregated all the return streams into buckets, as shown below. So, how rare was this past year's return? Extremely.
Exhibit 1: Rolling 12-month Total Returns of US Equity from 1881-2021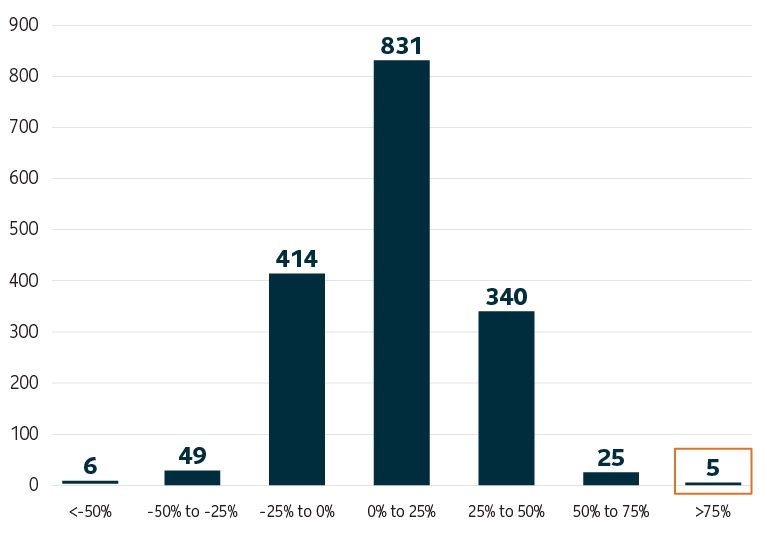 Source: Bernstein. Monthly data from 31 January 1881 to 28 February 2021.
All five previous examples of 75% or greater 12-month trailing returns occurred during the Great Depression of the 1930s, another period of extraordinary government economic intervention. What's unique about the response to the coronavirus pandemic is the speed at which the US economy exited the recession once the US Federal Reserve put a floor under credit risk.
Markets may be short term, but they're smart
Financial markets are a discounting machine. They tend to ignore seemingly material factors such as high unemployment while zeroing in on things that really matter, such as free cash flow generation. For instance, in the quarters preceding Franklin D. Roosevelt's New Deal, investors looked through intense economic pain and suffering in anticipation of an explosion of economic growth in 1934. What followed was a strong, but short-lived business cycle. After the effects of the early-New Deal stimulus had worn off in 1937, worries about deficits resulted in spending cuts and the economy contracted again. Financial markets anticipated that too, as evidenced by the rollercoaster market returns throughout the 1930s.
Bringing it back to the present day, following the lows of March 2020, the beneficiaries of the initial phase of the rally were stay-at-home stocks such as streaming services and video conferencing providers. However, as the weeks passed, investors began to look though the uncertainty surrounding the virus to what could be a massive snap-back in US economic growth in the second half of 2021. They switched their focus, shifting capital away from free-cash-flow compounders - companies that are typically more in control of their own destinies - and toward the stocks and credits most leveraged to the economic outlook: cyclicals.
The outperformance of companies with highly indebted balance sheets or lower-quality income statements is characteristic of the early phase of a market cycle. Regardless of quality, those companies that are most directly leveraged to a rebound in economic growth have historically become market favourites. That pattern played out during the previous two business cycles, after the collapse of the dot-com bubble and again in the wake of the global financial crisis.
The market may be thinking in the short term, but it there are still reasons why. It does not take an economist to understand that the combination of an exceedingly high US savings rate thanks to pandemic-driven government transfer payments and pent-up consumer demand after more than a year of lockdowns should lead to a pop in economic growth.
Cyclicals > seculars, for now
Most investors focus on the near term. That may probably never change. Therefore, it comes as no surprise that the market's ability to predict what may happen in the short term is strong but weakens over the medium and long term. That's why the portfolio manager's focus is always on the out years. At some point, as they always do, financial markets will look through what will may be impressive economic indicators. They will begin to discount what business fundamentals will look like without the tailwind of exceptionally accommodative fiscal and monetary policy. And if history is any guide, we expect that as policy normalizes, investors may pivot back to the type of cross-cycle earnings compounders that make up many of our core holdings. Cyclicals may have had their day, as they often do in the early phases of a market cycle, but the portfolio manager believes that secular trends will win out in the long run.
Important Information
MFS or MFS Investment Management refers to MFS Investment Management Canada Limited and MFS Institutional Advisors, Inc. This article was first published in the United States by MFS in April 2021 and is distributed in Canada by SLGI Asset Management Inc., with permission. This document is provided for information purposes only and is not intended to provide specific financial, tax, insurance, investment, legal or accounting advice and should not be relied upon in that regard and does not constitute a specific offer to buy and/or sell securities.
Commissions, trailing commissions, management fees and expenses all may be associated with mutual fund investments. Please read the fund's prospectus. Mutual funds are not guaranteed, their values change frequently and past performance may not be repeated.
The views expressed in this commentary are those of the authors and are subject to change at any time. Views expressed regarding a particular company, security, industry or market sector should not be considered an indication of trading intent of any mutual funds managed by SLGI Asset Management Inc. or sub-advised by MFS. These views are not to be considered as investment advice nor should they be considered a recommendation to buy or sell. Information presented has been compiled from sources believed to be reliable, but no representation or warranty, express or implied, is made with respect to its timeliness or accuracy. This document may contain forward-looking statements about the economy and/or markets; their future performance, strategies or prospects. Forward-looking statements are not guarantees of future performance, are speculative in nature and cannot be relied upon. They involve inherent risks and uncertainties so it is possible that predictions, forecasts, and projections will not be achieved. A number of important factors could cause actual events or results to differ materially from those expressed or implied this document.  The views expressed in this commentary are those of the authors and are subject to change at any time.
The MFS® logo is a trademark of The Massachusetts Financial Services Company and is used with permission.
Sun Life Global Investments is a trade name of SLGI Asset Management Inc., Sun Life Assurance Company of Canada and Sun Life Financial Trust Inc.
SLGI Asset Management Inc. is the investment manager of the Sun Life Mutual Funds, Sun Life Granite Managed Solutions and Sun Life Private Investment Pools.
© SLGI Asset Management Inc. and its licensors, 2021. SLGI Asset Management Inc., MFS are  members of the Sun Life group of companies. All rights reserved.