Fact: Companies carry two types of asset

s
Intangible assets are nonphysical in nature and generally consist of patents, copyrights, trademarks, licenses and a company's brand.
Tangible assets consist of traditional physical assets such as property, equipment and inventory.
As the economy continues to evolve amid the proliferation of services and technology-oriented companies, the enterprise value of a company is being driven more by intangible than tangible assets.
Asset mix of S&P 5001 companies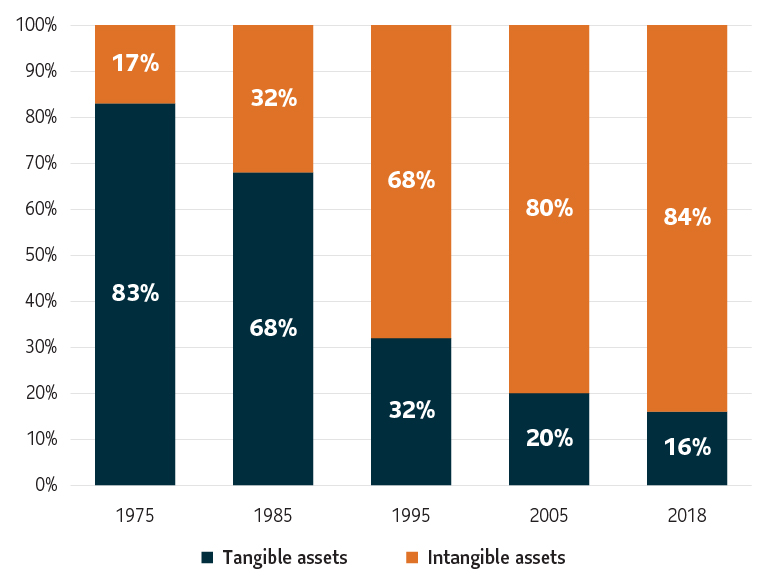 Source: Aon-Ponemon Institute LLC, "Financial Impact of Intellectual Property & Cyber Assets Report, Global Edition 2020."
The proportion of intangible assets continues to rise reflecting an evolution to service and technology-oriented companies.
Implications
The valuation of intangible assets can be more subjective than that of real assets since current accounting practices do not adequately capture intangible assets on company balance sheets. For example, book value, which measures company assets minus liabilities, may disregard critical intangible assets.
Security analysis must account for these intangibles-related differences to gauge a company's growth potential and determine what to pay for that growth.
So what?
Intangible assets, like brands and patents, are nothing new, but the assessment of a growing number of intangible assets is constantly evolving. That is why active security selection is critical in evaluating the intangible aspects of a business that drive enterprise value and potential investment return.
As we might be on the verge of a low-beta2 investment environment, an investor may want to consider the role that alpha3 plays relative to their investment objectives—and seek to deliver that alpha helped by an experienced manager who uses fundamental, bottom up research.
Sources
The S&P 500 Index measures the broad US stock market. It is not possible to invest directly in an index.
Beta measures the volatility of a security or portfolio to market movements.
Alpha measures a portfolio's risk-adjusted performance.
Important Information

MFS or MFS Investment Management refers to MFS Investment Management Canada Limited and MFS Institutional Advisors, Inc.  This article was first published in the United States by MFS in march 2021 and is distributed in Canada by SLGI Asset Management Inc., with permission. This document is provided for information purposes only and is not intended to provide specific financial, tax, insurance, investment, legal or accounting advice and should not be relied upon in that regard and does not constitute a specific offer to buy and/or sell securities.
Commissions, trailing commissions, management fees and expenses all may be associated with mutual fund investments. Please read the fund's prospectus. Mutual funds are not guaranteed, their values change frequently and past performance may not be repeated.
The views expressed in this commentary are those of the authors and are subject to change at any time. Views expressed regarding a particular company, security, industry or market sector should not be considered an indication of trading intent of any mutual funds managed by SLGI Asset Management Inc. or sub-advised by MFS. These views are not to be considered as investment advice nor should they be considered a recommendation to buy or sell. Information presented has been compiled from sources believed to be reliable, but no representation or warranty, express or implied, is made with respect to its timeliness or accuracy. This document may contain forward-looking statements about the economy and/or markets; their future performance, strategies or prospects. Forward-looking statements are not guarantees of future performance, are speculative in nature and cannot be relied upon. They involve inherent risks and uncertainties so it is possible that predictions, forecasts, and projections will not be achieved. A number of important factors could cause actual events or results to differ materially from those expressed or implied this document.  The views expressed in this commentary are those of the authors and are subject to change at any time.
The MFS® logo is a trademark of The Massachusetts Financial Services Company and is used with permission.
Sun Life Global Investments is a trade name of SLGI Asset Management Inc., Sun Life Assurance Company of Canada and Sun Life Financial Trust Inc.
SLGI Asset Management Inc. is the investment manager of the Sun Life Mutual Funds, Sun Life Granite Managed Solutions and Sun Life Private Investment Pools.
© SLGI Asset Management Inc. and its licensors, 2021. SLGI Asset Management Inc., MFS are  members of the Sun Life group of companies. All rights reserved.