How do we stand apart?
To answer that question, imagine if you had someone looking out for your financial future every day.
That is precisely what we do at Sun Life Global Investments. Whether you are saving for the future or want a guaranteed income, we have the products and strategies that can help.
We bring the world to your portfolio
Building wealth today requires you to look beyond Canada's borders. We are part of the Sun Life group of companies, a global asset manager with offices in nearly 20 countries and over $1 trillion under management. And we've built a truly global investment platform by combining the strength of Sun Life with some of the best asset managers in the world.
We're built to manage many levels of risk
With our roots in the insurance business, we are built to manage the risks that concern investors today:
Markets – Am I exposed to market volatility?
Performance – Are my investments managed effectively?
Inflation –Will my savings retain their value?
Mortality – What happens to my investments when I die?
Longevity – Will I outlive my savings?
So, what does it mean when we say we are built to address many levels of risk? We have the product depth you need to help manage risk. It may be one of our guaranteed investment funds (GIFs), that provide guarantees at death. Or an investment that reduces your exposure to equity market risk, such as a mutual fund that invests in bonds, or a balance of equities and bonds.
Pursuing strong results
Many investors are worried about the income they'll need in retirement. Here, we have several equity and balanced mutual funds that accept a degree of market risk, offering greater return potential in exchange for that risk. By selecting from our mutual funds and our guaranteed products, advisors and investors can fine-tune their portfolios for today's various challenges.
Managed portfolios: pension-like focus
Pension plans focus on managing risk. Similarly, with Sun Life Granite Managed Portfolios, you work with your financial advisor to choose a portfolio that suits your risk tolerance, ranging from conservative to growth. Our portfolio managers take over from there with a pension-like strategy – monitoring the portfolios to maximize return potential.
Investing with guarantees
Our Sun Life Guaranteed Investment Funds (GIFs) can protect your savings, and allow you to lock-in a lifetime of guaranteed income. These segregated fund contracts offer the benefits of protection and potential for investment growth. And Sun Life Global Investments stands out as a company that can offer investments with or without guarantees, allowing you to address even more dimensions of risk.
More choice with our sub-advised funds
No single company can be the best in every investment category. That is why we offer a broad lineup of mutual funds, sub-advised by carefully-chosen domestic and international investment managers. Through Sun Life's relationships with investment companies around the world, established over decades, we have access that few investment companies can match.
Consider the value of advice
The most important advice we can give you is to work with a financial advisor. Why? Evidence clearly shows that households with an advisor have greater net wealth than those that don't.1 That is why we stand shoulder-to-shoulder with advisors, offering the products and strategies they need to plan for your financial future.
Growth in financial assets over time of households that received advice compared to those that did not receive advice.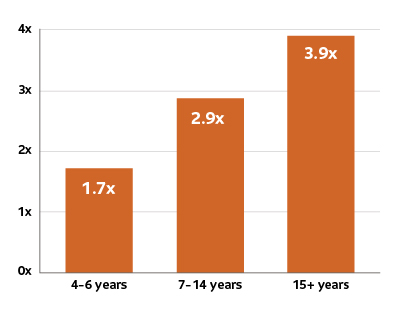 1Source: The Investment Funds Institute of Canada, The Value of Advice Report 2012. CIRANO: The Gamma Factor and the Value of Financial Advice (2016.)
Sun Life Global Investments is the trade name of SLGI Asset Management Inc. and The Sun Life Assurance Company of Canada. SLGI Asset Management Inc. is the manager of the Sun Life Mutual Funds, Sun Life Granite Managed Solutions and Sun Life Private Investment Pools. The Sun Life Assurance Company of Canada is the issuer of guaranteed insurance contracts, annuities and insurance contracts containing Sun Life segregated funds.
Sun Life GIFs are individual variable annuity contracts issued by Sun Life Assurance Company of Canada, a member of the Sun Life group of companies. Any amount that is allocated to a segregated fund is invested at the risk of the contract owner and may increase or decrease in value.