The power of conviction. The value of experience.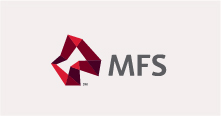 MFS was founded in 1924. Since then, the company has guided investors through every market condition on record. From humble beginnings in Boston to what's now a global footprint that stretches from São Paulo, Brazil to Sydney, Australia, MFS has spent nearly a century honing its collaborative investment process to build better insights for clients.
MFS offers:
Integrated research
Investment professionals work out of nine global financial hubs. Members analyze opportunities across geographies, across industries, and across the entire capital structure of each potential investment to get the big picture. Every effort is made to balance risk and reward before a decision is taken.
Global collaboration
Being on the ground all over the world helps analysts understand the customs and traditions that affect regional markets. This special insight helps put investors at the front of the line for under-the-radar opportunities. MFS believes its global collaborative environment is one of its key competitive advantages.
Active risk management
Every member of the investment team is responsible for ongoing risk assessment. The goal is to provide investors with the greatest possible return within the risk guidelines of each portfolio. Because it's not possible to eliminate risk entirely, MFS employs a rigorous process to manage it, every step of the way.
Recent performance and ratings
Check out this past quarter's performance of the MFS funds at a glance.
Check out our MFS line-up:
Global equity funds
International equity funds
U.S. equity funds
Canadian equity funds
Global balanced funds
Diversified income funds
Canadian fixed income funds
Canadian money market funds
MFS or MFS Investment Management refers to MFS Investment Management Canada Limited and MFS Institutional Advisors, Inc. Sun Life Global Investments (Canada) Inc., MFS Investment Management Canada Limited and MFS Institutional Advisors, Inc. are members of the Sun Life group of companies.
Commissions, trailing commissions, management fees and expenses all may be associated with mutual fund investments. Please read the prospectus before investing. Mutual funds are not guaranteed, their values change frequently and past performance may not be repeated.