The recent history of communication has been all about speed and increasing the amount of information moving across the internet and wireless networks. Now 5G (the 5th generation mobile network) is becoming the new global wireless standard, replacing 3G and 4G networks. It is designed to connect virtually everyone and everything, from mission critical power grids all the way down to your refrigerator, in what is being termed the "Massive Internet of Things."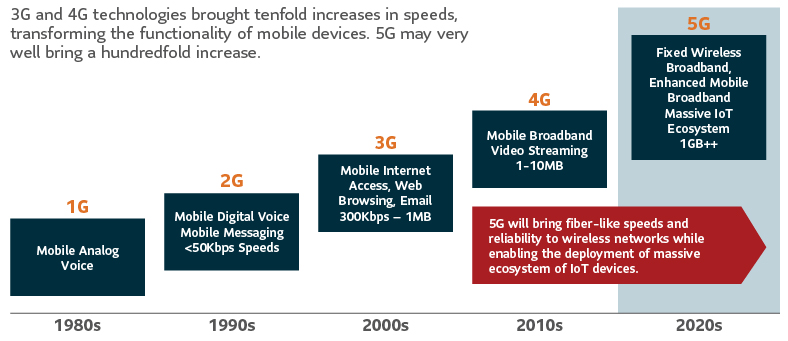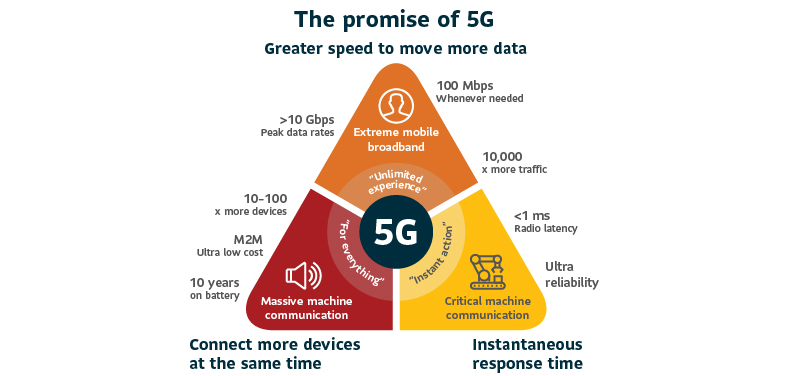 As 5G networks are built out, new uses will continue to emerge, including:
Virtual and augmented reality, remote patient monitoring, industrial automation, autonomous cars.

5G also has the potential to disrupt and transform other industries. What remains to be seen is:

How fast the infrastructure is built out
How the technology is adopted
What innovations materialize
An active approach to investing in the 5G theme:
MFS Investment Management has been actively managing investments for almost a century and are always focused on the long-term.  Their research teams are hard at work assessing the investment opportunities and risks in 5G over the next 5, 10 and 15 years.
Asking the right questions - Identifying the upside and downside
Throughout history, technological advances have not only led to enormous changes by disrupting industries, they have also created new sources of wealth. Smart phones provide a key example of this. As well, when looking at trends like the rise of 5G, MFS, portfolio managers try to understand all aspects of creative disruption by asking these questions:
Which industries will be affected?
How will it impact business models?
Can it be monetized?
Who will the winners and losers be?
Over what period will it play out?
Identify opportunities and avoiding pitfalls
MFS believes that skilled active managers can capitalize on creative disruption by identifying opportunities and avoiding pitfalls. Doing this takes:
Deep analytical resources
Conviction in their own research
The patience to let the thesis play out
Finding opportunities to invest in 5G:
Accessing the 5G theme through Sun Life MFS U.S. Mid Cap Growth Fund
A newly launched Sun Life mutual fund focuses on U.S. mid-cap opportunities, including exposure to 5G and the Internet of Things.
It focuses on high quality, long-duration growth franchises, seeking:
Strong growth
Pricing power
High quality companies
Strong management
Look for companies where valuations don't fully reflect long-term protentional
Focus on earning power and valuation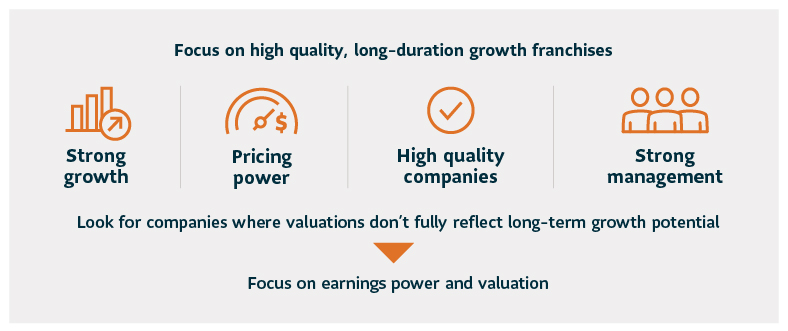 Two stock stories help illustrate this exposure: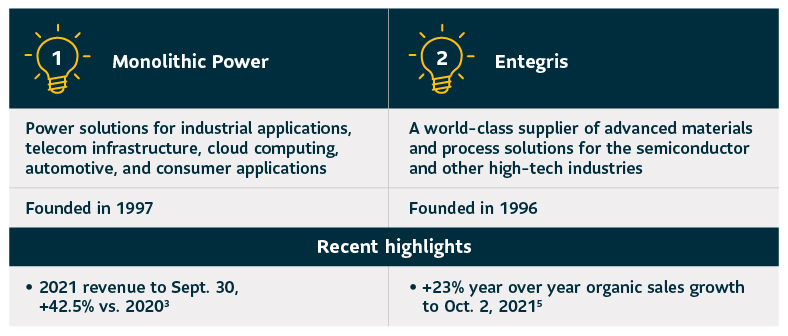 For illustrative purposes only. Securities named are fund holdings as of March 31, 2022, but may change due to ongoing portfolio transactions of the investment fund.
Stock 1: Monolithic Power
Monolithic provides power management solutions for cloud computing, telecom infrastructure, automotive, industrial and consumer applications.
Investment thesis
1. Secular growth: Why MFS believes Monolithic Power can deliver higher growth.
The primary secular growth drivers are developments related to 5G and the Internet of Things, as well as the end markets for automotive, industrial, cloud computing and networking.
2. Pricing power: What is the competitive advantage? Do they have high barriers to entry?
Production cost advantages have been a competitive advantage for the company, with it outsourcing more of its manufacturing overseas to counties like China and Taiwan. By placing manufacturing closer to end customers, they have been able to keep shipping costs lower, benefitting gross margins.
3. Sustainability of growth: Why MFS thinks their growth is sustainable.
Demand for power management solutions is growing as companies look to reduce costs and conform to more rigorous environmental standards. As a result, MFS believes long-term demand will contribute to the sustainability of Monolithic's growth.
Stock 2: Entegris
Entegris, a leader in advanced material science.
Investment thesis
There was an acceleration in the transition to cloud computing and the pace in which companies were investing in digital transformation.
The investment team added to areas that could benefit from the growth in cloud computing as secondary beneficiaries. This included investments in semiconductor capital equipment companies, a space that the team has historically avoided due to cyclicality.
However, they saw the growth opportunity becoming more secular (i.e. a smoother 5-year growth trajectory vs. the more volatile 10-to-15 year period) as digital transformation, including the advancement of 5G/Internet of Things picks up.
Entegris makes equipment used by major semiconductor manufacturers and tends to be at a lower risk of being disrupted. An additional tailwind is the widespread chip shortage. As a result, chip manufacturing is expanding, boosted by individual companies and with government aid.
Endnotes
1 Source: GS Research. IoT = Internet of Things.
2 Sources – Nokia, with modifications.
3 Source: Monolithic Q3 Financial Report and fact page.
https://www.monolithicpower.com/media/investor-relations/press-releases/Monolithic_Power_Systems_Q3_2021_Earnings_Release_Final.pdf
4 Source: Entegris Q3 Financial Report and fact sheet.  https://www.entegris.com/content/dam/web/about-us/corporate-overview/documents/fact-sheets/corporate-entegris-fact-sheet-5498.pdf
Important Information
A version of this commentary was first published in the United States by MFS and is distributed in Canada by SLGI Asset Management Inc., with permission. MFS or MFS Investment Management refers to MFS Investment Management Canada Limited and MFS Institutional Advisors, Inc. 
Commissions, trailing commissions, management fees and expenses all may be associated with mutual fund investments. Please read the fund's prospectus. Mutual funds are not guaranteed, their values change frequently and past performance may not be repeated.
The views expressed in this commentary are those of the authors and are subject to change at any time. Views expressed regarding a particular company, security, industry or market sector should not be considered an indication of trading intent of any mutual funds managed by SLGI Asset Management Inc. or sub-advised by MFS. These views are not to be considered as investment advice nor should they be considered a recommendation to buy or sell.
Information presented has been compiled from sources believed to be reliable, but no representation or warranty, express or implied, is made with respect to its timeliness or accuracy. This commentary may contain forward-looking statements about the economy and/or markets; their future performance, strategies or prospects. Forward-looking statements are not guarantees of future performance, are speculative in nature and cannot be relied upon.