In life, and investing, one piece of advice rings true through the years: don't put all your eggs in one basket. Investors are consistently reminded that well-diversified portfolios may deliver more consistent results. That's where investing globally comes in.
Why consider global investing?
Canadians tend to have a natural home country bias. They own their homes, and hold investments in Canadian equities and bonds1. This can lead to concentration risk and a lack of diversification, as well as the potential to miss opportunities outside our borders.
In 2020, global Gross Domestic Product (GDP) was US$84.7 trillion, of which Canada contributed under 2%2. To put that in perspective, the state of Texas recently became the ninth largest economy in the world, according to 2020 GDP data from the International Monetary Fund. Entire countries, including Canada and South Korea, are behind Texas on the list. This begs the question: does it make sense to  invest in one country, just because that's where you happen to live?
Investing globally brings four potential advantages:
1. Sector diversification: Investors can participate in industries that are under-represented in Canada
Canada's economy is largely concentrated in four sectors: financials, energy, industrials and materials. So, the performance of our stock market is tied to these sectors. Global investments provide exposure to sectors like information technology, consumer staples, health care and consumer discretionary businesses. Broader sector exposure means greater diversification.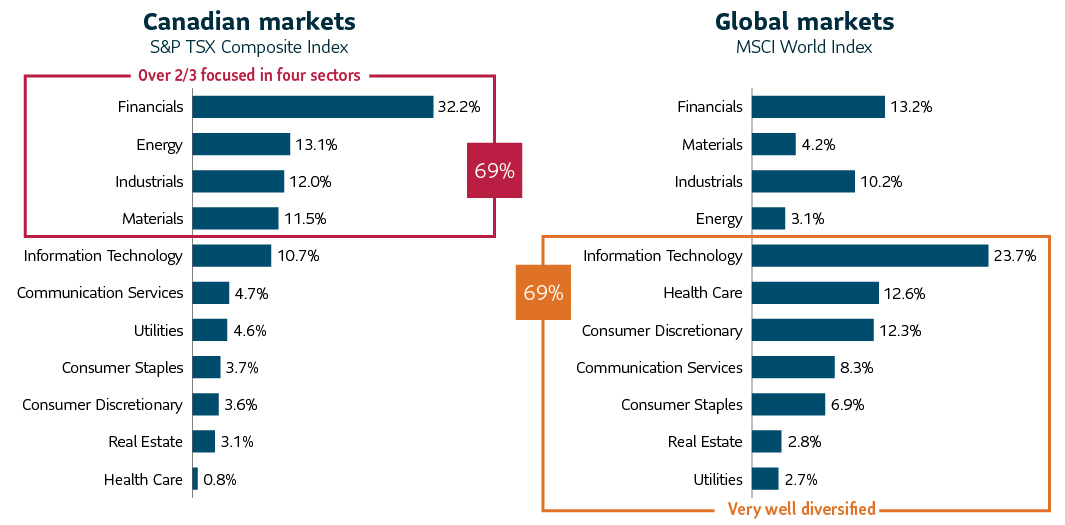 Source: Morningstar. S&P/TSX Composite Index and MSCI World Index as of December 31, 2021.
2. Larger company opportunity: Investors gain access to larger, global companies whose customer base and size often dwarfs those available in Canada
The S&P/TSX Composite Index is the main stock market indicator in Canada. It consists of 250 companies, so it seems diversified. But, it is actually concentrated. The top 10 companies in the index represent over a third of its value (see table below). The main global index is the MSCI World Index. Its top 10 companies are far larger than any companies in Canada, but they make up 19% of the global index.
Canadian market (in Billions)
Global market (in Billions)
Top 10 & Avg. Market Cap:*
Shopify Inc Registered Shs -A- Subord Vtg
$197.91
Apple Inc
$2,935.26
 
Royal Bank of Canada
$191.30
Microsoft Corp
$2,401.04
 
The Toronto-Dominion Bank
$176.76
Amazon.com Inc
$1,519.78
 
Brookfield Asset Management Inc Registered Shs -A- Limited Vtg
$111.52
Tesla Inc
$889.29
 
Bank of Nova Scotia
$108.83
Alphabet Inc Class A
$872.25
 
Enbridge Inc
$100.09
Alphabet Inc Class C

$833.79
 
Canadian National Railway Co
$94.47
Meta Platforms Inc Class A
$801.80
 
Bank of Montreal
$88.26
NVIDIA Corp
$735.28
 
Canadian Pacific Railway Ltd
$84.54
UnitedHealth Group Inc
$473.48
 
Canadian Imperial Bank of Commerce
$66.40
JPMorgan Chase & Co
$473.17
Top 10 weight (%)
 
39.41%
 
19.13%
Avg. Market Cap for the Index (C$)*
 
$12.85
 
$40.35
Source: Morningstar. Canadian market: S&P/TSX Composite Index and Global markets: MSCI World Index converted to C$ as of December 31, 2021. * Average market capitalization is a measure of the average size of the companies in which the fund invests and are both in C$.
3. Geographic diversification: Investors can capture return opportunities available in various global markets
Global portfolio managers are not tied to one specific country. This allows them to compare top companies in the same sector, regardless of location. And, global managers can manage "country-specific" risk, meaning that they can limit the portfolio exposure to any one country. One strategy is called "rebalancing," where a manager can lock in gains from one market (by selling stocks) and then re-invest the proceeds in another market that may have more upside or less risk.
4. Looking at risk: Investors can spread risk through different sectors, countries and asset classes
While there are general trends that affect markets broadly, different asset classes can move in different directions and degrees. Global portfolio managers can invest in many asset classes, regions, industries and companies of different sizes to try to reduce volatility risk in your portfolio.
Putting it all together
At various times, different global markets and asset classes will have varying performance.  Holding a combination of asset classes across many global markets can help take the guesswork out of predicting winning and losing investments in any given year. You could consider investing in Sun Life Granite Managed Solutions, which combine many global asset classes in a single investment. 
Talk to your advisor about how Sun Life Granite Managed Solutions may help you meet your long-term investment goals.
1Source: Household Balance Sheet, 2019
2Source: The World Bank as of December 31, 2020
Commissions, trailing commissions, management fees and expenses all may be associated with mutual fund investments. Please read the prospectus before investing. Mutual funds are not guaranteed, their values change frequently and past performance may not be repeated.
This document is provided for information purposes only and is not intended to provide specific financial, investment, tax or legal advice and should not be relied upon in that regard. Views expressed regarding a particular company, security, industry or market sector should not be considered an indication of trading intent of any mutual funds managed by SLGI Asset Management Inc. or any mutual funds managed by sub-advisors. These views are not to be considered as investment advice nor should they be considered a recommendation to buy or sell securities. 
Information contained in this document has been compiled from sources believed to be reliable, but no representation or warranty, express or implied, is made with respect to its timeliness or accuracy.
This document may contain forward-looking statements about the economy, and markets; their future performance, strategies or prospects. Forward-looking statements are not guarantees of future performance and are speculative in nature and cannot be relied upon.
Sun Life Global Investments is a trade name of SLGI Asset Management Inc., Sun Life Assurance Company of Canada and Sun Life Financial Trust Inc.
SLGI Asset Management Inc. is the investment manager of the Sun Life Mutual Funds, Sun Life Granite Managed Solutions and Sun Life Private Investment Pools.
© SLGI Asset Management Inc. and its licensors, 2021. SLGI Asset Management Inc. is a member of the Sun Life group of companies. All rights reserved.