It can be hard to stay calm when stock markets rise and fall.
There are ways to deal with volatility. But you need patience, however, to really benefit.
One way to deal with volatility is to reinvest your investment earnings to generate additional earnings. This process is called compounding.
As an investor, it's important to understand that compounding is what drives most of the value in your portfolio. However, you may need to choose more aggressive investments to reap the full benefits.
Here's an example. If you only have money market securities or bonds in your portfolio, its growth potential will be lower. More aggressive investments, like stocks, can generate the growth you need to reach your goals. And this is despite occasional market ups and downs.
The graph below shows the differences between three portfolios with different rates of return* over 40 years.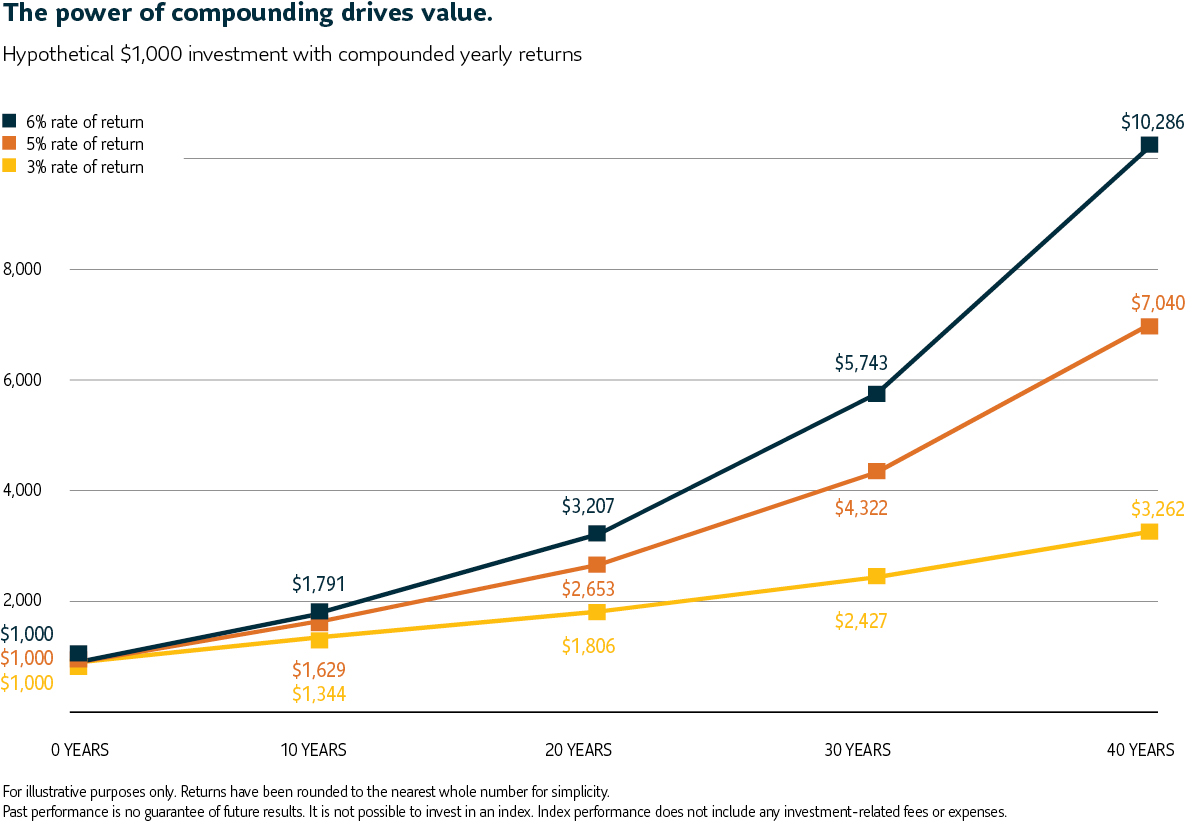 Source of the chart: MFS research.

Data source: SPAR, FactSet Research Systems inc.
Slow and steady wins the race
Diversifying your portfolio is another way to deal with volatility. And again, patience is a virtue.
For example, investors who stayed invested for 20 years in stocks of large companies, having market capitalizations over 10 G$, earned an annualized return of 10.9%1, according to an investment management firm MFS study that looked at data gathered from research firms SPAR and FactSet Research Systems inc. But after 10 years, this asset class had a rate of return of only 2.6%, just slightly ahead of bonds.2 In the end, however, these stocks achieved the highest growth of all. 
This shows why it's important to have more than one type of investment in your portfolio. As an investor, you can take advantage of everything the market has to offer. "Diversification is often called 'the only free lunch in investing,' says Chhad Aul, Chief Investment Officer and Head of Multi-Asset Solutions, SLGI Asset Management Inc. "That's because asset classes don't always move in the same direction. Consider working with your advisor to build a diversified portfolio, that's exposed to different asset classes. During volatile markets, this approach may help you stay invested as it can help to smooth out the ride."
Where to get help
It can be tricky for the average investor to do it alone. That's why it's helpful to work with a professional, like an advisor.
An advisor knows your goals, risk tolerance, investment horizon and total holdings. Advisors can be a valuable ally when markets go crazy.
They can help you avoid making costly mistakes by determining your comfort level with risk. They can keep you on track to reach your goals. They can also help you create the best possible strategy for your long-term financial goals.
When volatility strikes, it's hard to stay calm and focused on your goals. Having a solid plan is your best safeguard for long-term investing resilience.
Important information
The assumed rate of return does not represent the performance of any MFS fund, which would vary according to the rise and the fall of the markets. It is not realistic to expect that the stock market or any investment vehicle will have 20 or more years of positive returns. These examples are for illustrative purposes only and are not intended to predict the returns of any investment choices. Rates of return will vary over time, particularly for long-term investments. There is no guarantee the selected rate of return can be achieved. The performance of the investments will fluctuate with market conditions.
Commissions, trailing commissions, management fees and expenses all may be associated with mutual fund investments. Investors should read the prospectus before investing. Mutual funds are not guaranteed, their values change frequently and past performance may not be repeated.
The information contained in this document is provided for information purposes only and is not intended to represent specific individual financial investment, tax or legal advice nor does it constitute a specific offer to buy an/or sell securities. While the information contained in this document has been obtained from sources believed to be reliable, SLGI Asset Management Inc. cannot guarantee its accuracy, completeness or timeliness. Information in this document is subject to change without notice and SLGI Asset Management Inc. disclaims any responsibility to update it.
Sun Life Global Investments is a trade name of SLGI Asset Management Inc., Sun Life Assurance Company of Canada and Sun Life Financial Trust Inc.
© SLGI Asset Management Inc. and its licensors, 2022. SLGI Asset Management Inc. is a member of the Sun Life group of companies. All rights reserved.
1 Over a 20-year period, from 2002 to 2021.
2 Over a 10-year period, from 2002 to 2011.